US President Joe Biden, South Korean President Yoon Suk-yeol and Japanese Prime Minister Kishida Fumio are expected to attend the first trilateral summit in Maryland-USA on August 18.
theo reutersUS officials said the leaders are expected to announce plans to step up cooperation on ballistic missile defense systems and technology development. Another possible deal is to set up a trilateral crisis hotline. In the coming times, the leaders of the three countries are expected to meet each other every year.
South Korean President Yoon Suk-yeol said on 15 August that the conference would mark a new milestone in trilateral cooperation. The leader also called for enhanced security cooperation with the US and Japan to deal with North Korea's "nuclear and missile threat". For example, the three countries are required to share real-time data on North Korea's nuclear weapons and missiles.
Last month, North Korea tested its latest Hwasong-18 intercontinental ballistic missile and said it was a warning to the United States and other adversaries. Last year, Pyongyang tested about 90 missiles, almost four times more than in 2017.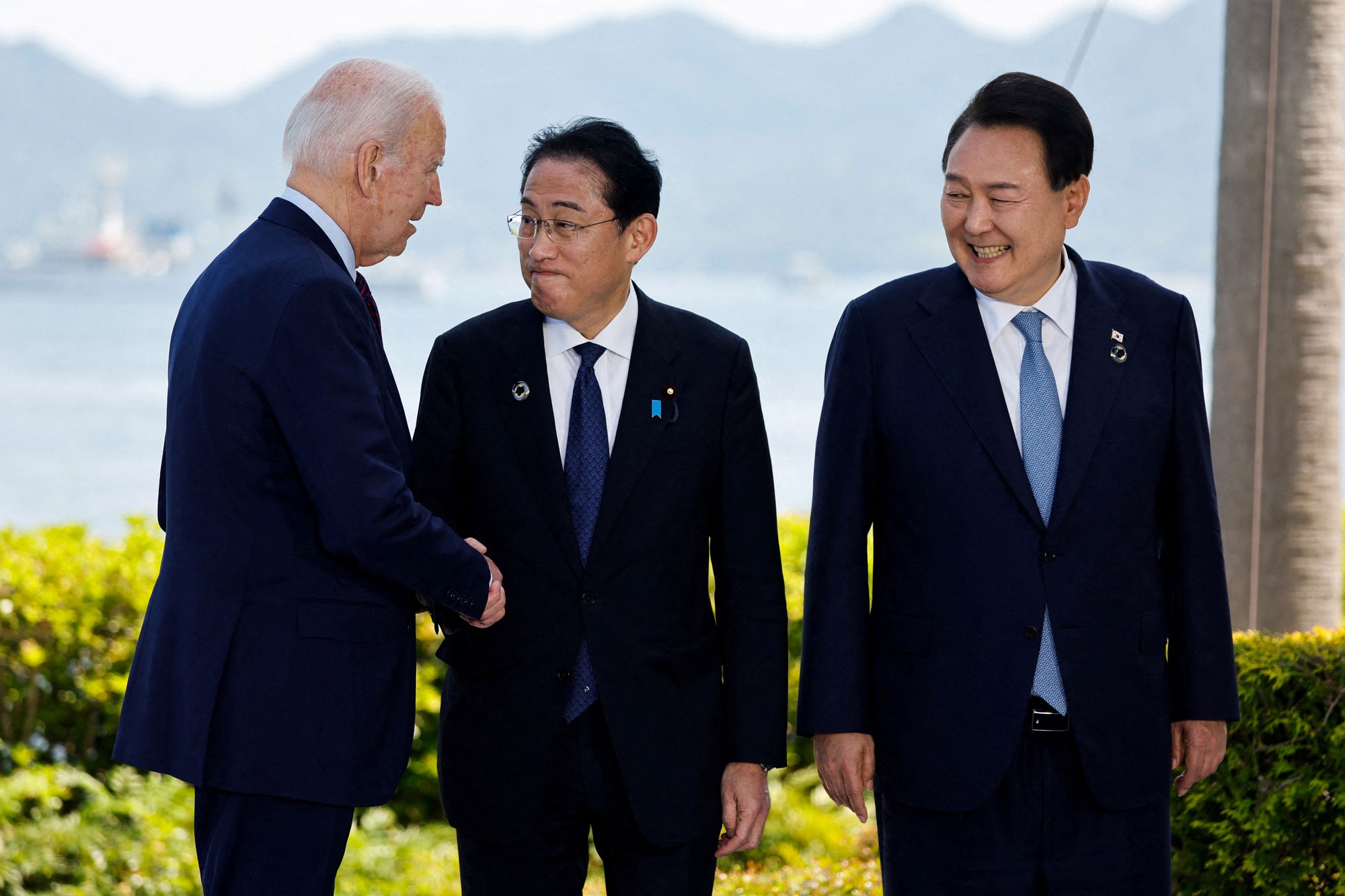 From left: Hiroshima city in May 2023 – US President Joe Biden, Japanese Prime Minister Kishida Fumio and South Korean President Yoon Suk-yeol in Japan Photo: Reuters
The South China Morning Post quoted some experts as saying that China would be "on high alert" during the US-Japan-South Korea summit.
Lu Chao, an expert at the Institute of American and East Asian Studies at Liaoning University (China), said the conference could lead to a trilateral military alliance, which worries Beijing. "The regular meeting of the heads of state and the fixed cooperation mechanism in the military field is no different from the actual establishment of the three-way military alliance," Lu said.
It is not unusual for Beijing to express strong reactions ahead of summits. Chinese Foreign Ministry spokesman Wang Wenbin said on 15 August that Beijing opposes acts that escalate conflicts and harm other countries' strategic security.
However, Mr. Liu Xiangyong, an expert at Tsinghua University (China), is skeptical about the comparison between the US-Japan-Korea alliance and NATO. According to him, these three countries currently do not have the same security commitments as NATO members.
Furthermore, Japan and South Korea are currently US security partners, not allies. The strategic goals of these three countries are also different. Nevertheless, Liu anticipates that joint exercises and trilateral consultations will continue to deal with China.
Kim Jae-chun, a professor of international relations at Sogang University (South Korea), said that US-Japan-South Korea military technology cooperation will mainly focus on Pyongyang, such as exercises to intercept North Korean ballistic missiles.
This expert also predicts that China may not be mentioned as a threat in the joint statement after the trilateral meeting. However, he added that the US-China confrontation has now become a strategic competition, regardless of the purpose of the trilateral summit.
"Current trends show that China-Russia-North Korea cooperation in Northeast Asia is strengthening, and US-South Korea-Japan relations are also strengthening in response… It seems that both sides are trying to stop mutual control." Are," argues this expert.