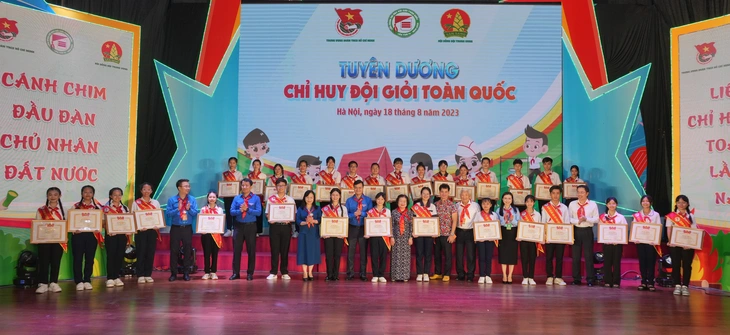 The 4th National Excellent Team Leaders Festival, 2023, held every 5 years, is a place to gather, honor and praise national excellent team commanders in learning, training and teamwork. Also, it is an opportunity to organize the youth union and to show interest, care and be a resource for the next team of union officers in the future.
There were 207 children participating in the fest who are distinguished outstanding team leaders and 63 representatives in charge of the team across the country. Out of 207 children, 103 are team captains, 67 are vice squadrons, 12 are squadron commanding committee members and 25 are squad leaders.
Ms. Nguyen Pham Du Trang, Secretary of the Central Youth Union, President of the Central Team Council said that the 207 friends participating in this festival are faces who are not only good at teamwork skills but also exemplary role models. Enthusiastic and diligent in study and practice.
Also, actively participates in cultural, artistic and sports activities, has won many national and international awards, always listens to the opinions and aspirations of his friends, has a sense of sharing his love. He loves and helps the needy people.
Typical examples are Nguyen Cam Minh Ngoc (Quang Trung Secondary School, Yen Bai), Phung Diu Anh (Nung ethnic group, Hop Giang Secondary School, Cao Bang), Hoang Tra My (Le Loi Secondary School). , Nghe An), Tran Nguyen Uyen Nghi (Saigon Practical High School, HCMC), Huynh Anh Thu (Nguyen Du Secondary School, HCMC)…
On behalf of the Central Team Council, Secretariat of the Central Youth Federation, Ms. Trang praised the outstanding achievements of the students in the visit to the 4th National Outstanding Team Leaders Festival, 2023.
In addition to efforts and effort, Ms. Trang believes that there is also a need to create an environment for children to be fostered to their full potential. This requires the organization of the union, the team must continue to implement well the motto "Team building is one step ahead of the union building", which was set by the 12th National Congress of the youth union; Pay attention, care and create favorable conditions to train and mature the commanding officers of the team.
"Notably, in the present context, the scope of team activities does not only stop inside and outside the school, but also extends to networked environments. Team leaders need to be equipped with digital skills to help students become Be the organizer, orient, and lead team members and children to participate in team movements and activities that are meaningful in education, safe, constructive, and healthy interactions in cyberspace" – says Ms. Trang.
On this occasion, the Central Team Council awarded certificates of merit to 177 outstanding team leaders from across the country. The Central Executive Committee of the Youth Union awarded merit certificates to 30 people who won the title of National Outstanding Team Leader.
(TagstoTranslate)Central Union(Te)National Excellent Team Commander Festival(Te)Outstanding Team Leader(Te)Nguyen Pham Duy Trang(Te)Secretary of the Central Union(Te)Central Team Council