What is amazing about this jury is that it is a television competition for students that includes both intellectual and entertainment elements.
The new program is organized by Vietnam Television Station in cooperation with the Ministry of Education and Training and the Central Committee of the Vietnam Students' Union, to open a playground for students to showcase their talents and creative thinking through community-driven projects .
At the press conference to launch the event on the evening of 18 August, Professor Dr. Le Anh Vinh said that he was very surprised when he was invited to judge the event and participated enthusiastically. He said that working with the youth always makes him feel excited and happy.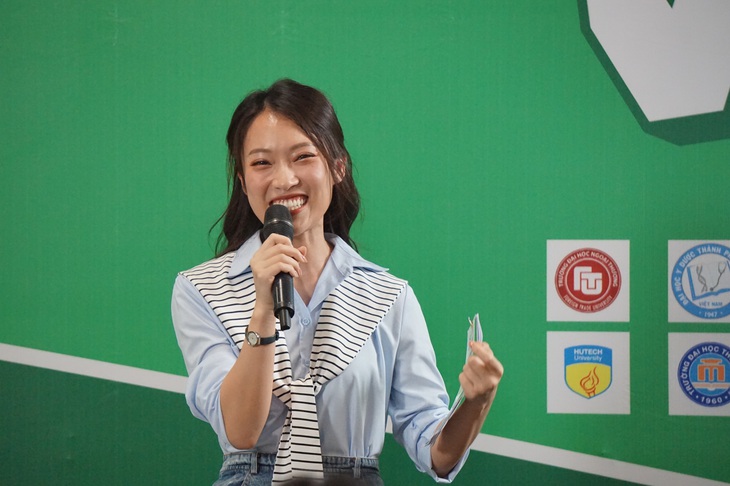 The two presenters are Quang Bao and Khan Wei. They are outstanding alumni in their fields of study and together make a positive impact on the youth community.
New Generation Students will start airing on VTV3 from 31st August, Thursday at 8:30 PM.
At the press conference, the representative of the producer said that the entertainment program production team – VTV3 has created a completely new format, consisting of 5 rounds of competition, project creation and development, designed on the basis of elements of the entertainment cycle.
It consists of preliminary round (search and selection), qualifying round, actual round, spread round and final.
The program is a combination of two genres: performance show – where teams show their talents to present the meaning of the project and reality TV – when teams start implementing their projects.
Contest ideas can come from any field: science, education, health, agriculture, philanthropy… and relate to the industry the students are studying and the school's expertise.
The new generation of students transcends traditional boundaries
12 teams including 6 universities in the north and 6 universities in the south: Hanoi National University of Civil Engineering, University of Commerce, International School – Hanoi National University, FPT University, and Bach Khoa University Faculty of Hanoi, Thai Nguyen University of Medicine and Pharmacy, Foreign Trade University Campus II, University of Technology, Ho Chi Minh City. Ho Chi Minh City, HCMC University of Medicine and Pharmacy, Ton Duc Thang University, Ho Chi Minh City University of Education, Ho Chi Minh City University of Economics and Finance.
Top 3 teams will advance to the final round new generation students,
According to the organisers, through the first competitions, what can be easily seen in today's students is their creativity and thinking beyond conventional boundaries. Teams not only seek solutions, but also delve deep into analysis and research to find the root cause of problems and propose creative solutions.
(TagstoTranslate) Le Anh Vinh(T)GS.TS Pear Anh Vinh(T)PGS.TS Tran Xuan Bach(T)New Generation Students