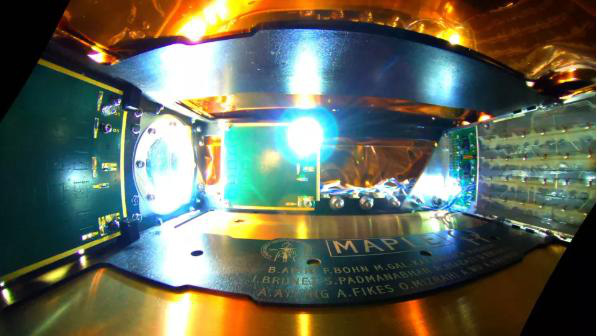 Scientists estimate that solar collectors in space are capable of delivering up to eight times more energy than solar panels at any location on Earth's surface.
The Space Solar Power Project (SSPP) of the California Institute of Technology (Caltech) launched the Space Solar Power Transmitter and Receiver Test System (SSPD-1), weighing 50 kg, aboard the Momentus Vigoride spacecraft on January 3, 2023. Has gone. Was launched into a lower orbit by a SpaceX rocket.
The SSPD-1 system is designed to test three small modules, DOLCE, ALBA and MAPLE.
In which the DOLCE module investigates the design and implementation of an ultra-light folding structure. The ALBA module tests a variety of solar cell designs to see which is the most efficient.
The most important is the MAPLE (Microwave Array for Power-Transfer Low-Orbit Experiment) module. It is a low-orbit microwave power transmission experiment to help test wireless power transmission technology at a signal receiving station on the ground.
"Through the tests performed to date, we confirm that Maple can successfully transmit power to power generation transceivers in space," said Dr. Ali Hajimiri, Co-Director of the Space Solar Power Project.
Scientists say they can program the Maple Microwave Module to direct its energy back to Earth.
MAPLE has demonstrated the ability to transmit energy wirelessly in space. It sends energy from a transmitter to two separate receiver arrays, where the energy is converted into electricity.
MAPLE then transfers power to an electrical receiving system on the roof of the Gordon and Betty Moore Engineering Laboratory, located on the Caltech Institute campus in Pasadena.
Maple has demonstrated its ability to function in the harsh environment of space when exposed to large temperature fluctuations and solar radiation.
According to the plan after the tests, the final complete SSPP system will consist of a cluster of satellite modules that collect sunlight, convert it into electricity and convert this energy into microwaves, which are then transmitted back to Earth. Delivered where energy is needed.
This could help bring electricity to areas that already have weak energy infrastructure.
Mr Hajimiri stressed: "We hope that wireless energy transmission will democratize access to energy. There is no need for energy transmission infrastructure on the ground to receive this energy. This means that we can areas and areas ravaged by war or natural disasters."