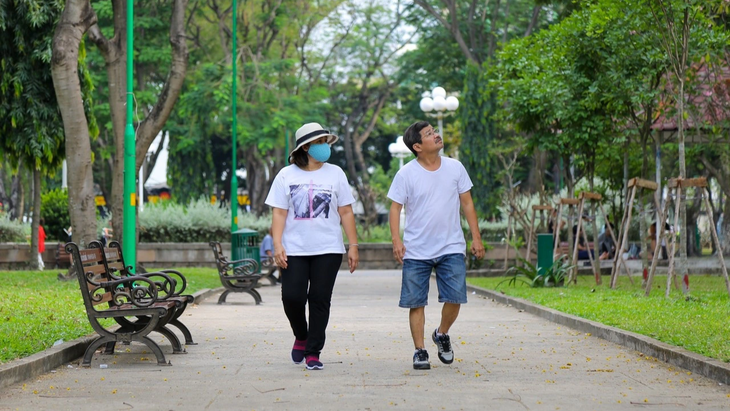 An elderly man shared, "Love and be loved – no matter what the age – just enjoy it till the end of your breath."
old love comes late, unforgettable
Everyone knows the story of Mr. B in the morning exercise group in Thanh Xuan District (Hanoi) – Mrs. T Love came when Mr. B was 73 and Mrs. T was 60.
Mr. B., Mrs. T.'s love "emerged" from shared stories, from morning exercise sessions. Mr. B lost his wife many years back. He and his children thought that he would be alone for the rest of his life.
Mr. B has three daughters. All three are married. The first girl lived in Hanoi, and the other two later settled in Ho Chi Minh City and got married.
Over the years of his single life, he often divided his schedule to visit his children, sometimes flying to Hanoi, sometimes to Ho Chi Minh City. Although the children love him and take good care of him, they become a little worried when they see that their father's life is not really happy.
Then during a walk he met Mrs T and got introduced to her. At first he just felt that she was a person with good energy, that he felt happy talking to her. Mrs. T. looks at everything in the most positive way. She mourned her sad life, she laughed and spoke about how many people dream of being like her.
And he didn't hesitate to tell: "Hey, handsome man. He has a pension, where he likes to go, his daughter takes care of everything in an hour. He has his own house, he likes to live, he comes back, he likes to go. Then close the door."
And when he talked to her, he found her life even more miserable than it was. They were never married but adopted two children, a boy and a girl. Her son died, and now she lives with her daughter.
Despite many difficulties, she still could not find herself unhappy, she said: "God give me health, so far I haven't been sick, still go to exercise regularly in the morning with everyone, come home then Also I'm so glad I'm able to help my children and grandchildren!"
He loved her for the way she thought, the way she looked, the stories she told, her radiant smile. Then he didn't know when, he felt like he was missing her!
That day she was busy with some work and didn't come out to practice with everyone, she felt absent, sad…and she sent him more messages. And as he still couldn't finish the words he wanted to say during the rehearsal, he started sending her letters…
love is so sweet
And she also feels great to have such a great, loving and honest friend like him. At first, she simply thought that she was too old to be happy and healthy. But "love comes suddenly, unexpectedly".
That day when he was about to leave, he hesitatingly put a letter in her hand. For the first time she received a letter from her lover – 60 years old. She was still nervous and trembling when she opened the emotional letter. And he fell in love…
She did not hesitate to share with her friends in the exercise group that "there are nights when she cannot sleep, she hopes that the night will pass quickly, that the light will soon come so that she can see it".
The days of love went on and on… until one day they decided to live in the same house.
Grandparents make a few trays of rice to introduce their children, close friends, some relatives, and do a group exercise with the grandparents.
Since then, they've been happily together wrapped in tangerines. Mr. B's children see their father young and happy. The flights to Ho Chi Minh City to visit his two daughters are no longer his own, but are always with him.