The meeting took place after an attempted coup in Niger failed to release President Mohamed Bazoum on 6 August, a deadline set by ECOWAS. Mr Bazoum and his wife and children remain under house arrest in the capital, Niamey, after being ousted on 27 July. The coup subsequently spurred calls from the United Nations, ECOWAS and others to reinstate the leader.
ECOWAS has so far been cautious about the use of force, viewing it as a "last resort" to the crisis in Niger. One reason for this is that there is no consensus among the members of the group on this step. ECOWAS' political affairs, peace and security commissioner, Abdel-Fatou Moussa, said most of the bloc's 15 member states are ready to join the backup force. Only countries with junta are not participating Mali, Burkina Faso, Cape Verde.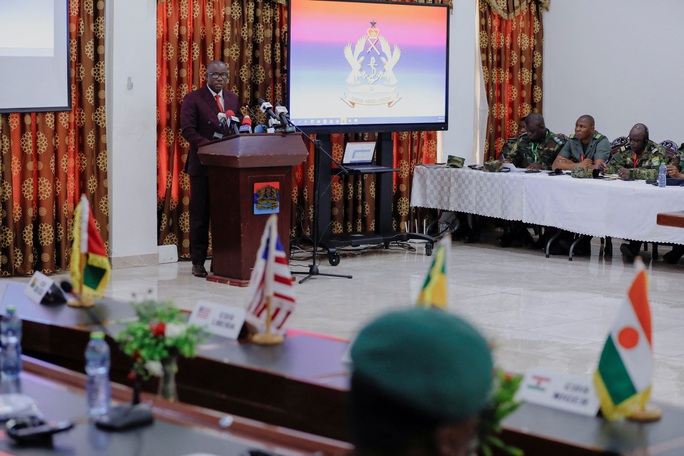 Ghana's Defense Minister Dominic Nitiwul speaks at the ECOWAS meeting in Accra on August 17. Photo: REUTERS
According to Reuters, any tensions would further destabilize West Africa's impoverished Sahel region. Niger alone plays an important role in the fight against Islamic extremists in the region because of its uranium and oil reserves. French, American and German troops are present in Niger to join the effort against rebel forces. France denies the junta's accusations that it is trying to destabilize Niger or violate its airspace, and supports ECOWAS to restore constitutional order there.
Earlier, the Security and Peace Council of the African Union met on 14 August to discuss the Niger issue. The council has the power to reject military intervention if it believes such a move threatens the stability of the continent. If they refuse to use force, ECOWAS has little legal basis to justify its intention to intervene militarily.
heroine