Oil prices declined on August 18 as concerns over slowing economic growth in China and the prospect of a higher US interest rate hike raised signs of a supply shortage. The WTI oil price in the US and the Brent crude oil price in the UK sometimes fall as low as USD 80.3/bbl and USD 83.91/bbl.
Prior to this development, oil prices had risen for 7 consecutive weeks, partly due to production cut moves by the Organization of the Petroleum Exporting Countries (OPEC) and the alliance of external producing countries (abbreviated as OPEC+). Brent and WTI prices rose 18% and 20%, respectively, in the seven-week series ending August, according to Reuters.
The US Federal Reserve's (FED) focus on curbing inflation amid stronger than expected economic data kept oil prices under check. The US Labor Department reported on Thursday that the number of new jobless claims filed for unemployment benefits declined last week, a move that suggests a strong job market could help prolong the US monetary policy tightening campaign. Can do. The Fed's goal is to cool the economy.
The report released earlier this week showed a lot of optimistic economic data in the US, including retail sales. Investors fear that higher borrowing costs could hinder economic growth, reducing aggregate demand, including oil.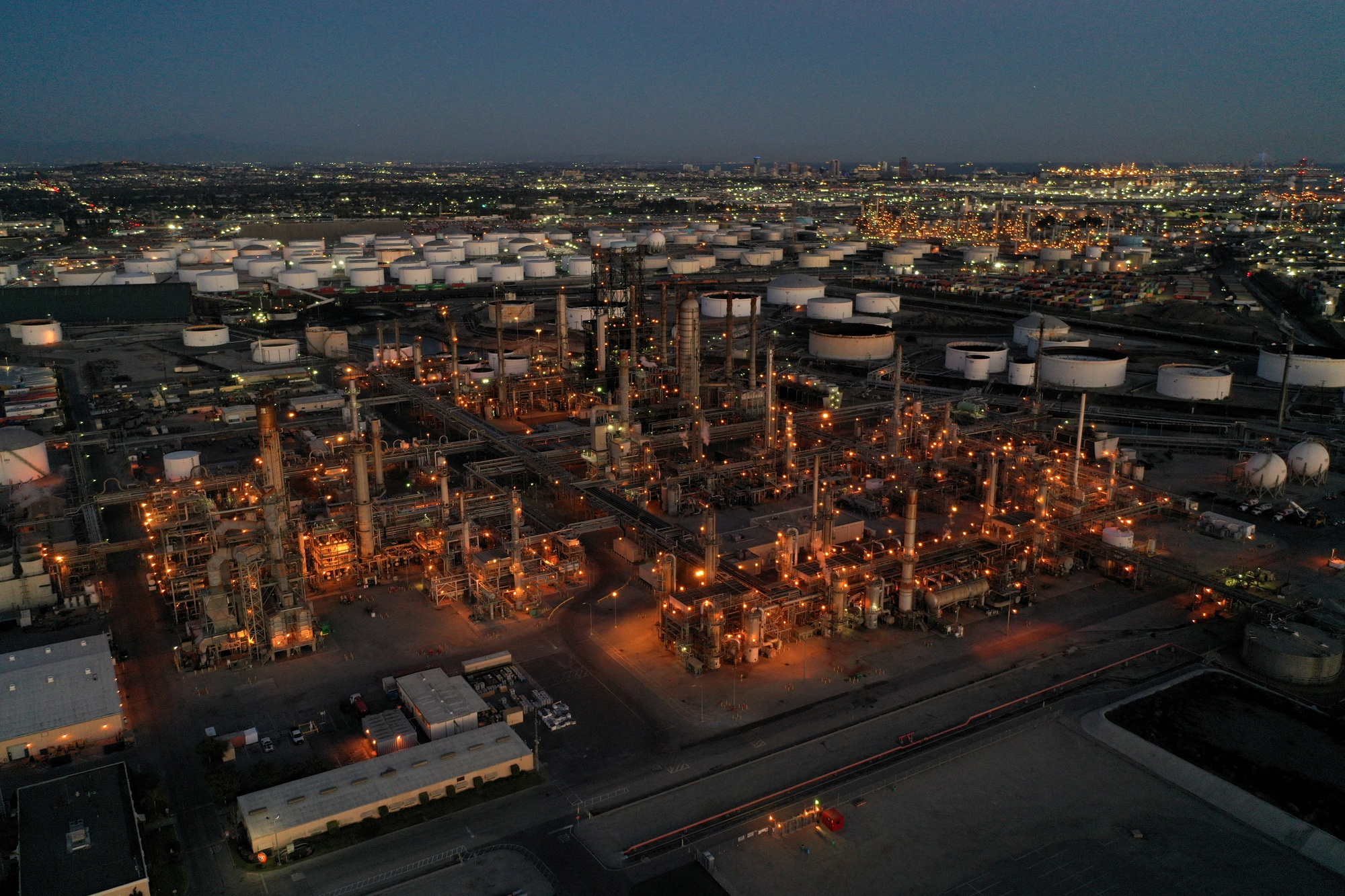 Oil refinery in Carson City, California – USA Photo: Reuters
Along with the above concerns, a series of recent economic data suggest that economic growth in China, the world's second-biggest oil consumer, has rapidly lost momentum from the second quarter of 2023 onwards. This has raised concerns about oil demand in the world's second largest economy.
However, analysts believe that oil prices may rise again in the coming days, partly due to supply constraints due to OPEC+ production cuts. The second reason is rising demand in the US, mainly due to improving industrial activity and more travel.
US crude stockpiles fell nearly 6 million barrels to 439.7 million barrels last week as exports and refining capacity built up, according to data from the US Energy Information Administration (EIA) on August 16.
Also last week, gasoline stockpiles fell 300,000 barrels to 216.2 million barrels. Crude oil and gasoline stockpiles decline during the summer months, when vehicle traffic is at a record high, indicating increased domestic demand.
In addition, a report from the Australia and New Zealand Banking Corporation (ANZ) on 18 August suggested that US oil production was offsetting the shortfall resulting from OPEC+ cuts. Still, according to ANZ, a decline in the number of oil rigs in the US means that support may be short-lived.
Earlier, a new EIA report projected that oil production in the US would rise to a record 12.76 million bpd in 2023. By 2024, this figure is expected to increase by 330,000 bpd to 13.09 million barrels/day.
great forecast
Bank of America (BofA, USA) has just forecasted that Brent crude oil price will reach USD 90/barrel next year with supply and demand almost in balance. With WTI oil, this figure is 85 USD/barrel.
According to BofA experts, a $100 a barrel increase in price requires OPEC+ to cut further supply, unexpected supply disruptions or strong demand. These are considered unlikely scenarios, especially as BofA projects world GDP growth to be 3% in 2023 and 2.8% in 2024.
Meanwhile, the US Energy Information Administration (EIA) raised its forecast for oil prices in a report released earlier this month.
Notably, with Brent crude prices averaging $82.62/bbl this year and $86.48/bbl next year, the previous forecast was $79.34/bbl and $83.51./bin, respectively. With WTI crude prices rising to $77.79/barrel in 2023 and $81.48/barrel in 2024, respectively.
According to EIA, the rise in oil prices is due to voluntary production cuts by Saudi Arabia and improving global demand. These factors will lead to a decline in global oil reserves, resulting in more pressure on oil prices. However, the EIA believes that global oil production will increase next year and keep pace with demand, allowing oil prices to start declining in the second quarter of 2024.
hoang phuong