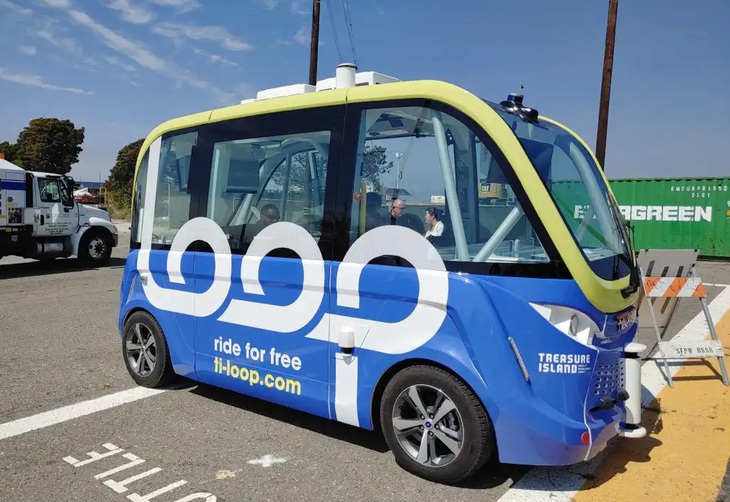 The driverless bus operates daily on a fixed route called the Treasure Island Loop, which was once a US naval base on San Francisco Bay. The route has 7 stops, connecting residential areas with several shops and public places. About 2,000 people live on Treasure Island.
The bus is fully electric, does not have a driver's seat or steering wheel, but does have an employee who can operate the car with a hand-held controller if needed. This bus can carry a maximum of 10 passengers, plying daily from 9am to 6pm. Two such buses operate alternately.
The rollout of the driverless bus service is part of a funded pilot program aimed at assessing whether self-driving vehicles are suitable to complement the public transport system.
This driverless bus service is operated by Beep Company based in Orlando, Florida.
Beep is running similar pilot programs at more than 10 locations across the US, including the Miami Zoo, Yellowstone National Park.
Beep project manager Shelley Caron says these driverless buses are intended for short-distance routes and are not intended to replace the current bus system.
More and more cities around the world are now testing the safety and potential of self-driving vehicles to replace public transportation.
Earlier, the city of San Francisco has also launched driverless taxi service with payment method with a frequency of 24/24 hours.
The pilot project of driverless car service was launched after the California Public Utilities Commission (CPUC) voted to allow two rival companies, Cruise (under General Motors Corporation) and Autonomous Cars, into the self-driving car field. Waymo (part of Alphabet Corporation) provides 24-hour passenger service in San Francisco.
However, the project has faced criticism that the driverless cars stop unexpectedly, disrupting traffic and emergency vehicles.
(tagstotranslate)driverless bus