The ceremony was organized by the Consulate General of Canada in Ho Chi Minh City, the Ho Chi Minh City Union of Friendship Organizations, the Vietnam – Canada Friendship Association, the Sharing Group and Tuải Tra Newspaper.
Speaking at the ceremony, Mr. Phan Van Mai, Chairman of the Ho Chi Minh City People's Committee, affirmed that in the past few years, Vietnam-Canada bilateral relations have made great progress. Since the 1990s, when Vietnam was still in a difficult phase, Canada – through the Canadian Organization for International Development (CIDA) – has implemented cooperation programs worth hundreds of millions of dollars, providing thousands of scholarships for Vietnamese students.
Many areas and regions of Vietnam have received support from Canada through projects on capital, agricultural technology – rural – adaptation to climate change. These collaborations have contributed to, spread and generated momentum in other areas of cooperation, especially since the two countries officially upgraded their ties to Comprehensive Partnership in 2017.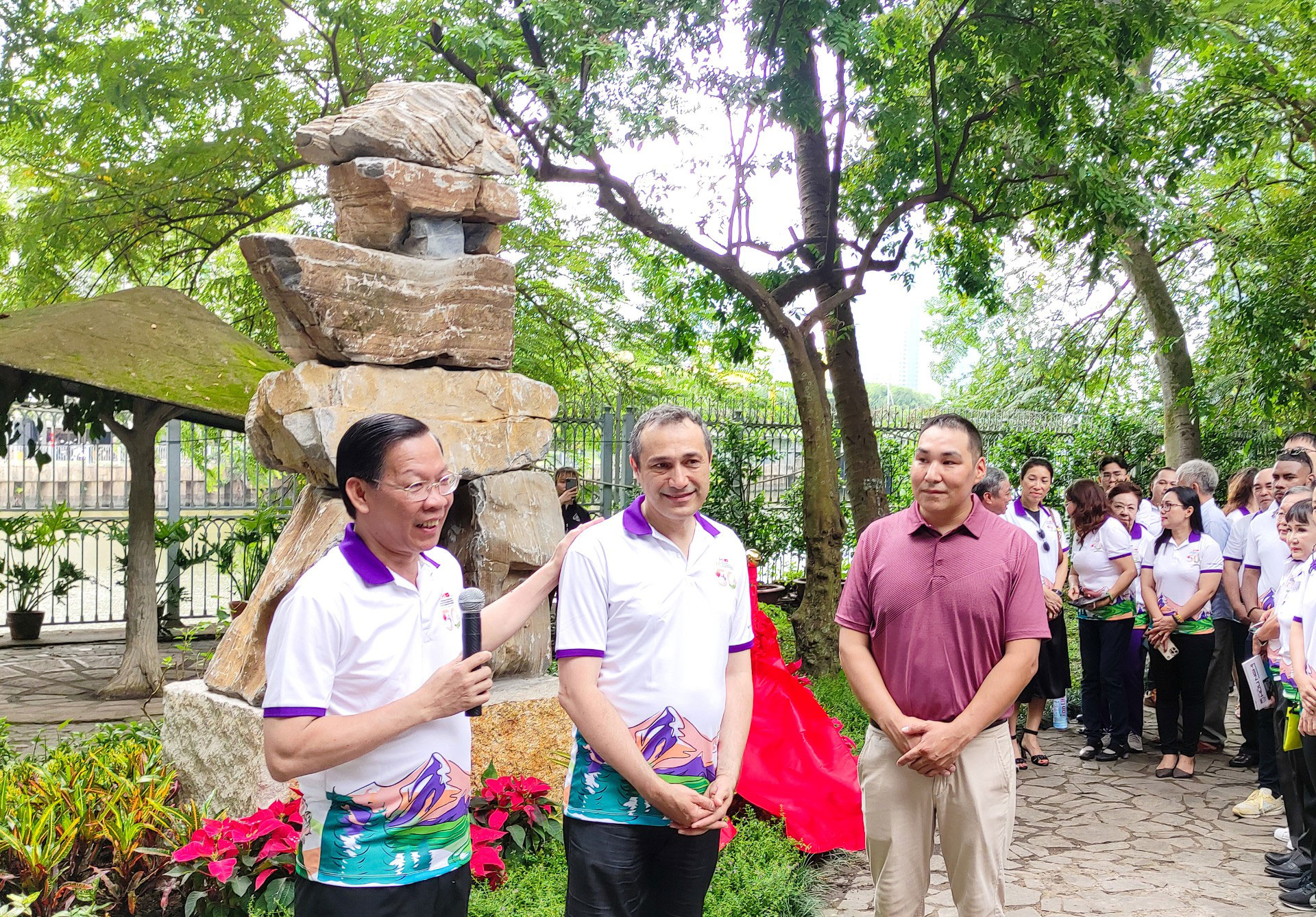 From left to right: Phan Van Mai, Chairman of the People's Committee of Ho Chi Minh City, Behzad Babakhani, Consul General of Canada in Ho Chi Minh City, and the Canadian artist who created the Inukshuk symbol
Currently, Vietnam is Canada's largest trading partner in ASEAN, the amount of investment capital from Canada is increasing and will certainly increase in the near future as the bilateral cooperation environment becomes more open. This platform will help in the goal of increasing two-way cooperation. The trade turnover will reach from USD 7 billion to USD 10 billion in the near future," said Mr. Phan Van Mai.
The Chairman of the Ho Chi Minh City People's Committee highly commended the "Golden Milestone" event, which is one of several activities to celebrate the 50th anniversary of the establishment of diplomatic relations between the two countries taking place in Ho Chi Minh City.
The event is not only an opportunity for Canadians and the Canadian community in the city to interact, but also to help 1,400 underprivileged children enjoy the Mid-Autumn Festival and prepare for school on New Year's Eve is humane.
Canadian Consul General in Ho Chi Minh City Behza Babakhani said she hoped that like the past 50 years, the next 50 years would be a memorable milestone for the relationship between the two countries.
At the Saigon Zoo and Botanical Gardens – where the ceremony took place – the Consulate General of Canada presented an Inukshuk emblem to Ho Chi Minh City to celebrate the two countries' memorable milestone.