In the general election on 14 May with 141 seats, Pheu Thai is the largest party in the above coalition, followed by Bhumjaithai (71 seats), Palang Prakarath (PPRP – 40 seats), United Thai Nation (UTN – 36 seats) . ,
At the start of the press conference, Phu Thai leader Cholnan Srikaew clarified that the new coalition does not include the Progressive Party (MFP), the party that came first in the general election with 151 seats in the lower house.
The new coalition agreed to support Phu Thai's policies as important in the new government, including an e-wallet program, a minimum wage of 600 baht a day, and higher agricultural prices.
The new government will set up a parliamentary committee to revise the constitution in a "more democratic way". In addition, according to Mr. Cholanan, Article 112 of the Penal Code (commonly known as military law) and other laws relating to the royal family will remain unchanged.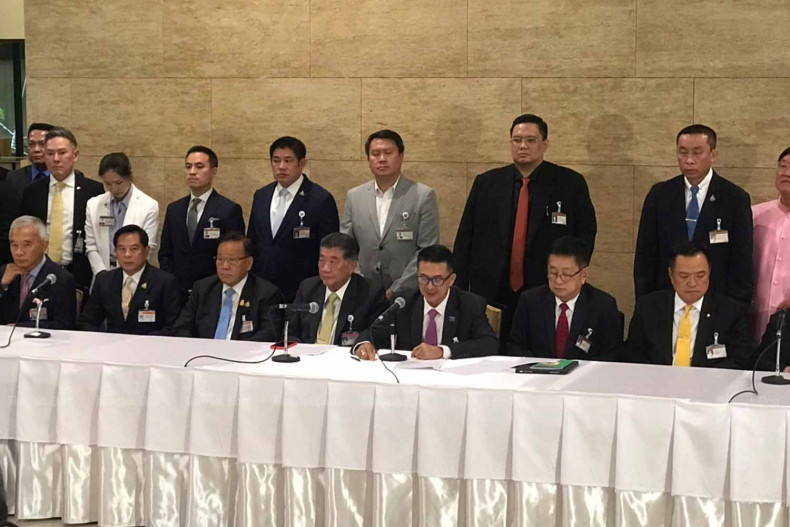 Phu Thai party leader, Mr. Cholanan Srikaew (third from right), reads the joint statement of the 11-party coalition at the National Assembly on the afternoon of August 21 Photo: Bangkok Post
With regard to Phu Thai Party's prime ministerial candidate Shretha Thavisin, several other senators expect her to appear at a parliament session on 22 August to speak about the recent allegations.
One of them is alleged tax evasion by real estate company Sansiri Plc, where Mr Shretha served as chief executive officer before entering politics.
theo Bangkok PostIn addition to the new coalition's 314 lower house seats, Pheu Thai's candidate needs about 60 votes out of 249 senators to be able to become Thailand's 30th prime minister.
In the coming days, Thailand could see further turmoil due to the return of former Prime Minister Thaksin Shinawatra – the father of another Pho Thai prime ministerial candidate, Mrs. Patongtaran Shinawatra.
Mr Thaksin was ousted in a military coup in 2006 and left Thailand in 2008. He was sentenced in absentia to 10 years in prison by the Supreme Court of Thailand in three separate cases.
sea ​​pearls