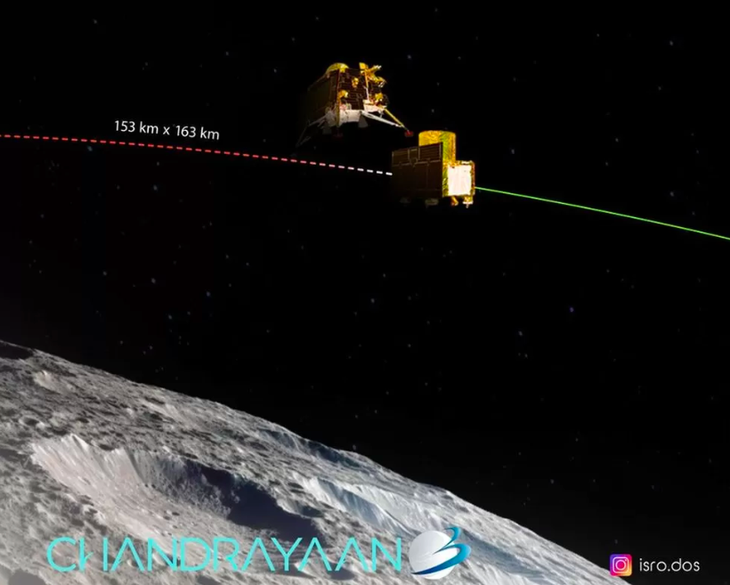 On 20 August, the Indian Space Research Organization (ISRO) announced: "Chandrayaan-3 is scheduled to land on the Moon on August 23, 2023 at approximately 18:04 hrs Indian Standard Time (19:34 hrs Vietnam Time the same day)". are supposed to." ).male)". The event will be streamed live on ISRO's website, YouTube, Facebook and other platforms.
According to the BBC, if the Chandrayaan-3 mission is successful, India will be the first country to send a lander to the Moon's south pole. At that time, India would also be the fourth country to achieve a "soft landing" (controlled landing) on ​​the Moon, after the US, the Soviet Union and China.
Chandrayaan-3 is India's third lunar exploration mission with a budget of 6 billion rupees (about 72 million USD). Participating in the Chandrayaan-3 mission were a lander named Vikram, a small rover named Pragyan and a propulsion module.
The LVM3 rocket carrying this mission was launched from the Satish Dhawan Space Center on 14 July. The Vikram-Pragyan lander-rover pair entered lunar orbit on 5 August and separated from the thrust module on 17 August.
On the morning of 21 August, ISRO said that the lander was mapping the landing area and taking pictures from the camera capable of "detecting and avoiding threats". ISRO says the black-and-white pictures taken by the camera will help them "identify a safe landing zone – where there are no rocks or deep ditches".
"Hopes are growing for India to become the first country to land on the South Pole of the Moon" – Newspaper wall street journal (USA) commented on 20 August. there are newspapers times of India (India) wrote on 21 August: "The countdown has begun for India's ambitious lunar mission – Chandrayaan-3 – with the Vikram lander just 2 days away from the Moon's south pole".
The lunar south pole is the southernmost point on the Moon, which is of particular interest to scientists because of the presence of water ice in the permanently dark regions around it. The water ice could be used to extract fuel, oxygen and drinking water, which could be used for future Moon missions.
Russia's Moon Mission Failed
On August 20, Russia's first lunar mission in 47 years failed when the country's Luna-25 spacecraft lost control and crashed into the Moon, according to Reuters news agency.
A Soyuz 2.1 rocket carrying the lunar probe Luna-25 was launched from the Vostochny Cosmodrome on 11 August. Russian officials said that with this mission, Luna-25 was originally supposed to land on the Moon's south pole on August 21, making Russia the first country to do so. However, things did not turn out as expected.
(tagstotranslate) nga