On August 21, during his official visit to Vietnam, the President of the Republic of Kazakhstan, Mr. Kassym Jomart Tokayev held talks with President Vo Van Thuong and held meetings with Party General Secretary Nguyen Phu Trong and Prime Minister Pham Minh Chinh. Vuong Dinh Hue, President of the National Assembly.
In the meetings, our leaders affirmed that Vietnam always values ​​traditional friendly relations with Kazakhstan, considering Kazakhstan to be a leading important partner of Vietnam in Central Asia.
President of Kazakhstan expresses happiness over first official visit to Vietnam; HIGHLY APPRECIATE the significant achievements made by Vietnam in Vietnam's innovation path, socio-economic development and improving its reputation in the international arena; They affirmed that Kazakhstan always values ​​the good traditional friendship between the two countries, and regards Vietnam as one of the most priority partners in the Asia-Pacific.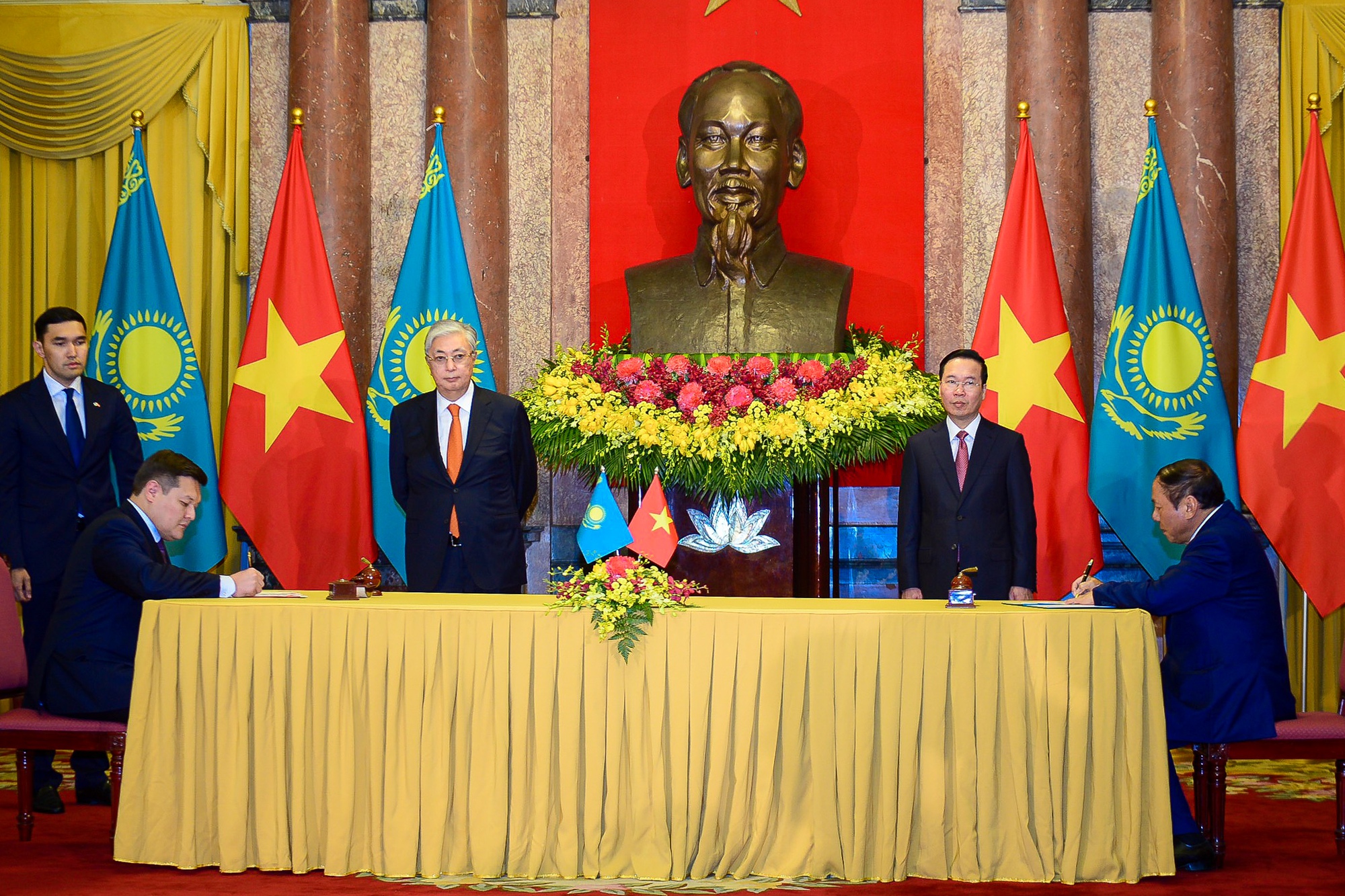 President Vo Van Thuong and President of the Republic of Kazakhstan Kassym Jomart Tokayev witness the signing of a cooperation document Photo: Hu Hung
In the talks, President Vo Van Thuong and President Tokayev reaffirmed the importance of promoting exchanges at all levels, especially high-level delegations. The two leaders highly appreciated the positive progress in economic, trade and investment cooperation, including the Free Trade Agreement between Vietnam and the Eurasian Economic Union (EAEU), of which Kazakhstan is a member. Member since 2016; However, there is still room for more collaboration.
State President Vo Van Thuong asked Kazakhstan to support early negotiations to upgrade the FTA to meet the requirements of reality and create more new opportunities for trade exchanges between the two countries .
President of Kazakhstan wishes that both sides soon achieve the target of two-way trade turnover of USD 1.5 billion; supporting cooperation in linking logistics, transportation and agricultural services; Proposal to establish Vietnam-Kazakhstan Business Council…
Both sides also expressed their desire to promote exchange of information on environment, investment opportunities and create favorable conditions for businesses of both countries to access each other's markets; Research and establish joint ventures in areas of both potential and demand: textiles and clothing, halal food processing, seafood, canned goods… to supply the Central Asian market.
The two leaders agreed to expand cooperation in potential areas such as transport, education and training, culture, sports, tourism, finance, banking and high technology. The two Heads of State welcomed the opening of direct flights between Vietnam and Kazakhstan in October 2022; We believe that the signing of the Bilateral Visa Waiver Agreement for Ordinary Passport Holders and the MoU in the field of tourism will strengthen tourism cooperation and people-to-people exchanges.
In the talks, the two leaders exchanged views on a number of international and regional issues of mutual concern and shared views on settling disputes through peaceful means based on international law.
The two sides agreed to continue supporting each other in multilateral fora, particularly the United Nations, the Summit on Coordination of Action and Confidence-Building Measures in Asia (CICA)…; Confirmed that Vietnam is willing to be a bridge for Kazakhstan to strengthen cooperation with countries in Southeast Asia and Kazakhstan will be a bridge for Vietnam to strengthen cooperation with Central Asian countries.
Following the talks, the two leaders signed a number of cooperation documents, including: Agreement on the Transfer of Persons Sentenced to Prison; Agreement on Visa Waiver for Ordinary Passport Holders; Joint Action Plan for the Promotion of Economic-Trade Cooperation in the Period 2023-2025; Memorandum of Cooperation in the field of Tourism; Memorandum of Understanding between Vietnam Television (VTV) and Agency Khabar.