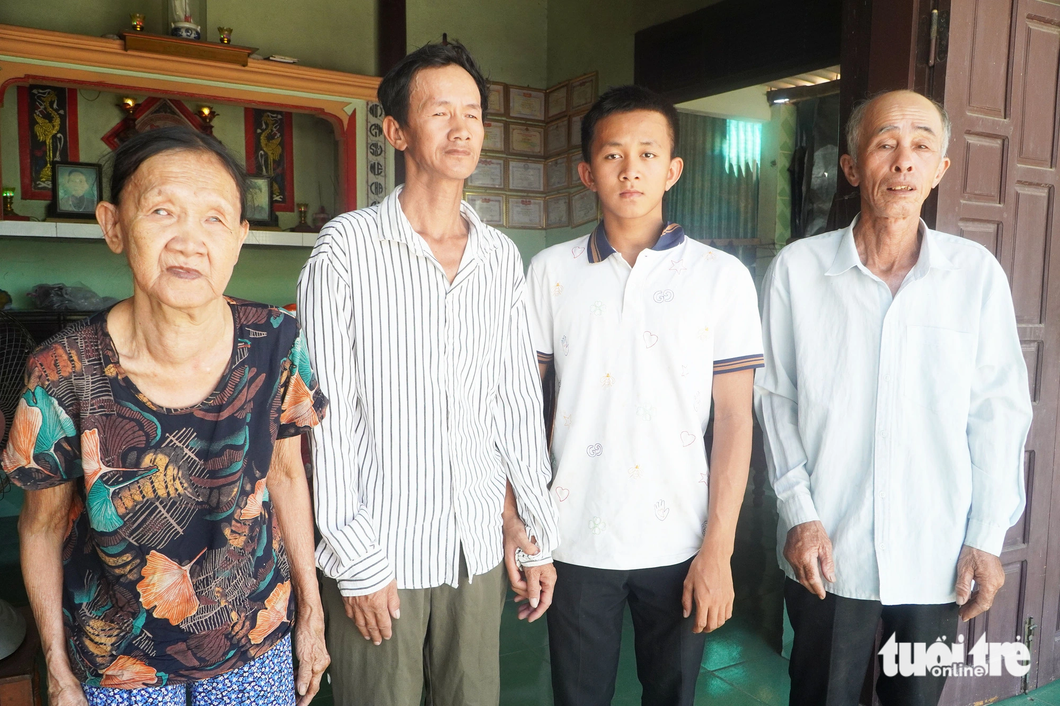 Confession of Mr. Bay Bon (common name at home of Mr. Nguyen Duy Hung, 71) – character in the article One person feeds five people in the dark in the morning Tuoi Tre posted 20 years ago – mixed with the noisy rice mill.
mr bey bon and his friends
Workshop in the small village of Tan Loc Ngoc (Tam Tien Commune, Nui Thanh District, Quang Nam) where he grinds rice for wages, while his grandson Nguyen Ngoc Phuoc also helps him with his livelihood.
Hope in the 'dark house' of Mr Bay Bon's family
Phuoc, the son of that house full of blind people, has recently been admitted to Danang University of Science and Technology, majoring in control and automation engineering, with an A00 grade of 26.05. That's enough to light up that "dark house".
Mr. Bay Bon is happy but also worried about what his grandson has just done.
All his life was miserable, struggling to support a blind family, in the late afternoon, he was full of mood: "Phuoc going to university is beyond imagination, my worries are still ahead".
Leaving the sentence, he picked up the bowl of rice with great effort and put it in the mill.
Phuoc next to him said to the lanky grandfather: "Come on, let's go to the motel, let me do it".
The strong boy picked up buckets of rice each and put them in the machine. Pure white rice was swept away, dust spread all over the factory.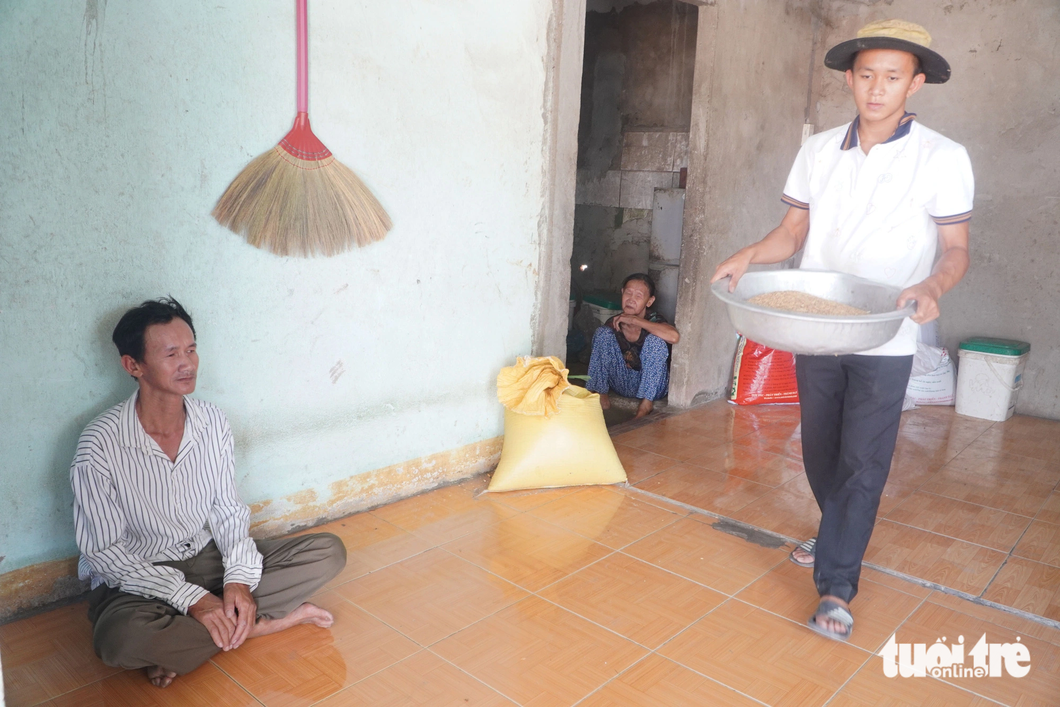 Bay Bon, the name is suggestive of a nomadic, restrained life. He flashes back to the past, about half a century ago, after the couple left their hometown for a new economy in Dak Laak. The first birth happened when his wife Mrs. Mai Thi Lok started showing signs of blurred vision, after a few years he brought the whole family back to his hometown, since then his wife also became completely blind.
Four children (3 boys, 1 girl) were born healthy, but unfortunately, all of them, like Mrs. Lok, suffered from eye disease and then gradually disappeared. Some people become completely blind due to diseases like corneal degeneration, cataract, corneal lesion in the eyeball.
Roaming from one hospital to another, only one son was cured, his eyesight was 30-40%, the rest were in darkness.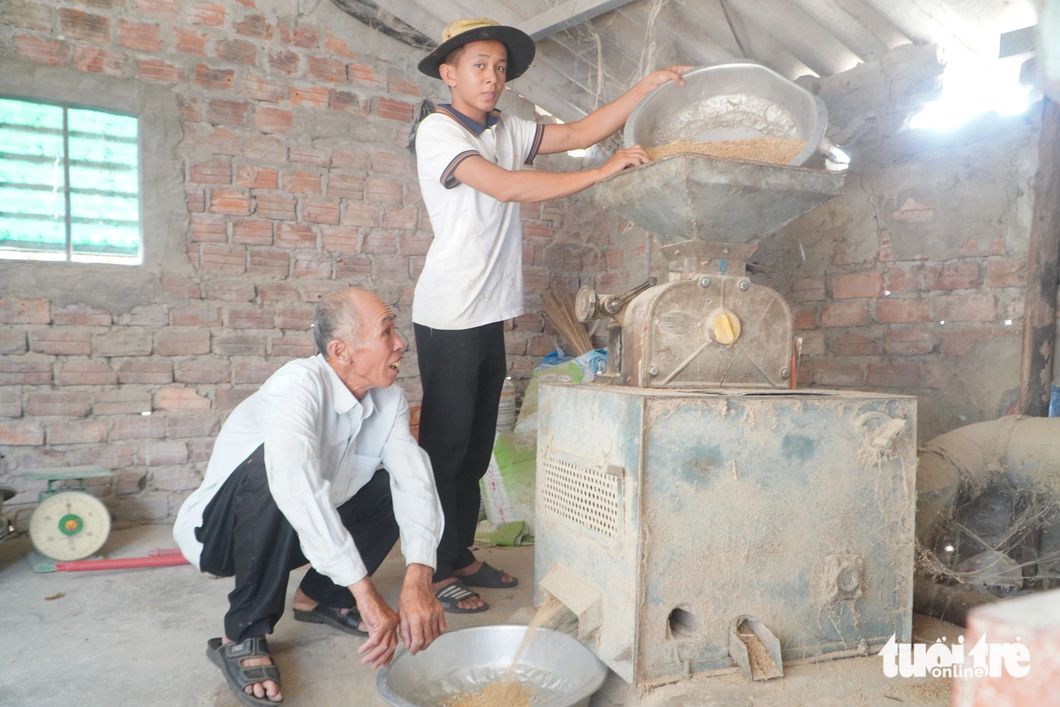 Mr. Bay Bon burdened his family with all kinds of jobs, sometimes wishing there was only one person in the family with good eyes to help them through the ups and downs.
Everyone suffers from living in the dark, my grandfather spent his whole life giving me light, so I would be hard pressed not to help him.
Nguyen Ngoc Phuoc
"Thank you for giving a bright light to the whole family"
In the house, Mrs. Lok and Mr. Nguyen Ngoc Lan (Phuoc's father) were groping through the wall to the courtyard, they asked: "Who are you?" To which he replied: "The reporter of the newspaper Youth Providing survey and scholarship to Mr. Phuoc. Go home, don't fall anywhere.
Think back to seven years ago when he came home, his children searching for a livelihood in the dark, a lottery ticket seller roaming around, a hired worker. And he worked hard in a rice mill, herded pigs and cows, and sold lottery tickets in his spare time. That day, only Class 5 Phuoc entered the workshop to help.
Now Mr. Bay Bon claimed that the boy was like a light in a dark house, the hope and support of all.
Their children, after surgery, some had a slight improvement in their eyesight but could not recover completely, now have their own lives, and Mrs. Lok and Mr. Lan remain blind relying on them. "Blessed is the greatest hope, thank life for the bright light," he said.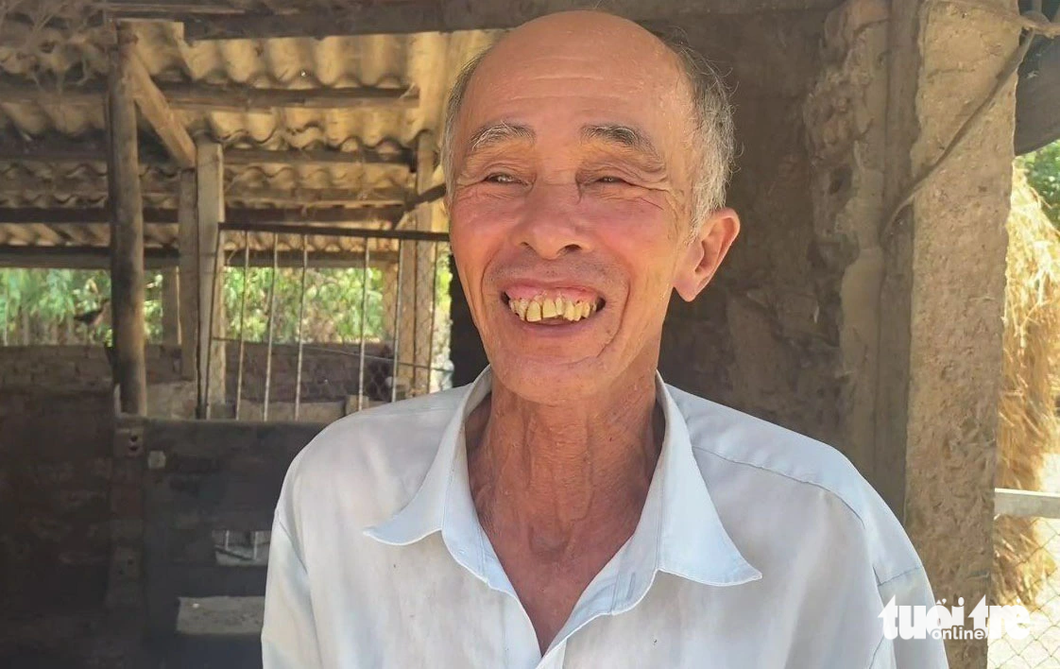 Lan used to have a wife, but when Phuoc was 5 years old, he could not bear to see the whole family wandering around in the dark, so his wife married another man. Mr. Bay Bon said, "The family accepts it because of the circumstances, so that he can earn his own happiness, not complain."
The sooner he realizes his family background, the stronger Phuoc becomes. "No regrets, I take it as an inspiration," said Phuoc.
From a young age, he used to help them with the household chores, then rear cows and grind rice. During the three years of high school, he was sponsored, fed and housed by the border guard station, and when he returned home, he accompanied them to the workshop.
Difficulties never stopped them, 12 years were good and good. He soon received notice that he was eligible for admission to Da Nang University of Technology, majoring in Mechatronic Engineering, through the High School Entrance Examination (record) with a score of 28.02.
And now I have accepted my first wish of admission in this school. The dream of becoming an engineer resurfaced. Mrs. Lok cried, "I thought the house was all dark, but God gave Phuoc a bright light, everyone was thrilled when she won the job."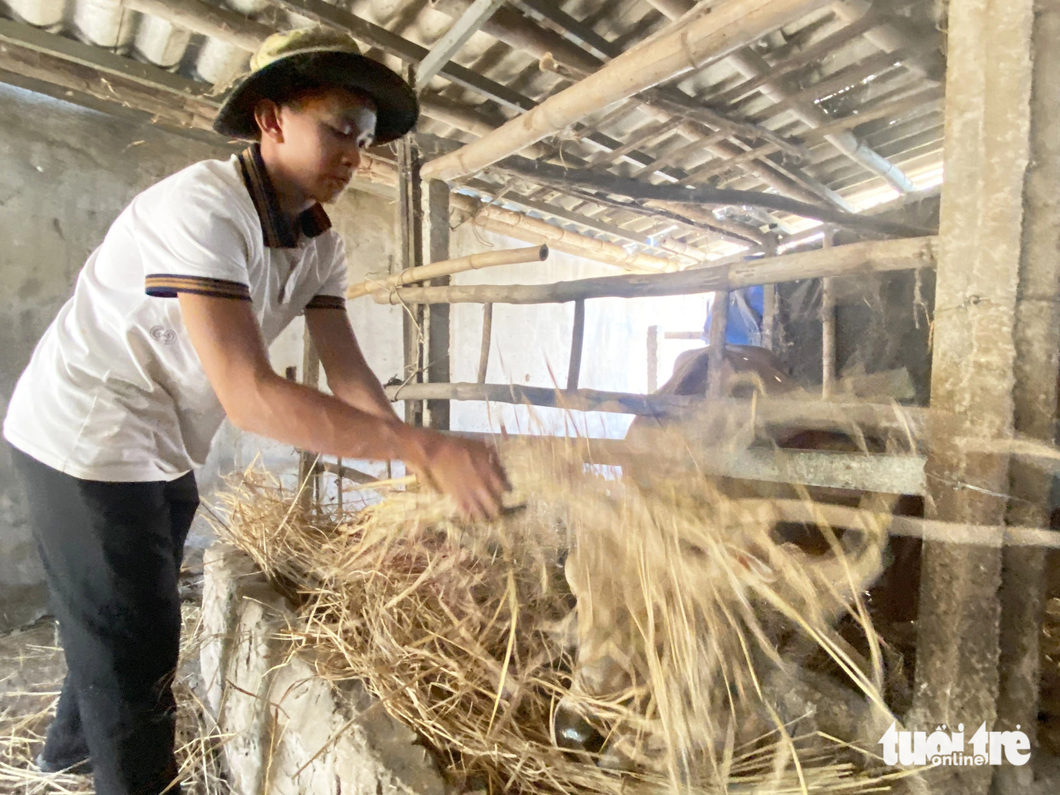 selling pigs and cows…should be enough for me to go to school
Once embarrassed, Lan thought it was a burden to his father and son, so he did not sit at one place to eat.
In winter, he wandered around for a living, groping in the dark with a stick and a pile of lottery tickets in hand. You can't go out on the street on a sunny day because frail people, many lottery ticket sellers faint in the middle of the street because of sunstroke. "The boy studied well, passed the university, now I have no regrets", he cheered.
20 years ago, while reading an article about Mr. Bay Bon's family, the reader Youth About 100 million VND was shared and supported, helping his wife and children to undergo surgery and go to a major hospital to save his eyes.
Light has not come to him properly yet, but he saved that huge amount without spending it, because he is the heart of the society.
Buy a rice mill and then open a workshop, invest in raising pigs, cows and chickens to make a profit, some of them are deposited in the bank for the safety of his wife, sick children, Mr. Bay Bon hard at the workshop Let's work hard.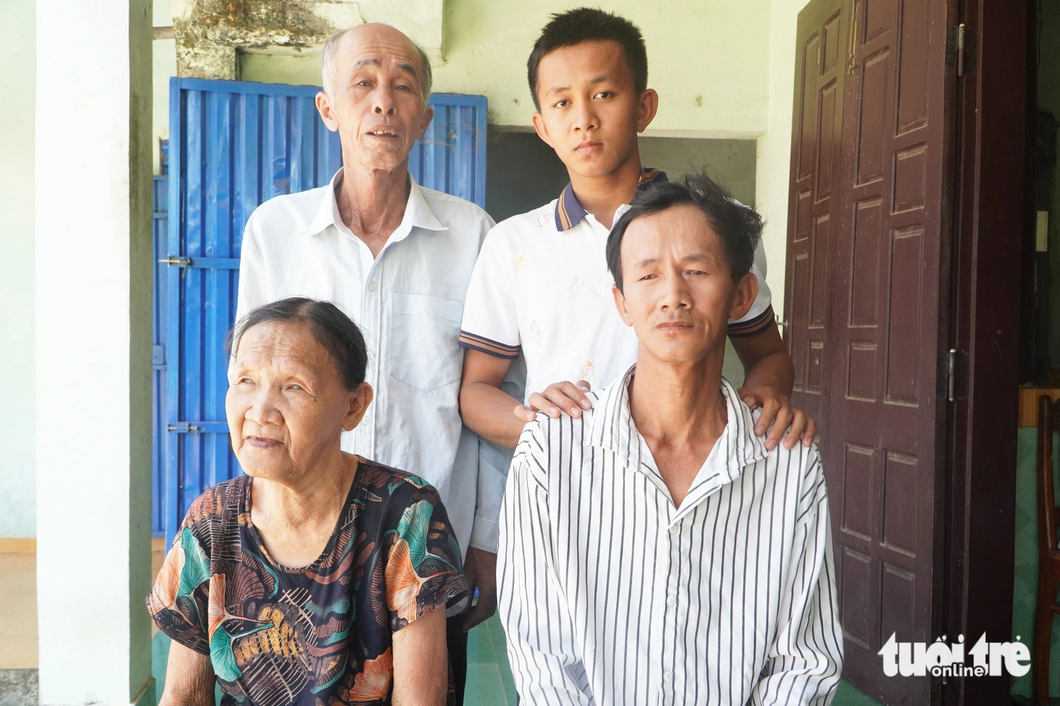 "Phuoc's situation is very difficult, he is a good student in the class, puts a lot of effort into his studies. I often suggest the school to support him to study. Heard he passed, very happy hmmm, hope the society will come out to help the boy" – Ms. Tran Thi Bich Anh, Phuoc's 12th grade homeroom teacher.
Struggling with rice for many years, I don't remember, I only see that my head has already turned white for almost a lifetime. Old age but not old, giving respect to neighbors.
Phuoc told that he would go to Da Nang city in a few days, he asked his compatriots there, so he got a job as a coffee shop assistant and would start his journey of studying while working to fulfill his dream.
To the question "Where is the money for the education of my children?", Mr. Bay Bon replied: "Pigs, cows and chickens that have been fed for a long time should be enough for the boy to take the first steps. There is little strength left. Yes, this old body is also worried.
Readers who support the scholarship for new students, please transfer to the newsletter's account Youth: 1130000006100 Industrial and Commercial Bank (Vietnambank), Branch 3 in Ho Chi Minh City.
Contents: Support the "School to Support" for new students or specify the province/city the reader would like to support.
Readers, foreign businesses can transfer money to Tuoyi Tre newspaper: USD account 007,137,0195,845 Ho Chi Minh City Bank for Foreign Trade; EUR Account with SWIFT Code BFTVVNVX007 007.114.0373,054 Ho Chi Minh City Foreign Trade Bank.
Contents: Support the "School to Support" for new students or specify the province/city the reader would like to support.
In addition to funding scholarships, readers can support teaching equipment, housing, jobs… for new students.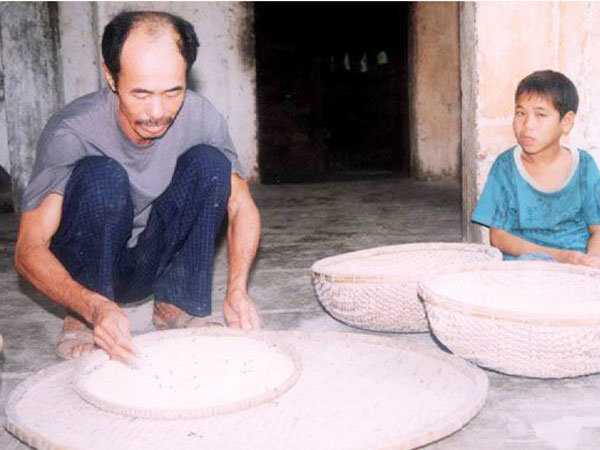 In the morning one person feeds 5 people in the evening
(TagstoTranslate) Seven Bon