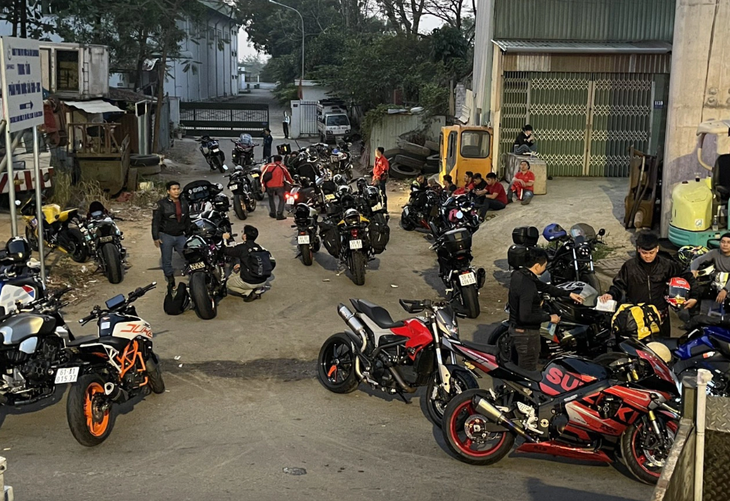 Recently, the hobby of "playing" large-displacement motorcycles has become popular. Apart from those who follow the traffic laws, there are still many people who violate the speed, lane…, misuse the loud sound of the car to attract the attention of passers by, thereby affecting other people.
Motorcycles are not preferred
Mr. H.T. (30 years old living in Thu Duc City) who has a house opposite National Highway 1 (HCMC) said that he is often startled by the sound of mufflers of large displacement motorcycles. In addition, many large displacement motorcycles are often seen in car lanes looking for the hidden danger of accidents.
NTD (31 years old, lives in Thu Duc city – specializes in traveling by motorbike) said that having a motorbike is a hobby and hobby of many people, these cars can cost up to several hundred million dong. Even billions of dollars.
However, not all motorcyclists follow traffic laws. According to Ms. D., the behavior of many motorcyclists is swinging, not complying with the speed, carrying luggage on their head to show off, running in major streets… looking for hidden risks of accidents, intimidating passersby.
Ms. D. shared, "When I travel on the road, I often see many motorcyclists speeding in the car lane, which is very dangerous for them and the people around."
Mr. LaV (25 years) shared that whenever he is riding a motorcycle on the road and hears a "roar" behind him, his usual reaction is always to hide on the sidelines, even if there is actually no real problem. Not there. Any right of way for motor.
As noted on social networking platforms, the number of people currently participating in clubs and groups driving large displacement motorcycles is on the rise with many different ages. Ranging from youth to middle aged people and most of these clubs are spontaneous.
According to a traffic police officer in Ho Chi Minh City, there is currently no legal regulation on the priority of large displacement motorcycles. Motorcycles are only allowed in the lane reserved for motorcycles.
According to this official, the vehicles with priority rights are only fire fighting vehicles; military vehicles, police vehicles on urgent duty; convoy led by police cars; ambulance on emergency duty; dam protection vehicles, vehicles on duty to overcome natural calamities and epidemics; or vehicles on duty in case of emergency prescribed by law; Hearse convoy.
However, in cycle races, delegations carrying out official duties, etc., the traffic police must lead, except in the case of motorbikes.
According to Decree 100, motorbikes entering prohibited roads will be fined 400,000 to 600,000 VND, in addition to having their driving licenses revoked for 1–3 months.
runs so fast that the machine… can't measure the speed
A traffic police officer from Binh Thuan Provincial Police shared that in the process of patrolling and controlling Highway 1, the most painful thing was the large displacement motorcycles.
This convoy is often overcrowded, at high speed, driving in the wrong lane, making deafening noises… The risk of accidents and traffic insecurity is very high. Even the traffic police officer ordered to stop, but the driver still ran and did not obey.
"Their cars are so fast they can't measure speed. They move in large groups, so they can only measure one. But the number plates of large displacement motorcycles are often improperly placed, obscured, or edged . So the speedometer is not clear, only the shape of the car can be seen. The cool fine camera is also difficult to identify for punishment", a traffic police officer from Binh Thuan Public Security shared.
This official said: "To stop a high-speed motorcycle gang, many forces have to be coordinated and quick planning has to be done. If handled improperly, the risk of causing an accident is high for drivers, those on duty and people on the road." Too much for both." , Handling a group of large displacement motorcycles is even more difficult than several trucks, cars, sleeper vans…".
On 22 August, a video of a group of motorbikes traveling in the opposite direction on the Cat Lai Ferry brawling and pushing and shoving passers-by on the Cat Lai Ferry, which took place on the afternoon of 20 August, went viral on social networks.
A member of the motorcyclist group posted on Facebook that it "did not intentionally exceed the lane in the opposite direction", but a man dressed in a ferry worker's uniform and a street guard "instructed" the group to follow the car . ,
meanwhile exchange with young onlineThe leader of the Ho Chi Minh City Youth Volunteer Ferry Enterprise said that on the afternoon of August 20, the number of passengers crossing the ferry was huge, while thousands of motorcyclists queued up to wait for the ferry in accordance with the rules and traffic culture . .Only vehicles in the group of motorcycles pass in the lane on the opposite side of the cars.
The leader said, "When the convoy was found following the car, the ferry workers stopped it. At present, the factory has also provided information and videos to the Non Trach District Police for verification and management."