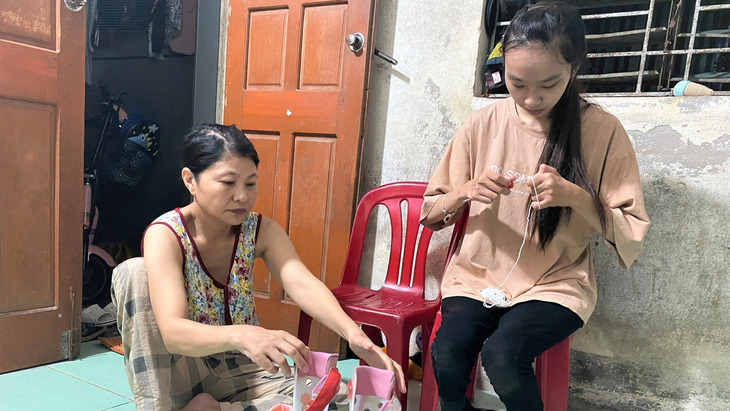 After feverish convulsions as a child, Tu Anh's legs gradually became weak and he had to rely on artificial legs and faced many hardships in life. But the girl was adamant: "I want to go to university so that in the future I can have a stable job to support myself and take care of my family."
To keep striving, to keep striving to find the light of my life is the life goal that has encouraged me all these years.
Nguyen Thi Tu Anh
10 years old in first grade
Late one day in mid-August, I met Tu Anh when he came home from the Chinese language center in Trung Do Ward (Vinh City, Nghe An). A small alley that two people can walk through leads to a house about 20m2 wide, where Tu Anh's family of five live.
She quickly put away her stuff, and she got her books ready in time to teach overtime to another student. The living room is also a cramped bedroom, with nothing worthy of tidiness in a little girl's homely learning space. Seeing her daughter working hard at tuition, Tu Anh's mother – Mrs. Le Thi Hoa – choked when she spoke about the hardships mother and daughter face.
Due to the inheritance of Agent Orange from her father, Ms. Hoa had disfigured legs, which made it very difficult to walk. After giving birth to three children, but her happiness was broken, she took her three young children to her grandmother's house for help. Mother and daughter lived in a makeshift hut on a small piece of land left by their grandparents.
Ms. Hoa said that when she was 5 years old, her daughter Tu Anh had a fever and had convulsions, which seemed unlikely to save her life. Furthermore, because she was too poor to afford the treatment, as well as the genetic effect of Agent Orange's inheritance, Tu Anh's legs grew smaller like hers.
Despite her poor health, Hoa still tries to support her children by selling vegetables at neighboring markets every day. Tu Anh couldn't go to school like her friends, but every day after the market was over, she also noticed that her daughter was very eager to learn, practicing writing and numbering on the brick floor. Waking up many nights, the mother thought: "My life has become miserable, perhaps the children must suffer too!".
So, at the age of 10, Tu Anh entered Class 1 with a lot of support from the local government and teachers. Four years older than her classmates, but the slim girl is almost the smallest in the class, so she is bullied by her friends as well, causing her younger student Tu Anh to become very self-deprecating, and live a lonely life.
However, whether it is a sunny day or a rainy day, it is rare for teachers and friends to see Tu Anh miss school. But during the 12 years of high school, he always got very good students.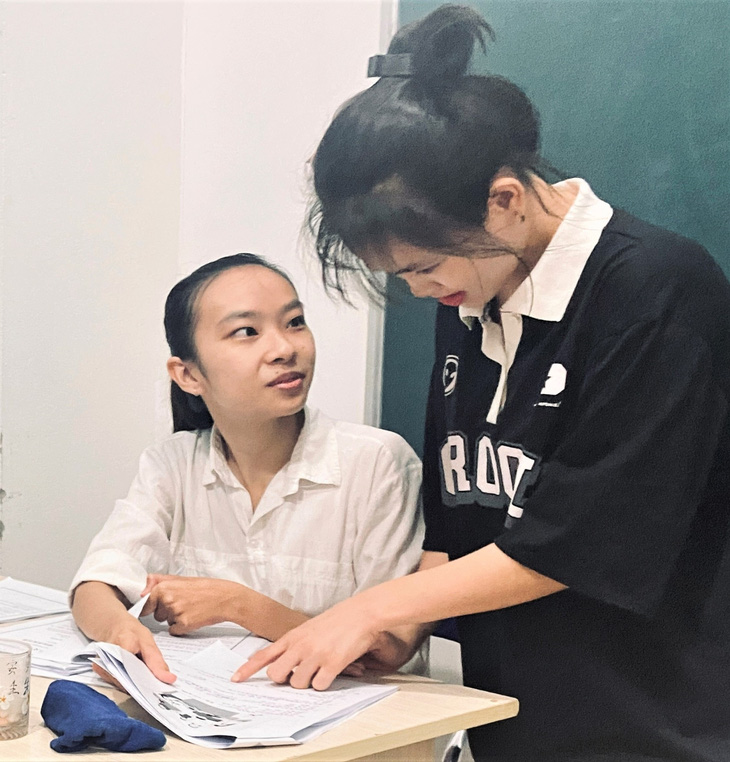 how you live determines your life
A few years ago, during a trip to the market amid heavy rain, Ms. Hoa unfortunately fell from the car and broke her arm, causing her health to decline. Since then, all expenses in the family depend on a meager monthly disability allowance.
Upon removing the pair of prosthetic feet, new student Tu Anh was revealed to have calluses on his feet. The girl pointed to her prosthetic leg and said, "My best friend, without this, I wouldn't be able to walk and go to school like I do today."
Tu Anh loves Chinese, but universities with Chinese subjects are in Hanoi or Saigon. While his mother has heart disease, asthma and has difficulty walking, if you go to school far from home, you will have many difficulties that you cannot solve yourself.
At the end of 12 years of high school, Tu Anh's heart was also confused. Discussing with your mother, you have decided to temporarily postpone your university studies, apply for a part-time job, try to save some money, and then continue studying. Because at that time going to school became a burden for my family as well as for me.
Weighing back and forth, after a three-year break from studies to go to work, she decided to choose accounting. Tu Anh's interpretation is that now you can still teach, but your health is getting weaker, you want to choose a suitable industry, combine it with Chinese so that you can later work as an accountant for a foreign company. Can work as
Tu Anh said that someone once asked her friends if she ever felt stuck in life and wanted to give up, but through the information she read in books and newspapers, she found herself very lucky. Believed because the circumstances of many people were worse than this. Tu Anh assured, "The choice of how to live will determine each person's life."
strong willed girl
Tu Anh's Chinese love has been rekindled by the foreign movies you've seen. Though there is no translator, yet you understand the meaning of the lines. So the girl started tinkering with self-study and then went to a Chinese center to seek "improvement".
Ms. Dau Thi Hoang Anh, director of the Sino-Vietnamese Chinese Language Center, said that when she met and learned her family situation, she realized Tu Anh was a girl with energy, optimism and strong will. Ms. Hoang Anh said, "The center decided to offer two courses free of charge and saw that your students progressed very quickly. We will create conditions for Tu Anh to teach more after obtaining the Chinese language certificate." also make."
new students have difficulties, youth
Tuoi Tre Newspaper is still accepting applications for the School Relay Scholarship in 2023, receiving applications by the end of October 10th.
There are four contents to provide when accessing Tuoitre.vn, follow the instructions to apply for this year's scholarship. Candidates must fill out correctly, provide a photograph of their civil identification, study history, GPA in high school and test scores for three subjects in the Personal Information section.
In the Family Information section, please share your family's specific circumstances explaining your reason for applying for the scholarship. In the section Please introduce yourself, please talk about your efforts in the learning process. Finally, in the next episode, we'd like to hear from you about your plans for the future.
You Apply For The Riley To School 2023 Scholarship Here

(TagstoTranslate)Relay for School