Thaksin has been closely monitored by a team of six doctors since he was taken to the hospital at dawn on 23 August.
The general manager of the hospital, Soponrat Singhajaru, denied that Thaksin was kept in a VIP room on the 14th floor of the 20-storey building.
He said former prime minister Thaksin was kept in a non-air-conditioned room on the 14th floor, where COVID-19 patients were treated. Mr Soponrat said: "The air conditioner was not working on that floor, so we had to use two fans to ventilate."
Mr. Soponrat also emphasized that Mr. Thaksin's room does not have a good view of the city because the rooms on that side of the building receive direct sunlight and are hot during the day.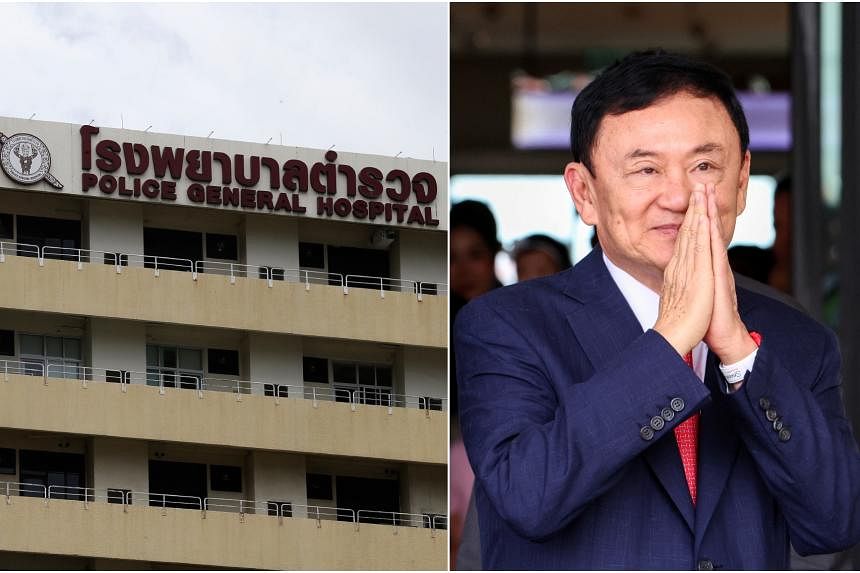 Former Thai Prime Minister Thaksin Shinawatra was transferred to the Police General Hospital after suffering heart and blood pressure problems. Photo: EPA-EFE, Reuters
According to the director general of the hospital, Mr. Thaksin suddenly experienced chest pain and a low oxygen index. His blood pressure was also very high and on his first night of detention (22 August) he was moved to the hospital ward of the Bangkok Remand Jail.
Mr Soponrat said: "The doctors at the prison hospital tried to lower his blood pressure but were unsuccessful so they decided to take him to the police hospital in the middle of the night."
Mr. Soponrat said that although the medical staff at the prison hospital were competent, Mr. Thaksin's condition required special care and advanced medical equipment due to an increase in blood pressure.
Mr. Thaksin was immediately given physiological saline and was cared for by lung, heart and COVID-19 specialists.
Mr Soponrat said the former prime minister was not handcuffed because the law did not provide that prisoners under 16 and over 70 should be handcuffed.
The medical team is obtaining Mr Thaksin's medical records from the hospital treating him abroad to ensure he receives proper treatment and three officers from the Department of Corrections have been deployed to monitor him.
sheet wise NationIt is not clear for how long the former prime minister will remain hospitalised. The Pathumwan Police Department will ensure the security of the building where Mr. Thaksin is staying.
Mr. Soponrat said Mr. Thaksin's condition had improved slightly but he still needed oxygen because his blood pressure was still high and he was having difficulty breathing.
Mr. Thaksin's visit has not yet been authorized and the Department of Corrections will decide whether Mr. Thaksin will be transferred to a private hospital.