Reuters quoted HUR as saying that during this operation Ukrainian military units landed on the Crimean peninsula controlled by Russia.
A short video posted with HUR's statement showed a small motorboat floating in the water near the shore at night.
According to HUR, the landing site is located on the western tip of Crimea, near the settlements of Olenevka and Mayak.
"Special units on ships landed ashore in the settlements of Olenivka and Mayak. All targets were hit and enemy casualties were reported. The national flag was raised again in the Crimea of ​​Ukraine." – said Hur.
Russia has not commented on this report published on the Independence Day of Ukraine.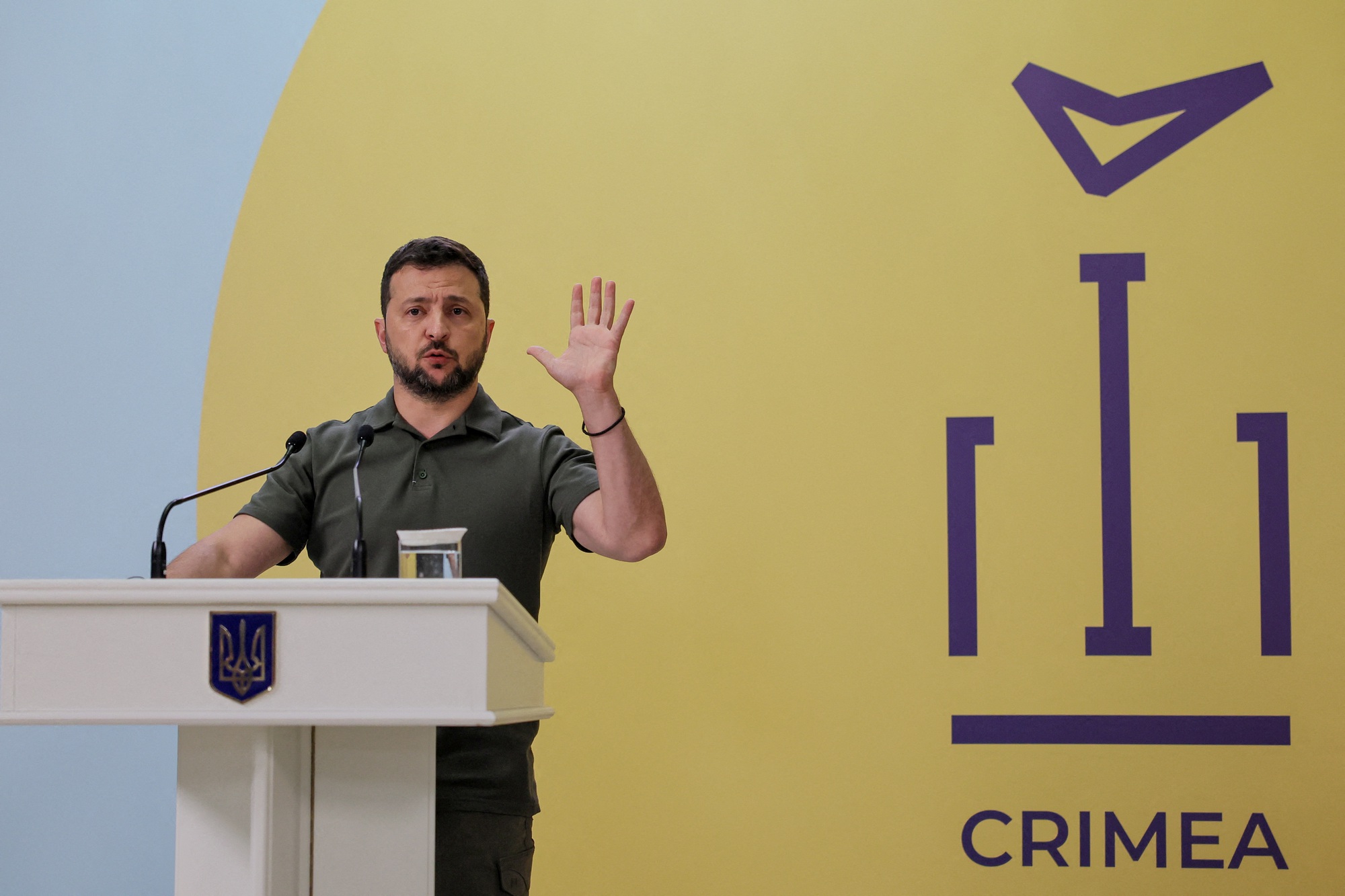 Ukrainian President Volodymyr Zelensky has vowed to end Russia's occupation of Crimea. Photo: Reuters
Ukrainian President Volodymyr Zelensky vowed on 23 August to end Russia's annexation of Crimea, although Moscow has shown no sign of giving up the peninsula.
On 23 August, Ukrainian military intelligence also said that it had persuaded a Russian military pilot to land an Mi-8 helicopter at a Ukrainian airport.
In a separate development, local officials said Russia launched missile attacks on the Ukrainian cities of Dnipro and Kherson on August 24 to mark Kiev's 32nd independence anniversary.
According to regional governor Serhiy Lysak, more than 10 buildings were damaged, including a bank, a hotel and an administrative building.
On 24 August, in a pre-recorded speech, Zelensky thanked the Ukrainian people for their indomitability and said that each person had a role to play.
The Russian Defense Ministry said on 24 August that it had dispatched a MiG-31 jet to intercept Norwegian military aircraft over the Barents Sea near the Arctic border of the two countries. This is the second incident in two days and the third in this month. The ministry said the Norwegian plane came close to Russian airspace but left when the Russian plane came close. The Russian Defense Ministry first sent fighter jets to intercept the Norwegian aircraft on 14 August and again on 23 August.
The same day, 24 August, Norwegian television station TV2, citing unnamed sources, revealed that Norway had decided to sponsor F-16 fighter jets for Ukraine. TV2 did not say how many planes Norway would send. Norway's foreign ministry did not comment when contacted by Reuters.
If confirmed, Norway would become the third country after the Netherlands and Denmark to announce funding of US-made F-16 aircraft to Ukraine.
Norwegian Prime Minister Jonas Gahr Storr met with Zelensky in Kiev on 24 August and promised to finance anti-aircraft missiles and other equipment, but made no announcement regarding the F-16.