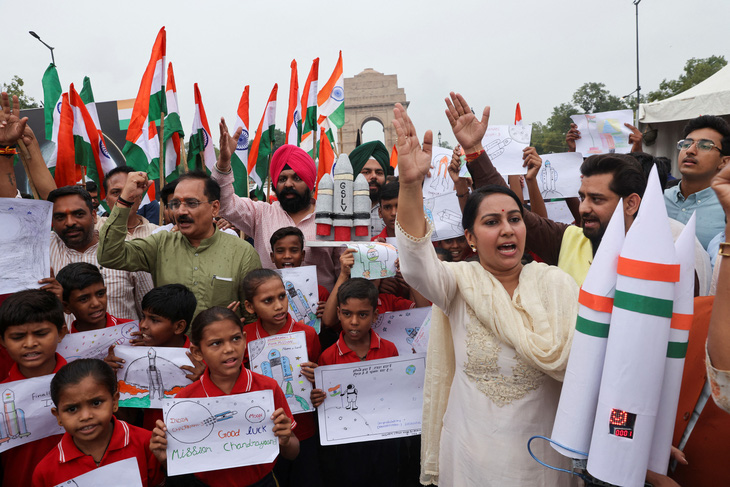 On 24 August, the Ministry of External Affairs said that President Vo Van Thuong sent a congratulatory message to Indian President Draupadi Murmu; PM Pham Minh Chinh sends congratulatory messages to PM Narendra Modi; National Assembly Speaker Vung Dinh Hue congratulated Senate Speaker Jagdeep Dhankhar and House of Representatives Speaker Om Birla.
On this occasion, Foreign Minister Bui Than Son sent a congratulatory message to Foreign Minister Subramaniam Jaishankar.
On 23 August, the Chandrayaan-3 spacecraft successfully carried out a landing mission at the point near the Moon's south pole after being launched by India's LVM-3 rocket from the National Space Center on 14 July. Satish Dhawan Headquarters in India.
India became the fourth country after the US, China and the Soviet Union to land on the Hang and the first country to successfully land on the South Pole of the Moon.
On 24 August, the leader of the Indian Space Research Organization (ISRO), Shri S. Somnath said that the Pragyan rover had left the spacecraft to begin and proceed with the exploration of the Moon's south pole surface. Time to experiment, as well as ready for new challenges.
According to Mr. S. Somnath, the lander and rover are in good condition and "both work very well" but the experiments have not started yet.
The Pragyan rover has two instruments for experiments on elements and chemical composition, as well as path planning exercises for future robotic exploration. The autonomous vehicle is expected to remain operational for up to two weeks, which is the duration its solar-powered equipment is designed to operate.
Mr. S. Somnath said there were "many problems" on the lunar surface that ISRO was facing for the first time, especially dust and the temperature of the moon could affect moving parts.
"Mechanisms, moving parts… can get dust. It can get into moving parts and jam them, system bearings can't work, engines can't work," he told CNN News 18. Yes. Can't work." ,
Moon dust is different from that on Earth's surface, and if there is no wind on the Moon, they can stick to the rover's materials, affecting its operation.
He said, "Let's see how. We will face it, that's why we are exploring."
According to information received from the Indian Embassy, ​​the Chandrayaan-3 mission aims to demonstrate its comprehensive capability to land on the lunar surface and navigate safely.
Chandrayaan-3 consists of an amphibious module, an indigenous propulsion module and an autonomous vehicle. Wherein, the lander module is capable of soft-landing at a specific location on the Moon and deploys rovers to perform on-site chemical analysis on the lunar surface during the move. The lander module and rover carry scientific instruments capable of performing experiments on the lunar surface.
Prime Minister Narendra Modi remarked that this important milestone is not only India's pride but also a symbol of human endeavor and perseverance.
(TagstoTranslate)India