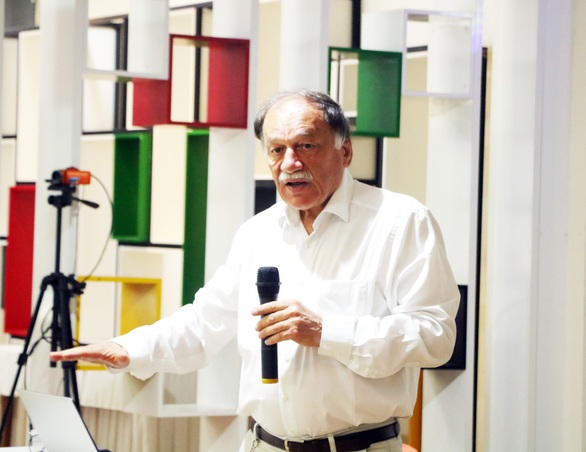 Professor Michael Melkonian shares his research on microalgae – Photo: Whites
Professor Michael Melkonian's partnership on microalgae is part of the Technology Connections Program of the Center for Science and Technology Information and Statistics under the Department of Science and Technology of Ho Chi Minh City.
The "Secret" of Growing Microalgae Superfoods.
Professor Michael Melkonian – working at the University of Cologne (Germany) and the Max Planck Institute for Plant Breeding (Germany) – is famous for hundreds of research works on microalgae.
To date, he has published more than 240 papers on microalgae and is often cited in the research of scientists around the world on microalgae.
During a talk in Ho Chi Minh City, he said that the microalgae is considered the "superfood of the future", which could become a source of food to feed millions of people around the world.
Professor Michael Melkonian shares the first two-layer microalgae culture technique that he is also the originator of.
He explained that the most common microalgae culturing techniques are now in nutrient solutions in open tanks. Tanks are usually round or long. However, as this system is often dependent on the weather, the investment cost is high.
In particular, the recovery of dry algae biomass is often challenging because it takes a lot of energy in the centrifuge to separate the dry microalgae. The resources of harvesting microalgae exceed the cost and effort of cultivating the algae.
He asked whether it is possible to grow microalgae in one place? He began experimenting with algae on a substrate surface, from which the algae formed a thin film. Just scrape off this film when harvesting.
At the same time, his research team found that light can penetrate multiple layers of algae, so it is possible to design layers of algae next to each other to increase the biomass on the substrate.
As a result, the amount of dry microalgae reached 20–30% of the biomass, whereas the conventional solution reached only 0.5% of the biomass.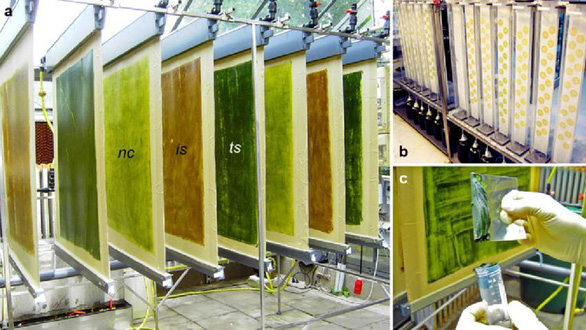 Professor Michael Melkonian's original microalgae farming model – Photo: RESEARCCHGATE.NET
"It's normal to take decades to do science"
Professor Michael Melkonian said the process of hearing was relatively simple, but it took the team almost 30 years to complete the study. It is not just about "hardware" optimization – such as designing, arranging substrates for maximum efficiency – but also "software" optimization – such as setting light conditions, temperature, humidity and microalgae for greatest effect. to determine.
Therefore, he sent a message that when doing scientific research, there will be topics and tasks that compel researchers, especially young people, to persevere in order to be willing to do long-term work. Especially in advanced subjects, it is normal for it to take up to ten years.
Furthermore, he believes that if the old method has not been effective then the youth should have the courage to try a different approach than the current one. Sometimes, the first view will seem utopian, such as "dangling" the microalgae instead of growing them in a tank.
Especially for those of you who study biology, he said that it is essential to focus on observation of the natural world when doing research. Organisms always have mechanisms to adapt to ideal living environments, which will bring ideas for new research and technologies.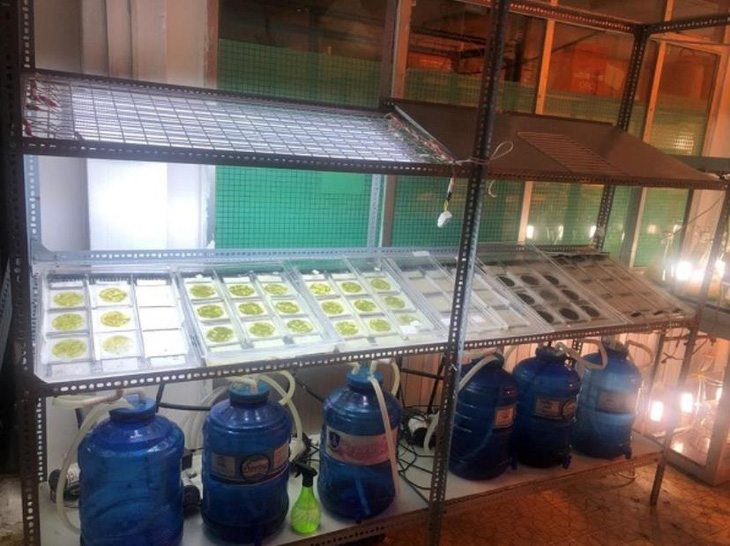 University in Ho Chi Minh City successfully grows microalgae with new method
Based on Professor Michael Melkonian's model, Associate Professor Dr. Tran Hoang Dung – Director of the Institute of Applied Research and Technology Transfer, University of Industry and Trade, Ho Chi Minh City – also succeeded in two microalgae cultivation models.Sq.
Associate Professor Dr. Tran Hoang Duong said that the model has been adapted to suit the conditions in Vietnam. The technology transfer contract also simplified the equipment and machinery to be used, including the chamber, supply system, gas pumping and handling system, rack, lighting system and two layers of membrane.
The area of ​​a photobiological model is estimated to be 1.2m2, which includes 6 culture chambers. The survival rate of algae reached 90% or more by the double membrane microalgae culture system.
bear with
(TagstoTranslate)Scientist