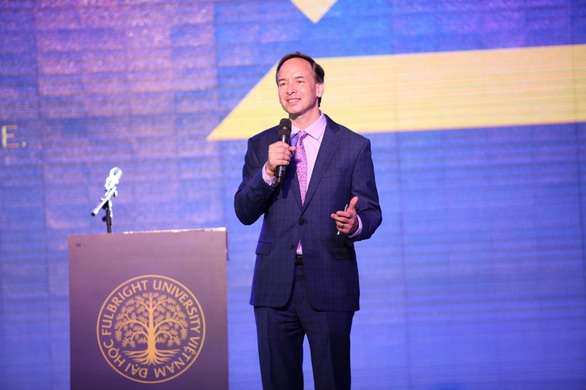 The new president of Fulbright University Vietnam talks about "Flex" at the opening ceremony – Photo: Nguyen
The "Flex" movement of youth has become a major theme for the opening ceremony of Fulbright University Vietnam on 27 August.
Professor Scott Fritzen – the new president of Fulbright University Vietnam – said that a few weeks ago, when he was told about the "flex" topic, he thought he had translated "flex" into "flexible" ("flexible" meaning flexible). ) is understood. Active – PV).
He had to ask his 18-year-old son and was explained that "flex" has several meanings, for example, to make young people proud of their achievements and to show that pride to others.
Upon hearing this, Professor Scott Fritzen associated "Flex" with a poem by American poet Walt Whitman, author of the famous poetry collection Leaves of Grass. Poem he: "I admire myself."
So from the 19th century, Walt Whitman knows "Flex"? According to Professor Scott Fritzen, Whitman's "flex" motivation came from his sense of self-worth, the joys of being alive, connected, and growing.
If so, then there is nothing negative about 19th century "flex" or present day "flex". Professor Scott Fritzen believes that "flex" is not based on bragging that you are better than others, but on the awareness that there is something good and beautiful in every person. Everyone deserves respect, dignity and has potential.
Professor Scott Fritzen said, "Look around you – people left and right, front and back. Each of you has your own story."
According to him, every student is a miracle and unique feature of the world. So, "Flex" is the way young people present themselves because no matter what, each one of you deserves respect.
Professor Scott said, "Admire yourself, and we will admire you, in good times as well as in trouble. When you 'flex', we will 'flex' too." Fritzen shared.
In addition to the keyword "flex", Professor Scott Fritzen also reminds students to focus on expanding their understanding across multiple fields in order to be broad-minded without being tied to a specific field. Furthermore, he advises students to consider the university years as the most appropriate time in their lives to be able to focus on maximum personal development.
Deal With Failure, Beyond "Flex"
Also at the opening ceremony of Fulbright University Vietnam, Susan Burns, US Consul General in Ho Chi Minh City, shared that one of the values ​​freshmen should create in a university environment is critical thinking.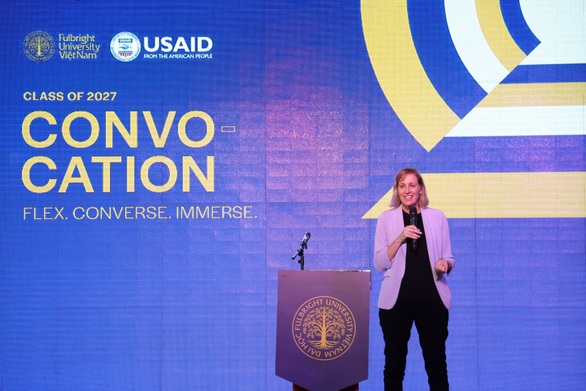 US Consul General Susan Burns shares the opening ceremony of Fulbright University Vietnam on August 27 – Photo: NGUYEN
This skill can be honed throughout every college experience. An effective method is to ask frequent questions about the lesson, about the issues raised by the teacher.
Furthermore, according to Ms. Susan Burns, students should be encouraged to deal with failure, especially in the college journey. Because it is in failure that the youth can learn the most.
(TagstoTranslate) Fulbright University Vietnam