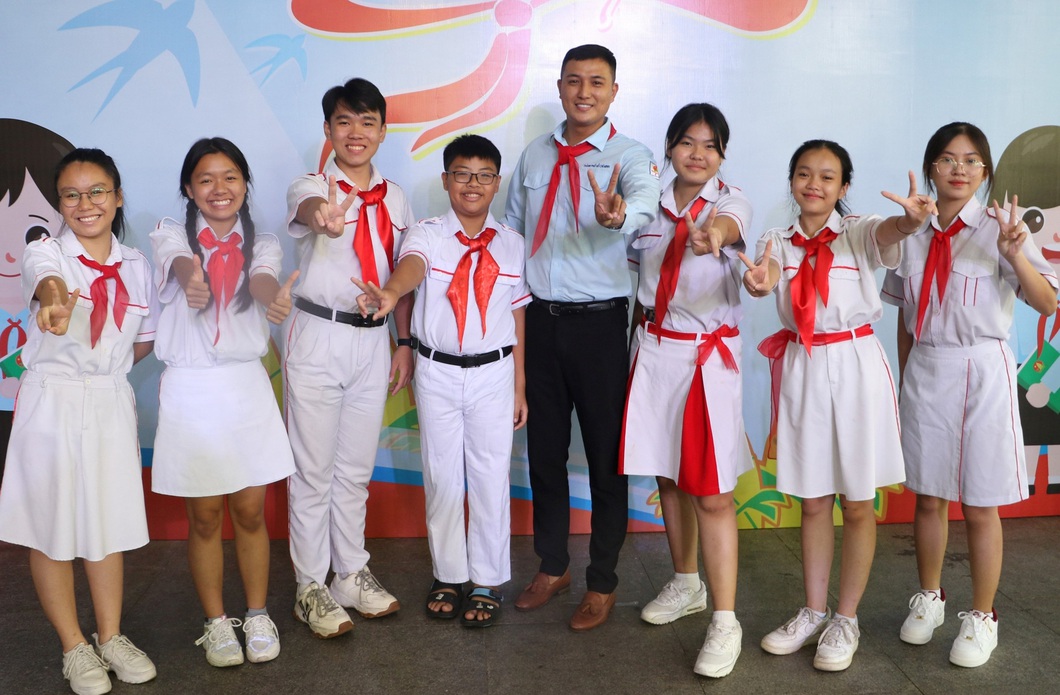 Through comments and discussions, the team and its work will have to innovate and keep up with the society and the development of children to help in the comprehensive development of children.
Mr. Nguyen Ho Hai (Deputy Secretary of the Ho Chi Minh City Party Committee)
kid friendly city building
Nguyen Ho Hai, deputy secretary of the Ho Chi Minh City Party Committee, said that children are not only the future of the city and the country, but also the present, pride and joy of each family, school and locality. Therefore, for their all-round development, it is very necessary to pay attention and coordination on the part of the family, school and the entire society towards care and education.
Mr. Hai suggested that youth associations, city team councils, branches, regions and units do well in education, so that learning and practicing the 5 things Uncle Ho taught becomes a sense of self-awareness, work more often than education gets connected. By good study and hard work of team members and students.
The Deputy Secretary of the City Party Committee said Than Doan needed to add resources to care for material, cultural and spiritual matters, recreation and entertainment for children, especially children with difficult, disadvantaged and affected circumstances.
Mr. Hai said, "Let's work together to protect, care and educate children. Listen, choose children's opinions and suggestions to create a child-friendly city."
Reviewing the past results, Trinh Thi Hien Tran, deputy secretary of the Ho Chi Minh City Youth Union – City Council President, said that there are still some limitations and are gradually being overcome. Accordingly, in the times to come, it is necessary to focus on quality improvement through training, nurturing, training, creating a source of full-time staff of team councils at all levels, general in-charge of teams, in-charge of children in residential areas. , Professional staff. Children's home system.
"Promoting the role of those in charge in the safety, care and education of children. Invest in solutions for the organization of team activities and connecting parents and reputable organizations and individuals to support the children's movement", Tran said .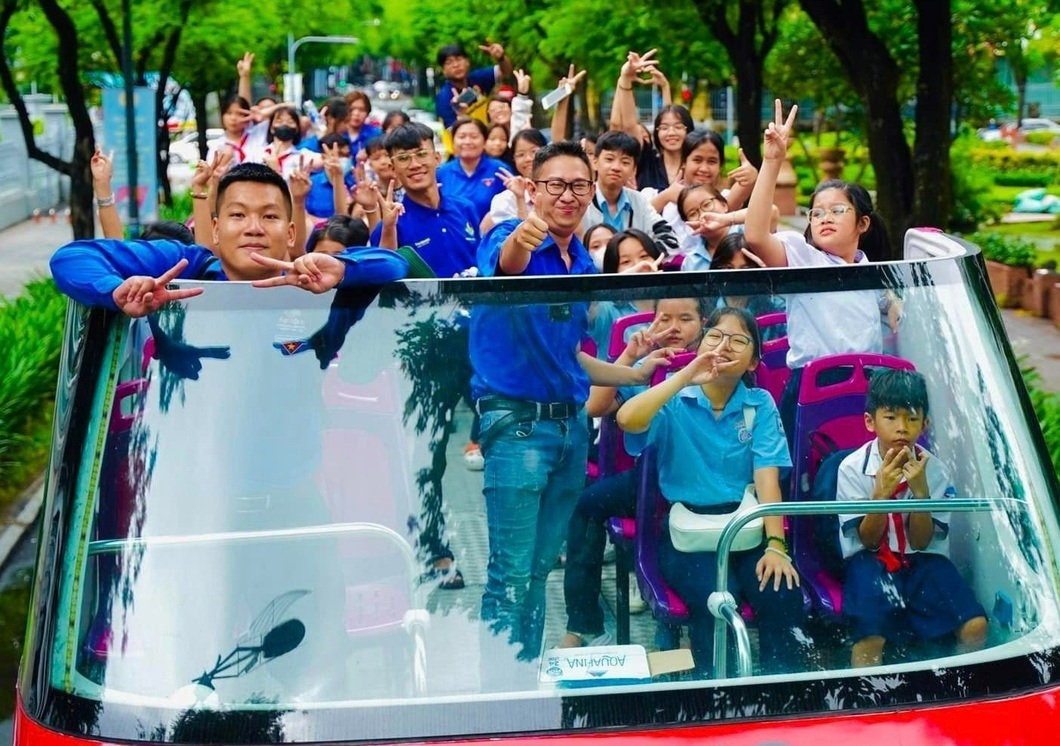 protecting children from violence and snares
Mr. Nguyen Van Tinh (Labour Department – Disabled and Social Affairs of the city) said that the department has cooperated with many departments in preventing violence and child abuse. In particular, caring for children in difficult circumstances and affected by COVID-19 is of great interest.
Mr. Tinh said it is necessary to more actively coordinate child care, intervene in time when children are violently abused, guide children to use safe networks and create a leading male model gender equality Is.
At the conference, as ambassadors, young storytellers, two friends Nguyen Ngoc Minh Chau and Nguyen Quoc Hui hope that the "I Love My City" journey will create more playgrounds and environments for children to better understand the city. Will prepare
Minh Chau expressed, "We are looking forward to the project of the City Children's Palace, which will have more places to play, learn, and at the same time have more experiential lessons in school."
Pham Ngoc Tuyen, director of the Ho Chi Minh City Children's House, explained the organization of the children's home from the city to the district level, in the past, there have been many activities to meet the needs of children throughout the city, parents There are solutions for consent. Develop your child's talents and interests.
Mr Tuyen said at this point, children's homes needed to implement digital transformation and create a repository of documents on activities.
"Various activities will take place in cyberspace to gather children, including the underprivileged, orphaned children," Tuyen said.
Teamwork: Improving Children's Digital Competence
In the period 2023 – 2028, the Ho Chi Minh City Youth Union and the Children's Movement implemented the project "The Ho Chi Minh Communist Youth Union promotes children's right to participate in children's issues in the period 2023 – 2027". Also, promoting coordination and cooperation in child protection, care and education, and improving the digital competence of children in the new situation.
Focus on effectively implementing the movement "Kids in the City Follow the 5 Things Uncle Ho Taught"; pay attention to the education of national history, love for the motherland, country and city; To inculcate togetherness, a sense of discipline and a cultural lifestyle among the children. The activities are also interested in promoting team commanders and mature core members and creating a source for team development, ensuring mechanisms and policies for the team in charge of the team.
Creating, establishing and placing new solutions to improve the quality of the activities of non-public unions. Invest in publicity about the meaning of team activities, create positive attitudes among team members and children, as well as introduce team activities to parents and society at large.
Ms. Trinh Thi Hien Tran (Deputy Secretary to Thanh Doan – President of the Ho Chi Minh City Team Council):
Better parenting
50 Years of National Reunification, an "I love my city" activity to mark 50 years of the city named after President Ho Chi Minh. In which members and children are helped to understand the city's history, traditions, socio-economic characteristics, the status and value of Saigon River with the development of Ho Chi Minh City.
City-level Bal Mahotsav – Kids Fest, an annual festival of children's songs and singing troupes, will be held, while students of classes 8 and 9 will have a "Choosing a Career for the Future with You" program. How to do activities on each team to build beautiful friendships, say no to school violence, and stop online violence.
Model of District-level Bal Parishad will be operationalized, "Parents – Companions for Children" solution will help parents to become friends with their children. Also, to create a data system for the management and care of children receiving academic sponsorship and scholarship.
Together with the team leader, they will calculate and publicize their contribution to teamwork and children's movement, along with building a force in charge of children in residential areas, deploying the model of "digital team activities".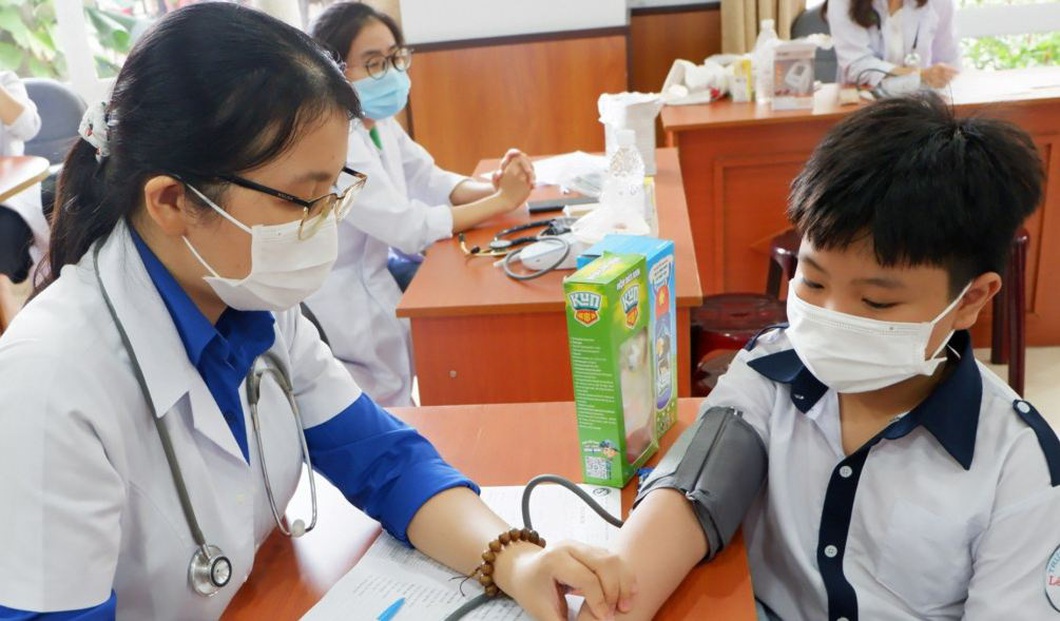 tell your child's friend
From each different position, the team members, the General Manager share the same perspective, and also share the expectations from the team for the new journey.
Nguyen Hoang Thang (HCMC Children's Council President, Class 9.1 Binh Tri Dong Secondary School, Binh Tan District):
help children protect themselves
In the age of technology, through online activities, the team helps children get closer to technology skills. You also need education on the prevention of injury, abuse and violence against children, including cyber violence, to help you recognize and protect yourself from dangerous situations.
I hope that there will be more activities with children in Laos and Cambodia to expand the learning environment, learn and interact with new cultures, so that each child becomes a "Child Diplomatic Ambassador" of Vietnam. If possible, there should be longer trips to help team members experience, learn about the country's history and culture, and love the country more.
Team members need to raise awareness about environmental protection through practical activities, such as exchanging plastic bottles for learning tools, creating a green garden at home… make it a daily green life To get into the habit of.
Mr. Dang Hai Dang (General Incharge of Tim Lam Sun Primary School, District 6):
Increase the role and activities of the team in charge
With standardized rules in the education system, I expect an increase in the role and status of team in-charge as well as team members, especially team leadership in the school. We need to recognize and reward good city team leaders. It is affirming of the role of teams in the school, and also helps parents to support their children in participating in team activities.
I think team members need to be able to participate in more skill-experience activities. When the general education program changes, with three compulsory experience periods, if there is close cooperation between the Youth Union and the Department of Education and Training, this will be an opportunity to combine team activities and children's activities. Student.
Nguyen NGOC Thao Linh (9th grade Nguyen Trung Truc Secondary School, District 12):
Multiple playgrounds to develop English and skills
I look forward to playgrounds to create an English communication environment for team members and students, helping us prepare to become global citizens. The design of team activities is reasonable, which attracts not only the core members but also a large number of people, and it is necessary to add more extra-curricular activities to educate children about national pride and the traditions of the motherland and country .
High school students are dynamic, so they want to experience more, so the team must plan to create engaging playgrounds for the students and team members, helping them experience a lot and thus acquire new knowledge. Learn more skills. In addition, we really need support and guidance to build beautiful friendships, not violence in school, especially to learn how to use social networks in a safe, decent and useful way.
(TagstoTranslate) teamwork