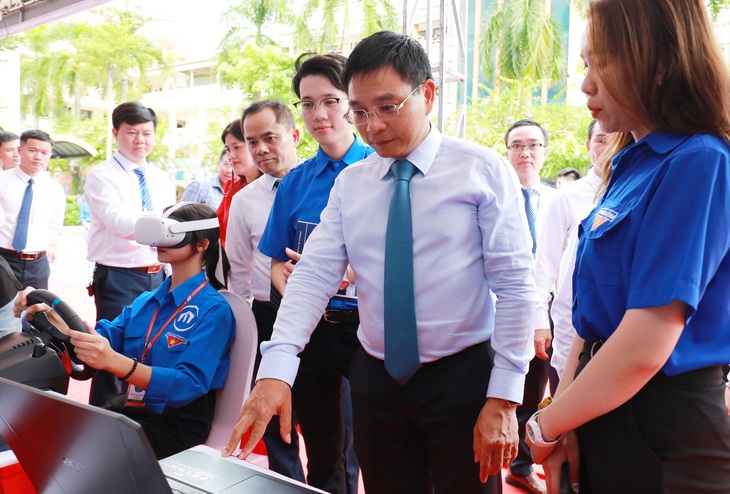 Transport Minister Nguyen Van Thang's interaction with youth in the transportation industry took place on the afternoon of August 28 at the University of Transportation Technology with the participation of over 400 union members and students.
In the dialogue, Mr. Hoang Vu, secretary of the Ho Chi Minh Communist Youth Union of the University of Transportation Technology, asked Minister Nguyen Van Thang a question about the policy of developing high-quality human resources of the transportation industry. Contribute to the implementation of important tasks of synchronous infrastructure, promoting economic development.
Responding to a question, Minister Thang said that the Ministry of Transport is an agency that is in great need of youth, so it is expected that many capable students will be selected through the system of universities and colleges in the near future. ministry.
"The ministry is doing many big things in the development of the country, the most important task to fulfill which is human resources. At present, the ministry is interested in human resource development. The ministry spends a lot for the employed youth." Budget for opening training programs and courses.
For the students, the ministry hopes that in the times to come, the entrance examination will be open and transparent, creating every opportunity for good and outstanding students who aspire to work in the transportation industry," – said Mr. Thang .
According to Mr. Thang, apart from income, it is necessary to create a completely equal and open working environment so that young people coming to the office feel happy, want to contribute, there is no story of "old ghosts bullying new people". ..
"The children studying at home and abroad are very good, but they have just started working. First, they come early to make tea for their brothers and sisters, and at the end of the day, break to wash the dishes What to do even if the salary is a little less, it doesn't matter. Recognition, equal treatment, good work will be appreciated. Anyone who works anywhere wants an opportunity to work.
It should create a process, an evaluation system, identify people with good qualities and abilities, their dedicated efforts should be recognized, trained, promoted and included in planning and placement . Minister Nguyen Van Thang expressed his views.
At the same time, committed to do our best to maximize the resources of the leading transportation industry and create all conditions for students who work hard to learn and aspire to keep up with the industry, develop their abilities and demonstrate abilities.
"We are committed to creating an environment that ensures income so that children do not face too many difficulties while working in the Ministry of Transport. Always on time to supervise, support and train all talented and capable people. Promise of. Must have merit." be identified, trained, appointed and matured" – confirmed Minister Thang.
(tags to translate) Minister Nguyen Van Thang