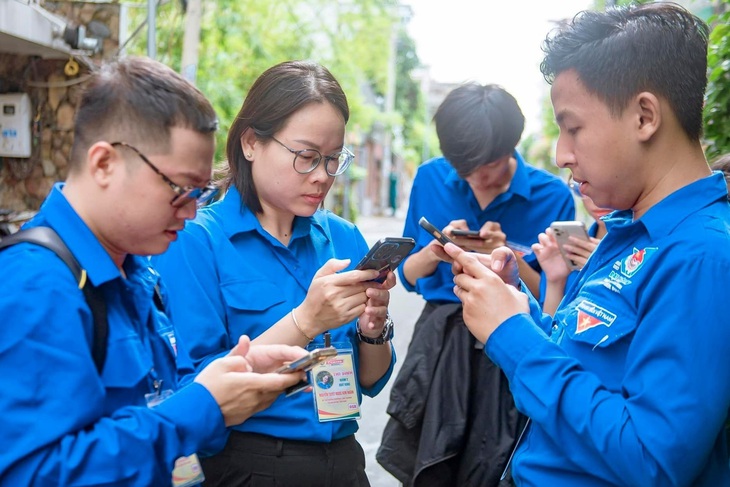 You have overcome many challenges to participate in this final round. Which requires not only professional skills, ability to handle situations, but also a range of skills, including digital transformation and relatively new areas such as foreign language proficiency testing.
The 10 finalists were quite outstanding and for the first time appeared on the examination table of the Secretary of the High School Union. Several sections implement information technology, requiring teamwork skills to get through each challenge. The final round will feature a range of practical situations, creativity and technology applications to help you show your best youth leadership potential.
Mr. Huynh Ngo Tinh (Principal of Doan Li Tu Trong School, Head of Competition Organizing Committee)
Union secretary creates, listens and captures youth trends
All the finalists said that creativity is needed in a leader, he or she always listens to design activities and movements related to the needs of young people. Nguyen Khac Quoc Hue, secretary of the youth union of Ward 8 (District 10), said that if the youth union's activities are not creative, understand and capture youth trends, it will be difficult to attract.
Hue's lesson is to always listen and learn from other units in order to design models and work closer to the reality that young people need and love.
To fuel your strengths, Hue sets up a number of clubs, teams and groups tailored to your interests and inspires you to participate. Thanks to this, each activity is exciting, attracts several people to work together.
"Good, meaningful and self-interesting activities will attract everyone. Residential areas should be voluntary, it is difficult to force you to participate. We use social networks to spread the word and invite people to participate. You come to Doan," said Hugh.
Always listening attitude is also the way that the secretary of the union of Le Hoang Thanh Hai – Binh Hung Hoa High School (Binh Tan District) – chooses to discuss and find activities for you that the union members and students in the school Attracts. Thus, youth creative clubs, arts, school broadcasting, social work and interest groups and groups were created.
Thanh Hai claimed: "The flashmob dance competition was enthusiastically responded to by the classes because it piqued your interest." With Hai, a leader not only learns well but also needs skills and listening skills, then whenever an activity is conducted, many friends will respond immediately.
Add expertise to activities
Nguyen Hoang Tuan, secretary of the Qu Chi District Public Security Youth Association, said that each content of the association's activities should be linked to expertise and closely follow the unit's actions. These days, police officers in Qu Chi District do not volunteer to work day and night to finalize the issuance of electronic identification codes to people. Many groups come to the village to work continuously, sometimes till 11 pm, to serve the people in full.
Tuan said that he always focuses on integrating and engaging the expertise in each activity of the youth association with the spirit of serving the people, contributing to a better community. Tuan said, "We also pay attention to the propaganda against cybercrime, "black credit", instruct people to be vigilant, not to pay attention to false rumors, which lead to the habit of making money."
Meanwhile, how to make the activities suitable for the students and in the right area is always the concern of Trinh Hoang Long, secretary of the Department of Archives – Office Administration (University of Social Sciences and Humanities), Vietnam National University, Ho Chi Minh City ). The solution he and the faculty have implemented is to spark the interests of union members and students through club activities.
Therefore, there have been delegation activities and activities associated with his chief, such as learning about the application of technology in storage management, there will be a seminar on network security. Thus, it also shares information on safe and decent use of the network, and warns students about falling prey to the lure of multi-level selling.
10 Secretaries of the Union compete in the finals.
* Nguyen Khac Quoc Hue (Ward 8, District 10).
* Nguyen Thi To Quyen (Ward 2, Phu Nuan District).
* Nguyen Hu Tri (An Lac Ward, Binh Tan District).
* Nguyen Hoang Tuan (Qu Chi District Police).
* Trinh Hoang Long (Faculty of Archives – Office Administration, University of Social Sciences and Humanities, Vietnam National University, Ho Chi Minh City).
* Pham Van Du (External Faculty of Economics, University of Economics and Law, Vietnam National University, Ho Chi Minh City).
* Le Thi Thu Trang (Tan Binh District Public Service One Member Limited Liability Company).
* Nguyen Le Dung (Central Veterinary Drug Testing Center II).
* Le Mai Thao Nguyen (Binh Phu High School, District 6).
* Le Hoang Thanh Hai (Binh Hung Hoa High School, Binh Tan District).
(tagstotranslate)group leader