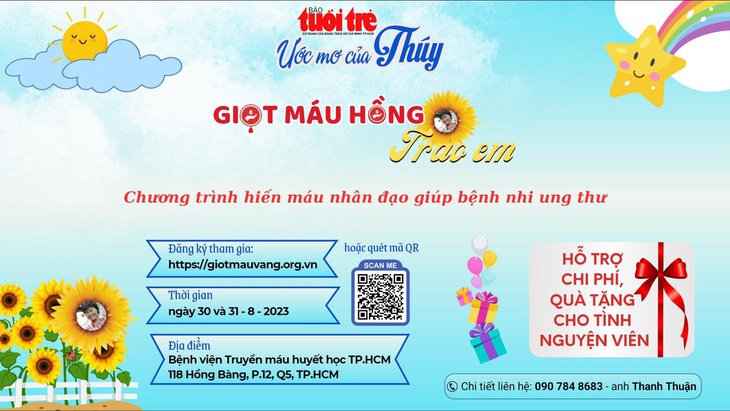 On August 30 and 31, a humanitarian blood donation event to help children with cancer will take place at the Blood Transfusion – Hematology Hospital in Ho Chi Minh City.
The organizers of the program "Thuy's Dream" hope that you will read the Tuoyi Tre newspaper and volunteer to donate blood. Ho Chi Minh City Blood Transfusion and Hematology Hospital, 118 Hong Bang, Ward 12, District 5, HCMC,
blood donation time 8:30 AM to 11:30 AM and 1:30 PM to 4:30 PM in the above two days.
Readers who wish to participate in blood donation can register at this link: https://giotmauvang.org.vn/ Or scan the QR code to join the program.
The procedure to register is as follows:
Step 1: Visit the website to create an account, log in before registering
Step 2: After opening the web select your blood donation date (Day 30 or 31)
Step 3: Blood Transfusion in Ho Chi Minh City – Find a Blood Donation Location at Hematology Hospital.
Step 4: Click to schedule a blood donation and confirm participation in the program.
Currently, the blood bank of the Ho Chi Minh City Blood Transfusion – Hematology Hospital also calls people weighing 45 kg or more, who have donated blood, and meet the health standards for blood pressure, hemoglobin, and blood pressure. Bring civil ID or other valid identification papers together to participate in humanitarian blood donation to save lives.
Advice after donating blood:
After donating blood, you should keep up with your normal diet and activities. This will help in keeping your health and weight unchanged.
Increase the use of blood-nourishing nutrients: meat, liver, eggs, milk. Additional blood tonics can be used. Immediately after donating blood, it is necessary to drink plenty of water to replenish the amount lost during the donation.
Within 24 hours after donating blood: avoid staying up late, avoid stimulants like alcohol, beer. Avoid lifting heavy objects with your hands before donating blood. Avoid activities that require a lot of physical strength, such as sporting events, football, gymnastics, climbing high, etc.
Over 1.8 billion VND for "Sunflower Relay"
Thuy's Dream Program was established in September 2007 by the Tuỳi Tra newspaper, out of the will of Le Thanh Thuy, a young Ho Chi Minh City citizen – a bone cancer patient – ​​to provide care and spiritual support to child cancer patients. Letter.
In 2023, the Sunflower Relay activity under Thues Dream program will continue to support 172 child cancer patients in 10 hospitals in Ho Chi Minh City, Hue, Da Nang and Hanoi, with a total budget contribution of more than 1.8 billion VND. Tuoi tray readers.
Earlier, by April 2022, marking the 15th anniversary of the establishment, Thues Dream program had received and supported more than VND 49.5 billion for child cancer patients.
Readers can participate in supporting the program directly at the newspaper office Youth (60A Hoang Van Thu, Ward 9, Phu Nuan District, Ho Chi Minh City), phone number: 0283,9973838 or representative offices of Tuoyi Tre newspaper in provinces and cities.
Transfer money to Tuoi Tre Newspaper Account, Account No: 1130000006100, Bank for Industry and Trade (Branch 3, HCMC).
Foreign readers, please transfer money to Tuoyi Tre newspaper account, account number USD: 0071370195845 or EUR: 0071140373054 (Vietcombank Bank, HCMC Branch, SWIFT Code: BFTVVNVX007).
Note: Please specify transfer material: Support "Children with Cancer".
(TagstoTranslate)child cancer patient