During the official visit of Prime Minister Lee Hsien Loong of Singapore to Vietnam on August 29, Prime Minister Pham Minh Sign and Prime Minister Lee Hsien Loong attended a conference to promote the implementation of investment cooperation projects. Vietnam – Singapore.
At the summit, the leaders witnessed the announcement of an MoU on investment cooperation between Vietnam and Singapore, including a memorandum of cooperation in the development of 12 Vietnam – Singapore Industrial Park (VSIP) projects. New in Vietnam (names Dinh, Khanh Hoa, Ninh Binh, Hai Phong, Tay Ninh, Hai Duong, Thanh Hoa, Ha Tinh, Thua Thien – Hue, Binh Phuoc, Quang Ngai, Thai Binh).
Planning and Investment Minister Nguyen Chi Dung made the decision to approve the investment policy of new VSIP projects, including VSIP Lang Son and Son Mai 2 Industrial Park, Binh Thuan Province, to the VSIP representative. The two prime ministers and representatives also held foundation stone laying ceremonies for new VSIP projects, including VSIP Can Tho, VSIP Bac Ninh 2 and VSIP Nghe An 2.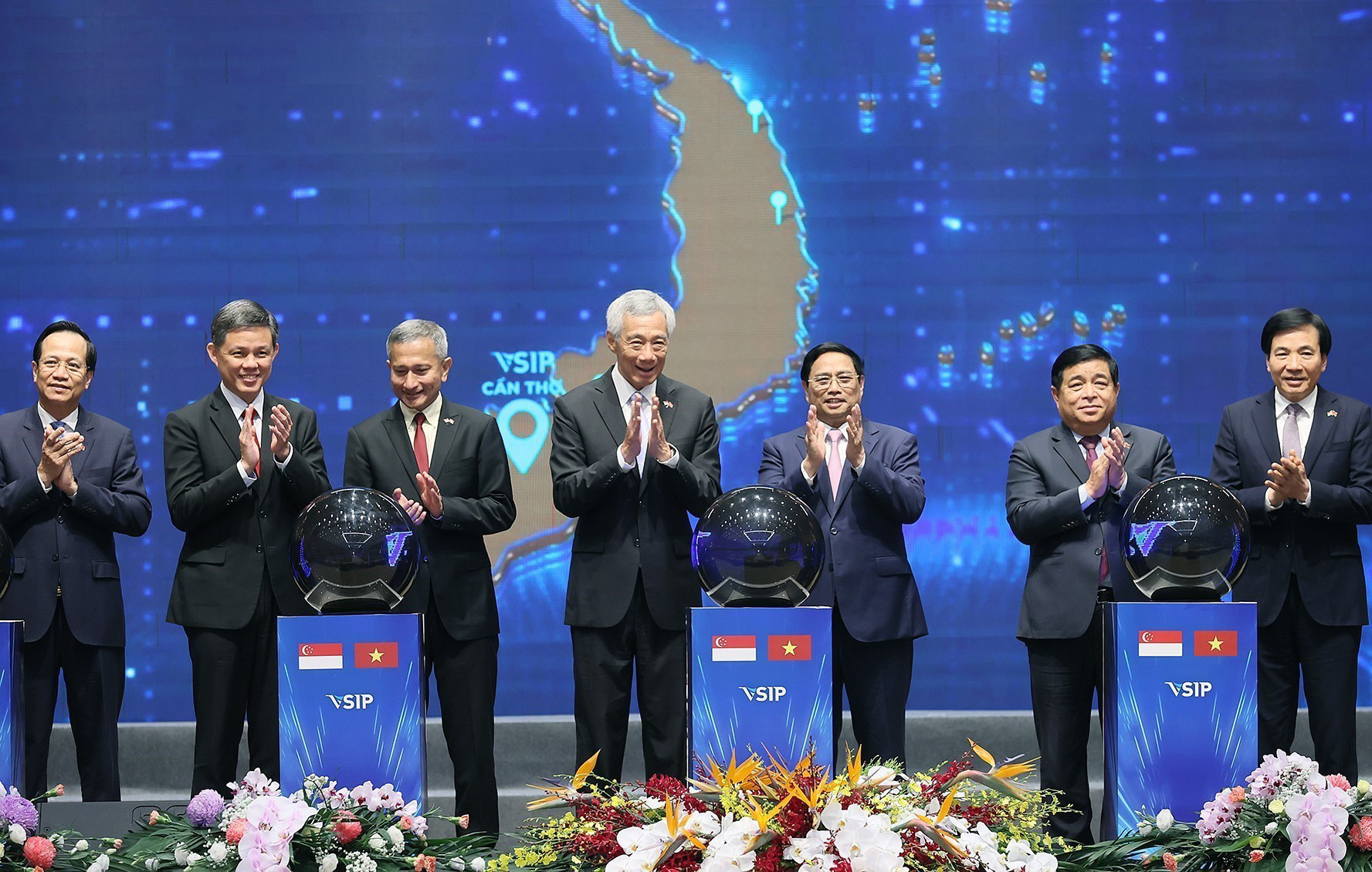 Prime Minister Pham Minh Chinh and Prime Minister Lee Hsien Loong of Singapore attended the ground-breaking ceremony of the Vietnam-Singapore Industrial Park in Vietnam. Photo: VNA
The Ministry of Natural Resources and Environment and the leaders of Vietnam Oil and Gas Group, PetroVietnam Technical Services Corporation (PTSC) and Sembcorp Group (Singapore) announced the decision to approve the survey activity. Letter of Intent from the Energy Market Authority (Ministry of Industry and Trade of Singapore) on the proposal of the Minister of Natural Resources and Environment for PTSC to develop marine resources and joint venture PTSC and Sembcorp's electricity export infrastructure from Vietnam to Singapore.
Also, the Vietnam-Singapore Innovation Center was also launched at the event. The center was established in Binh Duong province under a collaboration between Vietnamese partners (including Becamex IDC Corporation, VSIP, Eastern International University) and Singapore partners (Sembcorp, Singapore Polytechnic, Transfer Alliance, etc. Industrial Transformation 4.0).
Speaking at the conference, Prime Minister Lee Hsien Loong affirmed that Singapore is very pleased and honored to have contributed to Vietnam's development in the past. 10 years ago, he attended the foundation stone laying ceremony of what was then the 5th VSIP, VSIP Quang Ngai, and since then, VSIP areas have continued to grow strongly with 13 areas in 9 provinces and cities in North, Central and Vietnam. Vietnam attracted a total investment of US$18 billion and created 300,000 jobs.
He expressed hope that with Vietnam's sustainable development strategy and net zero emissions by 2050, the two sides would have many opportunities to cooperate, especially in the fields of energy and innovation.
Highly agreeing with Prime Minister Le Hsien Loong, Prime Minister Pham Minh Sign said that it is necessary to focus on connecting the two economies, focusing on new areas such as digital transformation, green transformation, circular economy, economy . Sharing, Innovation, Human Resource Training. These are also areas from which Vietnam needs to learn more in Singapore.
On the other hand, based on past results and experiences, Vietnam intends to continue to expand and effectively promote the VSIP model towards sustainability in building an industrial-innovation ecosystem. Creative – urban – service – high – tech in many localities .
In the afternoon of the same day, Prime Minister Lee Hsien Loong, while speaking with 30 delegates to the Vietnam-Singapore Young Leaders' Dialogue in 2023, emphasized that relations between the two countries were entering new phases. He wants young leaders to strengthen cooperation, exchange, build friendship and cooperation "to find their own opportunities, find their partners and make their dreams come true".
Prime Minister Pham Minh Chinh suggested that the youth of both countries take the lead in showing responsibility towards society and community; To create and forever maintain the "Flame of Youth", "Spirit of Youth" in terms of dedication, thinking, thinking and ambition, creating benefits not only for oneself but also for others. Society, community.
Prime Minister Pham Minh Chinh also emphasized that the task of the youth of both countries in the current era is to promote the leading and leading role, thereby paving the way for rapid and sustainable development for both countries and in the relationship. Can make a positive contribution. Strategic partner between the two countries Vietnam – Singapore; For peace, stability, cooperation and development in the region and the world.
On the morning of 29 August, at Hanoi National University, Prime Minister Pham Minh Chinh and his wife, Prime Minister of Singapore Lee Hsien Loong and his wife met with distinguished students. On the occasion, Prime Minister Pham Minh Sign and Prime Minister Lee Hsien Loong witnessed VNU-Hanoi, VNU-HCM and Nanyang Technological University (NTU – Singapore) signing cooperation agreements between universities in the field of science and technology. Exchange of staff, lecturers, student and scientific research.