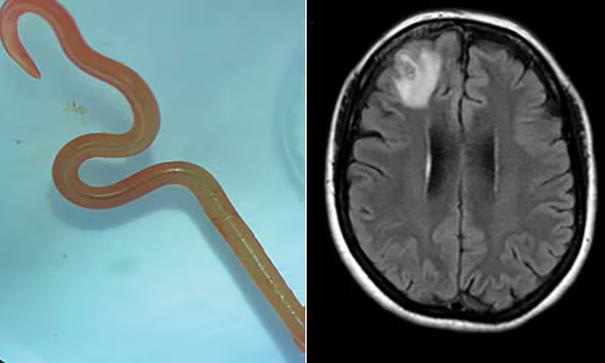 It was just a normal day for Dr. Sanjay Senanayake, an infectious disease specialist at Canberra Hospital (Australia), until a neurosurgeon colleague called him and said, "Oh my god, you're not going to do that. Believe me I just heard this." Discover what's in the woman's brain and it's still alive."
Neurosurgeon Haripriya Bandi removed an 8cm-long parasitic roundworm from a patient's brain, prompting her to call Dr Senanayake and other hospital colleagues for advice on what to do. next.
The patient, a 64-year-old female from the state of New South Wales, was first admitted to a local hospital after 3 weeks of abdominal pain and diarrhea, followed by persistent dry cough, fever, and night sweats.
Later, her symptoms included amnesia and depression, which led to her being referred to a Canberra hospital. An MRI of his brain showed abnormalities that required surgery.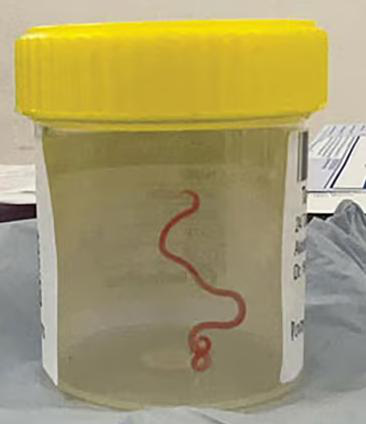 Perhaps while performing the operation, the doctor would not have thought that he would take out a wriggling worm.
This surprising discovery prompted a team of scientists at the hospital to quickly work together to figure out what the roundworm was and, most importantly, to decide on the patient's next treatment.
"We were just reading books, looking for different types of roundworms that can be pathogenic and invasive," says Dr. Senanayake. His search was in vain and he turned to outside experts for help.
The team sent the still-living worms directly to the laboratory of a scientist working at CSIRO (Commonwealth Scientific and Industrial Research), who has extensive experience with parasites. As soon as he saw the worm, he immediately said: "This is the Ophidascaris robertsii worm".
Ophidascaris robertsii is a roundworm commonly found in pythons.
The patient lives near a lake where pythons live. Although she does not come into direct contact with the python, she often harvests native grasses including green vegetables around the lake for cooking.
Doctors and scientists believe: the python may have shed the parasites in its feces into the grass. They believe that the patient may have contracted the parasite by touching the native grass or by eating the eggs of the parasite present in the green vegetables he picked.
Dr. Senanayake said that the patient is recovering well and is still under regular monitoring.
According to the Centers for Disease Control and Prevention (CDC), three-quarters of all new or emerging infectious diseases in humans come from animals.