The regional governor confirmed the raid, while video circulating online showed the explosion in the night sky and the air defense response.
Regional chief Mikhail Vedernikov confirmed on a Telegram channel that the Russian military was "repelling a drone strike" at Pskov airport, adding that he had been at the scene since the beginning of the case.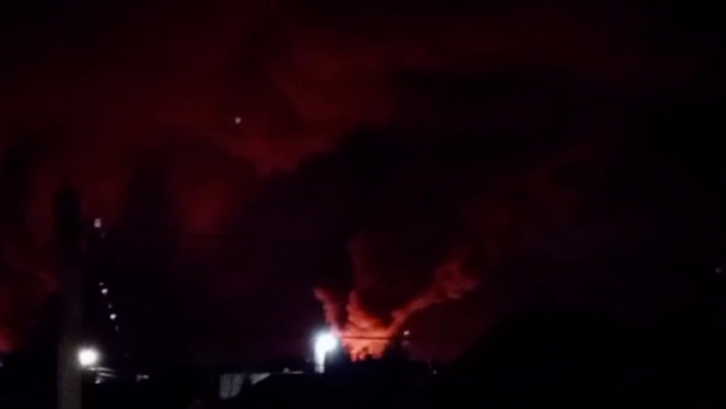 Videos circulating online showed an explosion in the night sky and air defenses responding to the attack. Photo: Telegram
Pskov is about 700 km north of Ukraine but only 30 km from the Estonian border and about 60 km from Latvia. Estonia and Latvia are both NATO member states. Pskov – To reach Russia, drones departing from Ukraine must fly over eastern Belarus.
Mr Vedernikov said: "Preliminary information suggests there are no casualties. We are assessing the property damage." According to RT, Russian authorities immediately closed airspace in the area, while Pskov airport canceled all flights on 30 August to assess possible damage to the runway.
emergency agencies told the news agency TASS Four IL-76 transport aircraft were damaged on the ground, but the military has yet to confirm this information.
Sheet Readovka Russia reported that about 15 Ukrainian drones targeted the Pskov airport and were shot down. Channel mash telegram One of the drones was reported to have struck a fuel depot and exploded, sending thick black smoke over the city.
Meanwhile, the Russian Defense Ministry said on 30 August that the Russian military had prevented a series of drone attacks by Ukraine. About three were shot down in the Bryansk border region and at least one was intercepted in Oryol, about 200 km from the Ukrainian border.
According to Governor Alexander Bogomaz, no one was injured in Bryansk.
In another statement shortly after 2 a.m. local time, the Russian Defense Ministry said another drone was detected and shot down in the Kaluga region, southwest of Moscow. Another drone was shot down in the Ryazan region at around 2:30 am.
Vasant Mai