The group said election results were annulled, all borders were closed until further notice and state agencies were disbanded. According to Reuters, if the Gabon coup is successful this time, it could be the 8th coup in West and Central Africa since 2020. Coups in Mali, Guinea, Burkina Faso, Chad, and most recently Niger, have undermined democratic progress in the region. Year.
Mr Owigwe Egugu, a security analyst at security consultancy organization Afripolitica (Nigeria), commented that the Gabon incident is not like the coups seen in West Africa. The situation in Gabon has changed unexpectedly, but to some extent this is not really surprising. Looking back at the 2016 election, after the results of Mr Ali Bongo's re-election were announced, major protests broke out in the capital. According to Mr Egugu, as of 2019 the coup faction alleged irregularities in the elections there and said the results did not represent the will of the people. After this the coup was immediately suppressed. Mr. Egugu concluded that while other coups were about security and governance, the coup in Gabon was specifically concerned with the electoral process.
Reacting to the rebellion in Gabon, French Prime Minister Elisabeth Borne said Paris was monitoring the situation closely. Meanwhile, China calls on parties in Gabon to ensure the security of President Ali Bongo Ondimba while maintaining national peace and stability, and to act based on the fundamental interests of the country and its people.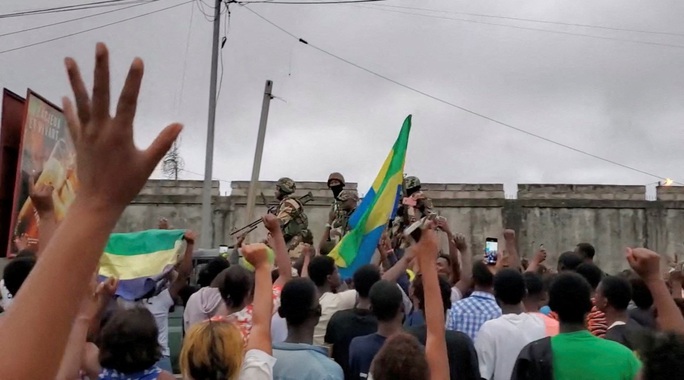 Many people are celebrating in Gabon after the army took power on August 30. Photo: Reuters
The European Union (EU) High Representative for Foreign Affairs and Security Policy, Mr Josep Borrell, said EU defense ministers will discuss the situation in Gabon. Mr Borrell warned that this was a big problem for the whole of Europe and "certainly EU ministers should think deeply about adjusting policies towards these countries".
Gabon, once a French colony, maintains close economic and diplomatic ties with Paris. According to the Financial Times, Gabon is a member of the Organization of the Petroleum Exporting Countries (OPEC), producing about 200,000 barrels per day, equivalent to 0.2% of global supply. The country also exports timber, manganese and uranium.
Although Gabon is one of the smallest oil producers in OPEC, any risk of further supply cuts would destabilize international oil markets. This is partly due to previous production cuts by the alliance between OPEC and outside producing countries (known as OPEC+). Europe's desire to escape dependence on Russian fossil fuels has created opportunities for African gas producers, analysis site GIS reports. Currently, Africa accounts for about 20% of Europe's gas imports and this proportion may increase. However, according to Euronews, Russia also takes advantage of the relationship to gain a foothold in Africa. Russia has now become the continent's reliable food supplier.