According to the news agency AP, US officials described Hurricane Idalia as a "once-in-a-lifetime" weather event. The US National Hurricane Center (NHC) said Category 3 Hurricane Idalia, which was considered particularly dangerous, made landfall in the sparsely populated Big Bend region of Florida at about 7:45 a.m. (local time) on August 30.
Local officials announced that two people died in separate car crashes on the morning of August 30 as Hurricane Idalia made landfall on Florida's Gulf Coast due to heavy rain and high winds.
Many coastal areas of northwest Florida were affected by Hurricane Idalia. Florida state officials said it would take time to reach remote flood-prone areas.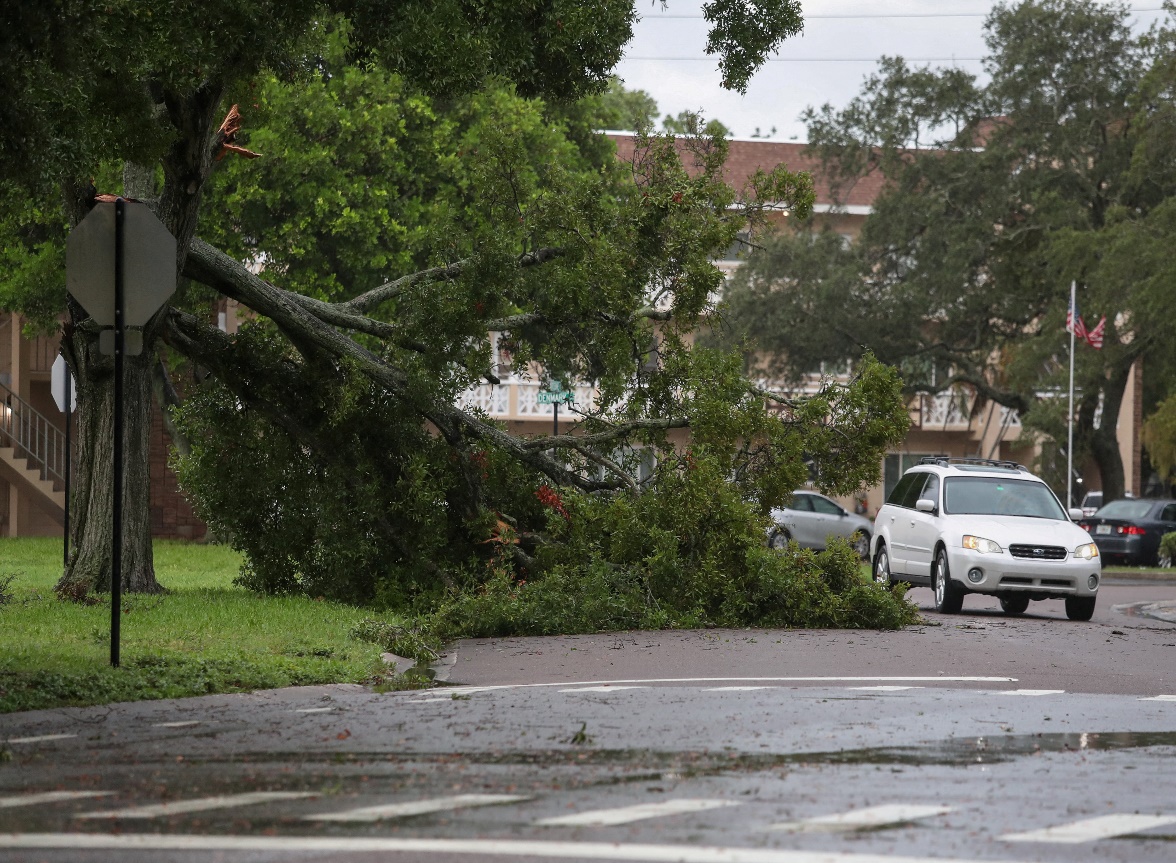 People walk past trees downed by high winds caused by Hurricane Idalia on August 30 in Clearwater, Florida. Photo: Reuters
Airlines in the US canceled more than 1,000 flights on August 30 due to the storm. Data from flight tracking site Flightaware.com shows that Southwest Airlines canceled more than 220 flights on the morning of August 30, while Delta Airlines and American Airlines canceled 157 and 98 flights, respectively. Meanwhile, around 2,000 other flights were also delayed.
All operations at international airports in Tampa, Clearwater and Tallahassee (Florida) were temporarily suspended to monitor storm conditions. Meanwhile, many flights on the East Coast of America were also disrupted due to Hurricane Franklin active in the Atlantic Ocean.
In the Tampa Bay area – a large metropolitan area of ​​about 3 million people – roads were inundated, with floodwaters filling buildings. In the northern town of Tarpon Springs, people had to wade through boats or even use canoes to reach safety.
Resident Shelley Boivin told the police station. cnn: "There is flooding everywhere. Everything is floating. I even saw pictures that showed the tide rising."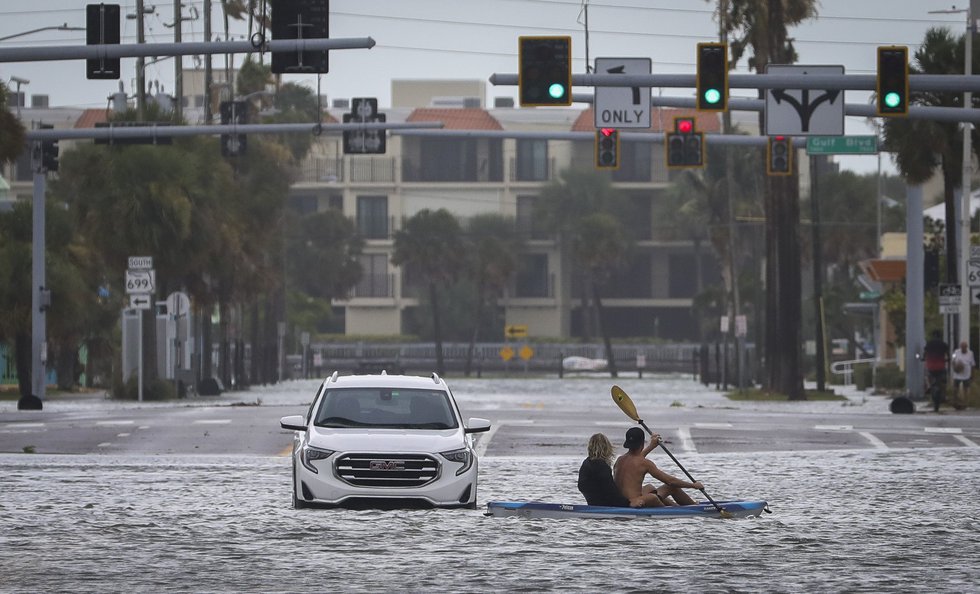 People drive past an abandoned car at the Boca Ciega Drive-Pasadena intersection on August 30. Photo: AP
Before making landfall in Florida, Hurricane Idalia reached Level 4 several times, close to the highest level on the 5-tier Saffir–Simpson hurricane assessment scale. Hurricane Idalia weakened to level 3 on the morning of August 30 with a wind speed of 201 km/h.
According to the NHC, the storm made landfall at Keaton Beach in the Big Bend area on the morning of August 30. Storm waves can reach approximately 5 meters in some coastal areas. The NHC warned of the risk of flooding in coastal areas due to strong winds and heavy rain.
Firm reuters Hurricane Idalia was said to have weakened as it moved toward Georgia, but local officials still warned people about high tides.
The NHC said the water level on Cedar Key Island was 6 feet above normal, and warned that water levels were rising rapidly along the coast.
US President Joe Biden warned on August 30 that Hurricane Idalia was "still very dangerous", although the storm had weakened after landfall in Florida.
Mr Biden also said no one could deny that the world is facing a climate crisis, after Hurricane Idalia struck Florida's Big Bend region and forced millions of residents to evacuate. .