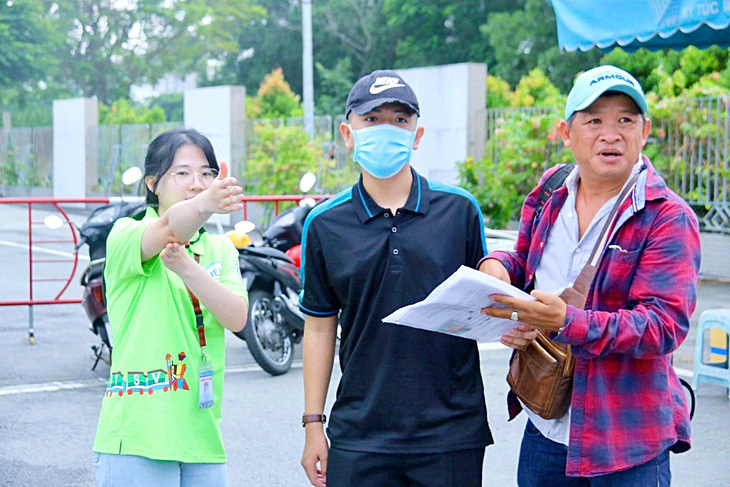 Therefore, many universities have stepped up to support "new" students who have just arrived in Ho Chi Minh City.
Priority is given to students with difficulties
MSC Ho Thanh Cong – director of the hostel management board of Ho Chi Minh City University of Technical Education – said that almost the entire hostel registration process has been done online this year.
Of the more than 1,000 seats for new students, Ho Chi Minh City University of Technical Education will give priority registration to children in rural and remote areas, those with difficult family circumstances or orphans, according to Mr Cong. Orphans… Once this category of students is considered, hostel accommodation for better standing students will continue.
Additionally, to increase options for new students, Ho Chi Minh City University of Technical Education signed a partnership with Ho Chi Minh City National University Dormitory so that students can register to live in the university's dormitory. Country Ho Chi Minh City.
Mr. Lai The Tuan, head of the general department of the dormitory management center of Ho Chi Minh City National University, said the dormitory has accepted new students since Aug. 22 and has about 6,000 new students so far. Students have successfully registered for the hostel and are still accepting students until places are full.
Previously, the center had accepted former boarding students and second-year or higher students with a registered student count of more than 25,000 for the 2022-2023 school year. In the 2023-2024 school year, the dorms are expected to house more than 36,500 boarding students.
Mr Tuan said the center also promotes communication channels, manages the central telephone switchboard and handles information responses to promptly guide and answer questions about registration processes and procedures at the centre.
"Senior" introduces "Junior"
Starting from August 2023, the Ho Chi Minh City University of Industry Youth Union has launched a movement to introduce boarding rooms for new students. Mr. Huynh Phu Vinh, Secretary of the School Youth Union, said that this method has been introduced and maintained for the past 3 years.
Accordingly, the school union will open an online information form for students of second year and above in which they will have to inform the boarding house in which they are staying or the boarding house they know of which has relatively good conditions. Every referred student will be incentivized by adding training points.
Next, the school association will compile the information offered by the "old students", and send volunteer association members to verify each case and compile a list of boarding houses for the "students". new members".
Mr Huynh Phu Vinh said that during the survey, volunteers will also pay attention to the criteria of accurate information, as well as the distance from the boarding house to the school and especially the convenience of the bus route.
Similarly, the Youth Association – the student union of Saigon University – also created an online channel so that students could "review" (recommend) boarding houses for new juniors entering the school. The information to be "reviewed" will include the address of the boarding house, current boarding house condition, condition of the facilities, rent, electricity and water prices… This information will be sent to new students for review. There are more reference sources for choosing suitable accommodation.
Master Tao Hu Dat, head of Saigon University's student affairs department, said that in addition to advice from current students, the school also has many connections with ward and district associations to garner support. Add residence addresses for new students. Through local introduction, the school will have another reputable channel for new students to consider when choosing.
How to avoid fraud?
Faced with the current fraudulent situations when renting a room, Mr. Le Nguyen Nam, Deputy Director of the Ho Chi Minh City Student Support Center, has these notes: "When renting a room, in addition to doing online research, students The person checking the room has to come in.
While coming to view the rented room, students must accompany 2-3 friends or someone with experience in renting a house to verify all the documents from the tenant to ensure that the landlord is the owner. Ask questions about rentals and housing.
In addition, students should seek assistance from student support centers and schools in Ho Chi Minh City. The centers will provide prestigious boarding houses and rooms. In addition, social work groups and student support offices at universities also have activities to help students find reliable boarding houses near campus."
variety of accommodation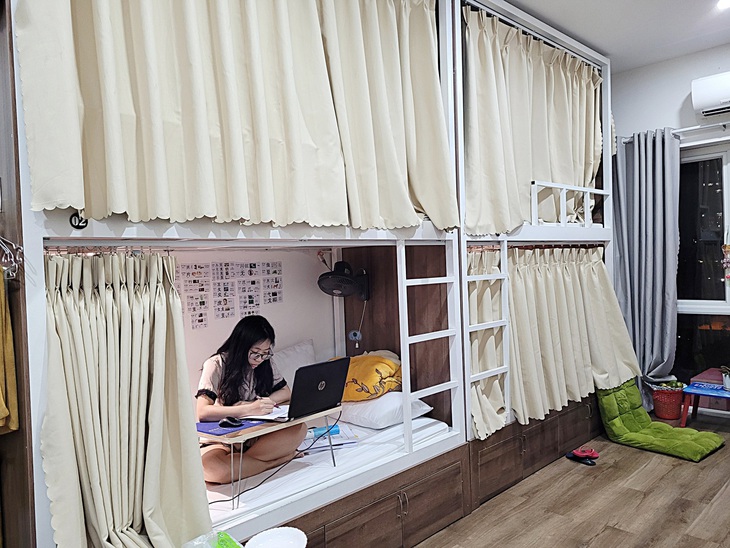 Surveyed in August 2023, in areas on the outskirts of Ho Chi Minh City such as Thu Duc City, at a cost of 1 million VND/month, students can rent a 12m2 room with an attic. Rent is more expensive in the inner suburbs of Ho Chi Minh City. For example, a room with an area of ​​6 square meters in the alley of Tran Dinh Xu Street (District 1) is listed for rent at 2.7 million VND/month, not including electricity and water, the room furniture has air conditioning and A refrigerator. Mini refrigerator.
The private hostel model is also an option popular among many recent students. The accommodation is exactly like a hostel, with 4-8 people sharing bunk beds in a room. Residents have to pay a "money bill" for all services ranging from bedding, electricity, water, laundry and internet. According to records, the rental price for one person in a private dormitory in Ho Chi Minh City ranges from 2-3 million VND/month depending on the facilities.
The second model is the sleep box (capsule sleeping box). The format is somewhat similar to a private dormitory, although the sleeping areas are built into capsule beds that are adjacent to each other. The number of beds is high, usually up to a dozen beds, and the space for each bed is also reduced, including only one sleeping place. The area of ​​each such capsule is about 2.5m2 but the rental price is 1.5 – 3 million VND/month which includes all electricity, water and WiFi costs.
The sleep box model is growing but questions are also being raised about the level of safety, especially in terms of fire protection. Going to a sleep box rental address in an alley on Nguyen Gia Tri Street (Binh Thanh District), the reporter noticed that there is only one staircase connecting the three floors, and the hallway is also very small and narrow. Around 90 people live here but there is no fire alarm system and only one fire extinguisher is kept in the corner of the stairs on the ground floor.
Connecting landlords with new students
Mr Pham Man Hung, deputy head of the student affairs department of Hanoi University of Science and Technology, said that Hanoi University of Science and Technology has about 35,000 students. Meanwhile, the hostel caters to the needs of only about 5,000 students. Therefore, the need for students to find housing is very high in the first days of the school year.
"Understanding the needs of students to find accommodation, Polytechnic University has taken measures to attract students such as simplifying hostel registration processes and upgrading hostels such as installing water heaters, air conditioners to help students have the best living conditions. Has implemented student support activities like.
In addition, Hanoi University of Science and Technology coordinated with the management board of Phap Van Hostel (about 5 km from the school) to arrange accommodation for more than 1,000 students – Mr Hung said. In particular, the Hanoi University of Science and Technology Cabinet has tasked the Youth Union and the Student Union to create "Help in finding housing for Hanoi Polytechnic University students", an information channel on Facebook with more than 180,000 members. , Advise students if there is a hostel near you, prices with vivid images.
(tagstotranslate)new student