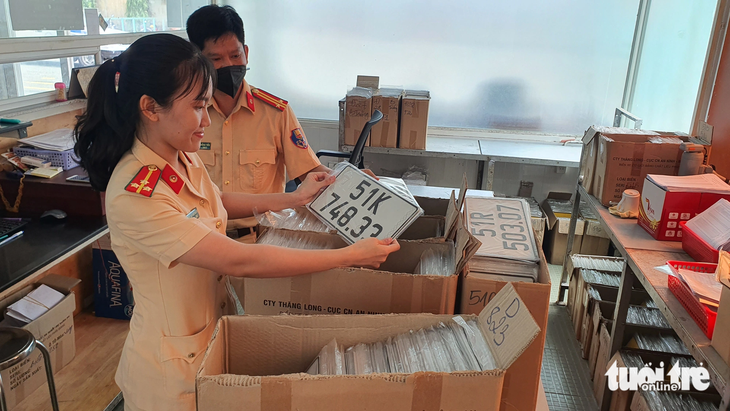 The report was announced by Lieutenant Colonel Le Man Ha, deputy chief of the Ho Chi Minh City Police Department, at a press conference on economics and society on the afternoon of August 31.
According to Lieutenant Colonel Le Man Ha, the Traffic Police Department (PC08) of Ho Chi Minh City Police has established a team to receive and solve difficulties and problems in the process of implementing Circular 24 of the Ministry of Public Security .
Data from August 15 to 23, the PC08 department received and processed 2,109 applications, of which 862 were first-time vehicle registration applications; 56 documents of level change; 233 documents for ownership transfer and 958 documents for revocation of vehicle registration and license plate.
Police in the districts and Thu Duc City also received and processed 776 applications, including 552 applications for first-time vehicle registration; 40 Change record level; Moved 60 files and deleted 124 files.
In the process of receiving and solving vehicle registration procedures, the PC08 department and police of districts and Thu Duc City received many positive feedback and consensus from the people.
In particular, changing the rules for registering personal vehicles in the territory of permanent residence to be able to register vehicles at the place of residence in accordance with Circular 24 (permanent residence, temporary residence), creating the most favorable conditions for people Does.
"In the past, people from the localities came to Ho Chi Minh City to do business or reside temporarily… When they could afford to buy a car, they had to return to their hometown to register the car , where they registered permanent residence, which was very difficult and expensive. Now people can register their vehicles at their place of residence, without having to go back to their hometown," Lt Col Ha explained.
Registration and issuance of identification number plates also changes the entire management method. Accordingly, Circular 24 regulates license plates linked to people through the vehicle owner's identification code (instead of regulating license plates linked to vehicles as before).
To ensure management of registered vehicles by the owner, to regulate the responsibility of declaring the vehicle owner, carrying out recovery procedures and registering the title transfer while transferring ownership of the vehicle, helping authorities in strict management to do. Agile, fast, convenient, minimizing human resources, saving time…
However, the circular has just been implemented so some difficulties still exist, which are affecting the resolution results and people's satisfaction.
Lt. Col. Ha acknowledged that the software on the Ministry of Public Security's public service portal sometimes had errors, making it impossible to declare information; If you can file the declaration and have the code on file, but the Vehicle Registration System cannot find the data or you do not have the data but cannot print the Online Vehicle Registration Declaration; Making queries, viewing data… causes delay in implementation tasks…
With such difficulties, the police agency has provided timely instructions and solutions to overcome them.
(TagstoTranslate)Identification license plate