Russian Ambassador to the UN Vasily Nebenzia said the draft completely ignores the concerns of both Mali and Russia.
The France-UAE draft plans to extend both the sanctions and the mandate of the UN group of experts responsible for monitoring Mali until August and September 2024, respectively. This draft received 13 votes in favor in the UN Security Council but it failed because Russia vetoed it. China remained absent.
The Council also rejected Russia's alternative draft, which would have immediately ended the expert group's mandate and extended the sanctions for a "final" 12 months. Japan voted against and 13 other members abstained.
Mr. Nebenzia said Russia's draft takes into account the views of African Council members, saying that sanctions will remain in effect for some time to promote the implementation of the peace agreement.
Moreover, according to Mr. Nebenzia, the Russian draft will not turn into a pressure tool to influence the domestic political process in Mali.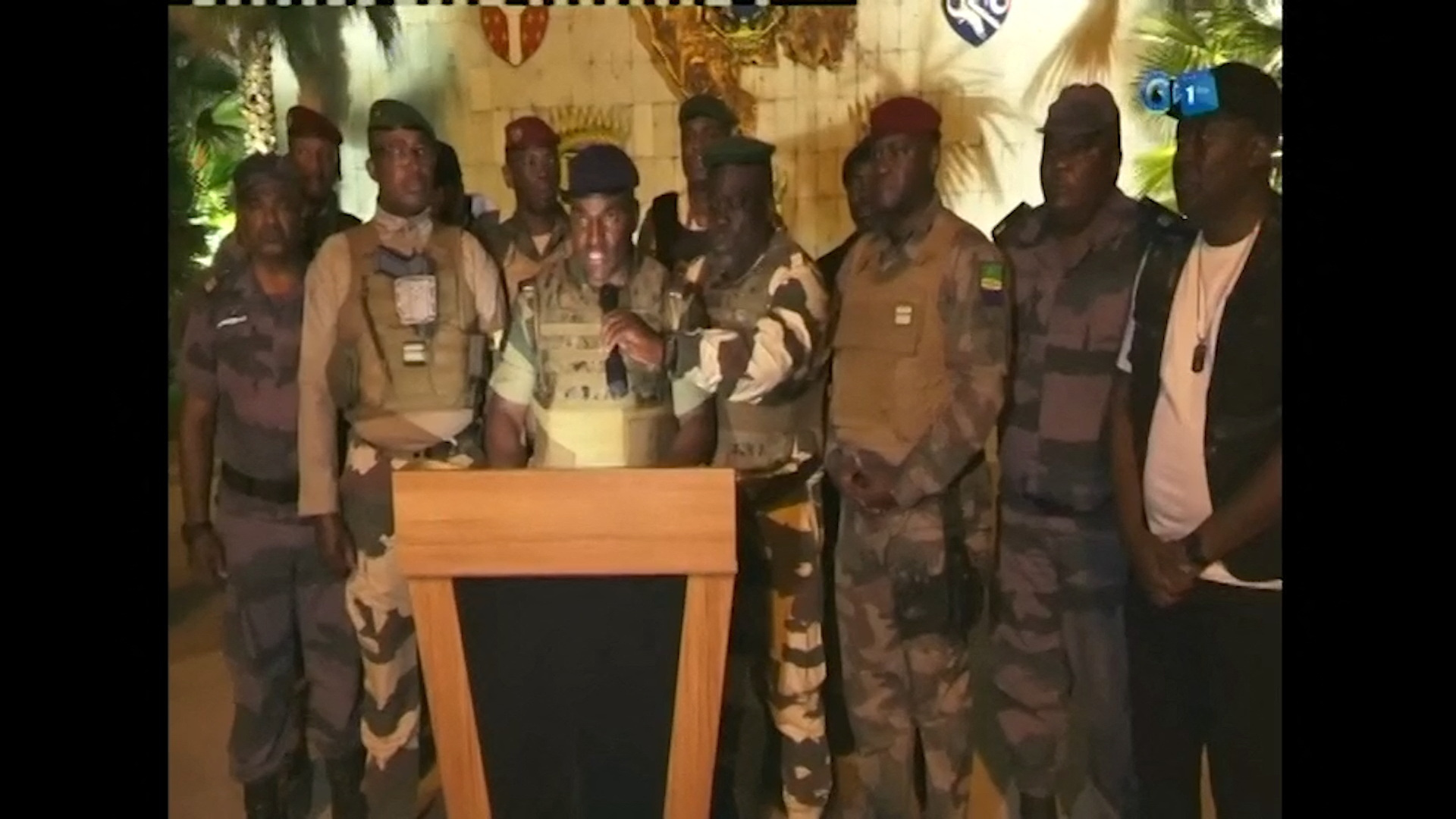 Gabon's military appeared on television announcing that it had seized power on 30 August. Photo: Reuters
Russia is expanding its influence in Africa, while the West is also actively rethinking policies in the continent following recent turmoil, especially coups in several countries.
Regarding the volatile situation in Africa, military officials in Gabon said they took power on August 31, placed President Ali Bongo Ondimba under house arrest and appointed a new leader. All this came just days after the central African country's electoral authority announced that Mr Ondimba had been elected to a third term.
Within hours of the declaration of power, military generals discussed who would lead the transition of power and unanimously voted to appoint General Brice Oligui Nguema, former head of the General Guard Force.
President Ali Bongo Ondimba called on foreign allies to speak on his and his family's behalf in an online statement. He said he didn't know what was happening.
Gabon officials, calling themselves the Committee for Institutional Transformation and Recovery, said the country was facing a serious institutional, political, economic and social crisis and that the elections scheduled for 8-26 were not credible.
They also said they had arrested the president's son, Noureddine Bongo Valentin, and others on charges of corruption and treason.
UN Secretary-General Antonio Guterres and the African Union condemned the rebellion and called on the military to ensure the safety of President Ali Bongo Ondimba and his family. China and Russia called for early restoration of stability while the US said the situation was very worrying.