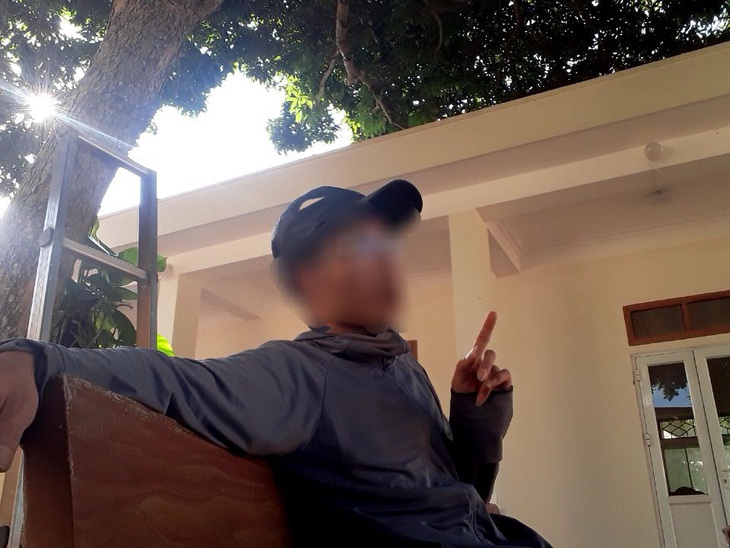 Every day 30 people's information is stolen
As the owner of an Internet café in a mountainous district of Thanh Hoa province, Ha Van Hung said that because he is often online and knows little about technology, he has partnered with an online fraud line of Chinese people in Cambodia. Contacted to become. ,
Hung's job is to obtain customer information, including phone numbers and official Zalo addresses of customers 23 years of age and older. Then take a screenshot of the information and send it. At first, the buyer even asked Hung to take over the customer's bank account, but now he has stopped asking.
For each customer's information, Hung would be paid 25,000 VND. The list of information received by Hung should be transferred to Cambodia on the same day and remuneration will be given after approval.
Why do we have to be 23 years of age or older? Hung explained: "This is the age to start working, to start earning money."
Hung found new groups like "Dong Son Market", "Yen Dinh Village Market", then Car Association, Beauty Association… to reach customers.
"If you post a higher salary, everyone will want it, about 300,000 – 500,000 VND/day. Work at home like peeling onions and garlic, weaving brooms, doing accounting, closing orders, weaving pictures and doing embroidery …". This is the fraud experience of Hung Group.
Visit Yen Dinh Ban Market page, get customer information from job postings like "Post office job (23 years old female), work arranging and sorting goods for shippers for delivery. Salary 7.5 million VND/month , Four days holiday, lunch included. Priority given to women who have difficulty finding a job. If interested, inbox me directly." As Hung said, recruiting stuff for high paying light jobs.
This person claimed: "On average, you can get 30 clients a day. If you run recruitment ads, you will earn more." He said that after looking at the posts it becomes clear that there are many groups which are looking for customer information.
But they do this independently and do not meet publicly to keep each other's information confidential. This is the first step in the fraud line, while the work of luring customers into the app and depositing money is done by another group.
Buy Fake Facebook and Bank Accounts to Do Business
All the avatars are handsome boys and girls, dressed modestly and handsomely, like multi-level employees, but they are all fake names and fake avatars. His name is Nguyen Hong Nhung, but when he chats Hung calls him old.
According to Hung, most of the boys doing this work are more tech-savvy than girls. All phone numbers, Zalo accounts, Facebook accounts and transaction banks used to find information are virtual, purchased or rented. Use multiple accounts to post jobs in multiple locations, so customers don't think of the same person.
It's not difficult to have multiple accounts, Hung said: "If you want to buy and sell Zalo, Facebook, or bank account information, it's very easy now, just type in Facebook search, and find groups buying and selling accounts." Type any ". That's all".
Each virtual Facebook account costs 50,000 – 60,000 VND. Anyone who knows information technology can increase the number of virtual likes and comments to increase customer trust.
"Open bank accounts by name, virtual bank on request. Clients only need to provide phone number, full name. Good prices from 60k – 200k… No need to show the owner's face, only 5 fees – an instant bank Get account 10 minutes." A message in the account buying and selling group.
"If you want to have a bank account in someone's name, you can have a bank account in the name of any company. The fee is 100k, the fee is to pay someone to write the code," Hung said.
The contacts of Hung's group who provided information and received money did not know their real names and addresses because they had never met. The account they use is a virtual account, which is always changing.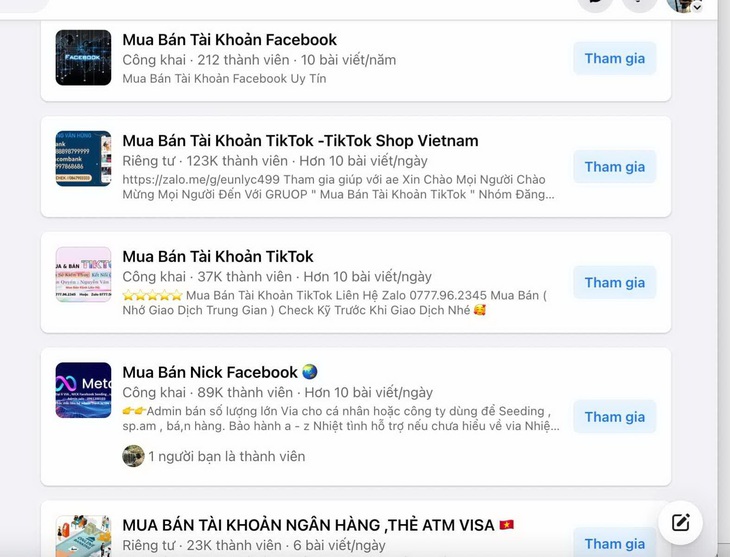 "Ultimate owner" in a third country.
"According to our research, most of the subjects are Chinese who lead these fraudulent activities in Cambodia, third countries. They conduct transactions through Facebook, Zalo and junk bank accounts, so it is difficult to stop. There are difficulties," said Mr Le Huu Toan, head of the criminal team of Nhu Xuan District Police, Thanh Hoa.
To make money, they hire Vietnamese people to post job ads, then take the employee's personal information, provide it, and receive commission.
When they have the information, they will contact the workers directly to commit fraud. After that, some Vietnamese people returning from Cambodia also learned to do this and formed a domestic fraud group, making online fraud activities more complex than ever.
In May 2023, after almost a year of tracking technology criminals, Mr. Tone's team made a major "catch." 32 Vietnamese people were arrested who were aiding a fraud ring, taking customer information to sell.
"The form of operation of this group is quite sophisticated, using phone numbers, social network accounts, bank accounts, Zalo accounts which are all "garbage" for transactions. They completely hide their whereabouts and personally The name, the picture are all fake. We once investigated a drug addict who had 20 fake company and bank accounts," Mr. Tonon was upset with groups buying and selling data and accounts. Fraud on social networks is rampant.
In addition to creating virtual accounts and cheap virtual apps, there is also account rental. The account can be rented by the hour, or purchased for 2 million VND. Apps for card games, stocks and job recruitment, sold for about 50 million VND.
According to Mr Tone, the fake app was purchased by a group of scammers to lure players into depositing money. Once you have access, this group will control the operating commands of the app. When participants deposit money, wait until the amount becomes large and the app crashes. They will blame the customer, saying it was caused by wrong ordering, order delay, transmission problems…
The victim wanted to contact him to get her money back but the transaction was interrupted and she was kicked out of the group.
Even the police had difficulty locating them, as these people worked independently, communicated with each other through junk accounts and tried to hide each other's whereabouts. When working with this object, it is impossible to declare the objects behind it because they themselves do not know what they are actually dealing with.
Network operator coordination was slow. By the time they got involved, the scammer had moved on and had switched to a new form of operation. This is also a characteristic of high-tech crimes. Team leader Tone confirmed, "If the state manages the current "race" to open accounts by banks well, it will reduce fraud."
According to him, people need to be wary of people calling or texting with unknown identities inviting them to recruit, do business or receive gifts online, which are all fraudulent activities. People should not be stingy and no one should participate in online money transfer activities without verifying complete information about their identity and background.
According to records from the Department of Information Security – Ministry of Information and Communications, in the first six months of 2023, the online fraud situation in Vietnam increased by 64.78% compared to the same period last year; An increase of 37.82% compared to the last six months of 2022.
More than 900 million VND defrauded in just 10 days
On August 11, 2023, PQN (born 1994, in Hai Ba Trung district, Hanoi) said he suffered a mental crisis when he was defrauded of 948 million VND in a short period of time. This topic had been familiar in the Facebook group for some time, giving Ann great confidence. Then send a malicious link to N's iPhone to take control, then invite N to join the stock exchange for fraud and money laundering.
He purchased the domain name and paid via international Visa card, so Ann could not get the money back. Through the incident, Ann confirmed that the fraud group has psychological manipulation tactics that put the victim in a situation where if they want to get their money back, they have to deposit a large amount of money.
(TagstoTranslate)Online Recruitment Scam(T)Looking for Victim Information(T)Online Recruitment Trap to Deceive Job Seekers