Governor Roman Starovoit wrote on his Telegram channel that the attack caused minor damage to a non-residential building. He said that no one was injured in the incident. According to RT, preliminary information showed that two drones attacked an administrative and residential building.
However, Governor Starovoit said the second attack had not yet been confirmed. He said one drone's timing went wrong twice while flying over the city.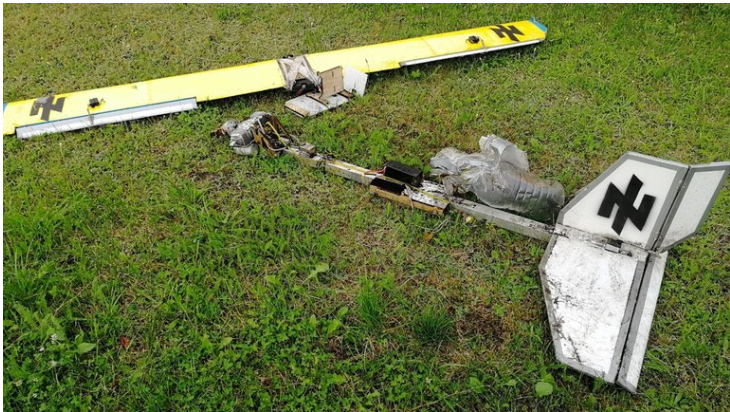 A Ukrainian drone was shot down in the Kursk region of Russia. Photo: Telegram
The management of the Kursk Nuclear Power Plant said on the Telegram channel that the drone attack in Kurchatov did not affect the operation of the plant. The facility is still operating normally and the background radiation around the plant remains at natural levels.
The city of Kurchatov is located in the Kursk region, which borders Ukraine. It was founded in the late 1960s and named after physicist Sergei Kurchatov, known as the father of the Soviet atomic bomb. The Kursk Nuclear Power Plant is located about 4 km from Kurchatov.
In July, a drone crashed and exploded in Kurchatov, causing minor damage to the facade of an apartment complex and breaking some windows. However, there were no casualties or damage to critical infrastructure in the incident.
Russian border areas such as Kursk, Bryansk and Belgorod, as well as Crimea and Moscow, have been frequently targeted by drones since Russia began its military campaign in Ukraine in February 2022. Russian officials also accused Kiev of plotting to sabotage the country's key infrastructure, including nuclear power plants.
Moscow Mayor Sergei Sobyanin said another drone was shot down near the town of Lyubertsy on the outskirts of Moscow on the morning of September 1 (local time). He said there were no casualties or damage.
According to media reports, about 40 flights were delayed at Moscow's Vnukovo and Domodedovo airports due to the drone attack.
xuan mai