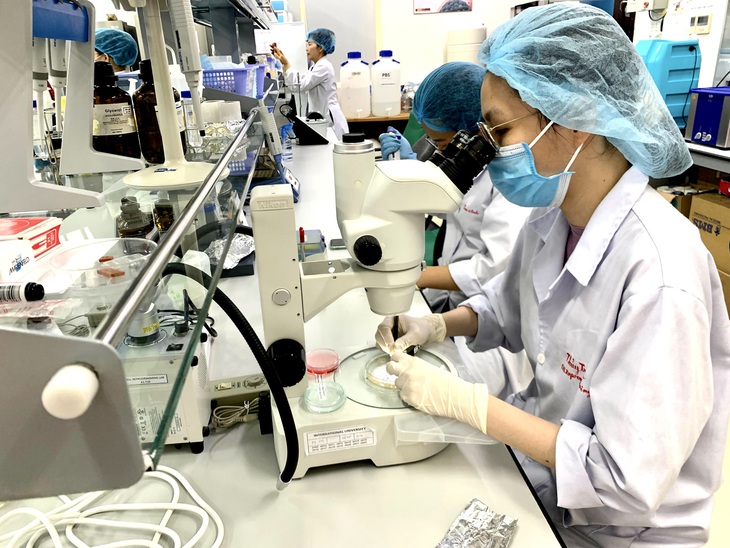 International publications reach more than 18,000 articles annually
According to Mr. Trinh Xuan Hieu, Director of the Department of Science, Technology and Environment of the Ministry of Education and Training, in the 2022-2023 school year, science and technology activities will continue to develop in the higher education system. Steady in direction and achieves many results.
Last year, Ho Chi Minh City National University had the highest number of international publications in the country, with 2,248 scientific articles. In the top 10, there are familiar non-public universities such as Duy Tan University, Ton Duc Thang University and Nguyen Tat Thanh University.
Mr Hieu commented, "Nine of the 10 scientific organizations with the highest international publications in 2022 are higher education institutions. This reflects the superiority of higher education institutions in international publications."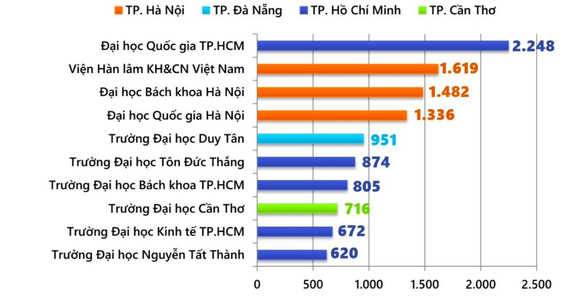 10 Vietnamese organizations with the highest international publications in 2022 – Source: Scopus Database of Elsevier Publishing
According to the results compiled from the Scopus database of Elsevier publishing house, in the period 2018–2022, there were 76,672 publications in Vietnam, of which, since 2020, the annual number of publications has reached more than 18,000 articles.
In 2022, Vietnamese articles published in international journals were classified into 27 specific areas from 4 major areas according to the Scopus classification: physical sciences, health sciences, social sciences, society, and life sciences.
Most research takes place in 10 specific areas: engineering, computer science, mathematics, physics and astronomy, environmental science, medicine, materials science, chemistry, agricultural science, and biology.
Published in international Vietnamese journals in the period 2018-2022
International publishing growth has slowed
According to the National Database on Science and Technology, compiled from 236 journals out of 334 domestic scientific journals, it shows that 15,075 scientific articles will be published in domestic journals in 2022.
Of these, most of the research is in the field of social sciences with 7,857 articles, followed by medical and pharmaceutical sciences with 3,226 articles, and least in the field of natural sciences with 819 articles.
Notably, although the number of domestic scientific publications has increased rapidly over the past three years, international scientific publications have been increasing slowly.
Director Trinh Xuan Hieu commented: "Compared with international publications, domestic publications are very few. In recent years, the higher education system has always played a leading role in scientific publications at home and abroad. The country has contributed about 70% of international publications. "Contributed approximately 90% to WoS list and Scopus list, more than 50% publications in reputed national journals".
Meanwhile, many scientists believe that the growth in international publications has slowed due to the influence of university policies. This includes tightening the quality of publications by public reaction to the situation of publishing articles in fake journals, predatory journals, fake articles and the "evil" of international article buying and selling.
Orienting the content of science and technology activities in the coming school year, the Ministry of Education and Training calls on universities to promulgate a set of regulations on academic integrity in science and technology activities while ensuring the principles of honesty, responsibility, impartiality, transparency. Makes requests. With reality and international practices.
Statistics from Scopus database data show that, from 2018 to now, Vietnam still ranks 5th in international publications in the Southeast Asian region.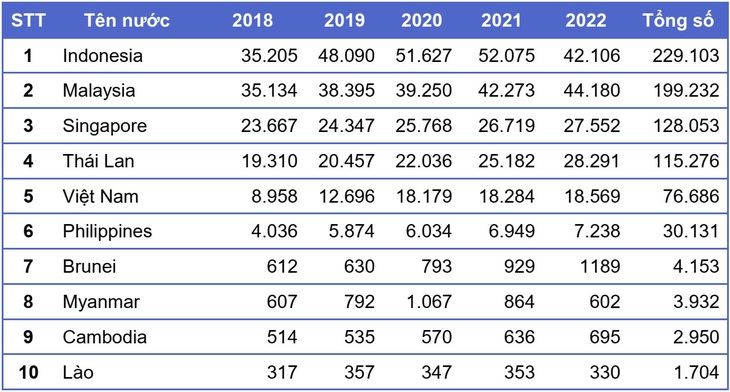 (TagstoTranslate)International Journals(T)International Publications(T)Scientific Journals(T)International Articles(T)Higher Education