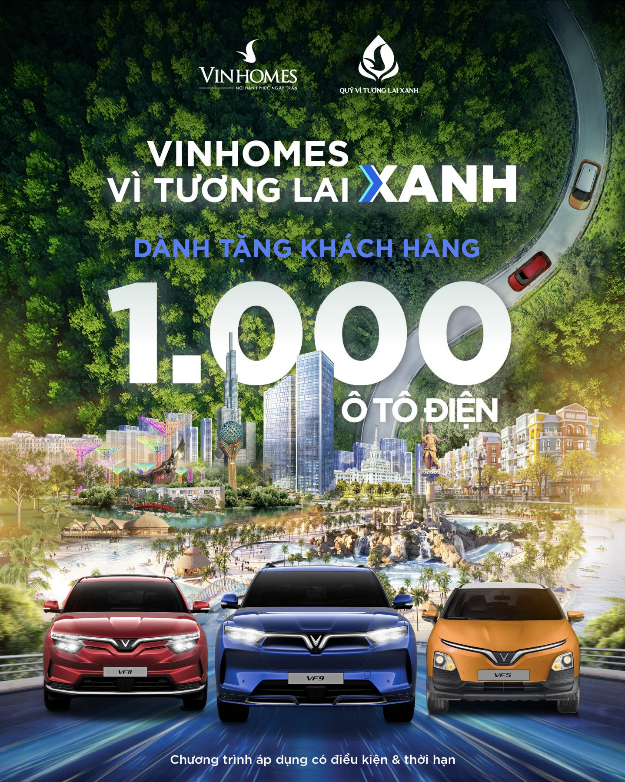 Currently VF5 Plus, VF8 and VF9 are "hot" after signing the sales contract.
Accordingly, customers who sign the apartment purchase contract will be able to participate in the lottery and have the opportunity to receive a VF5 Plus car. Customers who purchase villas/low-rise products under 20 billion VND will receive VF8 cars; Buy villas/low-rise products worth more than 20 billion VND and get a free VF9 car.
The total number of electric cars delivered to Vinhomes customers is 1,000. This program applies with specific terms and conditions to each Vinhomes project such as Vinhomes Ocean Park, Mega Grand World, Vinhomes Golden Avenue, Vinhomes Grand Park… which are being officially registered and launched in the market going.
According to a Vinhomes representative, the program to donate 1,000 electric vehicles is in response to the Green Future Fund launched by Vingroup, which aims to contribute to the government's target of zero emissions by 2050, promoting greener journeys in life, every day. To increase community awareness. For a green tomorrow for future generations.
Specifically, the Fund for a Green Future will deploy 10 major work programs across the country, focusing on 10 essential areas of life, including: green mobility, green energy, green office, green consumption, green environment, green Urban gardens, green tourism, green education, green health and green sports. Currently, for every car sold, VinFast is also dedicating 1 million VND to the Fund for a Greener Future.
In addition to contributing to the Green Future Fund, Vinhomes encourages residents and customers to use electric vehicles for travel to spread green lifestyle, which contributes to reducing emissions into the general environment based on consumption. gives.
Currently managing and operating 29 urban areas across the country, Vinhomes always focuses on providing residents with an ecological living environment with low building density using renewable materials and sustainable energy sources.
Vinhomes regularly organizes community activities for green lifestyle such as Run4Green – walking 10,000 steps a day or Go Green – exchanging litter for gifts. The urban complex also plans public charging station areas for electric vehicles, providing maximum support to residents who prefer a green lifestyle.
In particular, in 2022, Vinhomes organized the "Greenhouse for Electric Cars – Opening the Way to the Future" program so that residents of the North and South have the opportunity to directly test Vinfast electric cars.
By donating 1,000 VinFast electric cars in response to the Green Future Fund, VinHomes not only brings the opportunity to "stay green – ride green" for future residents, but also contributes to supporting the trend of sustainable green living Is. Everyone.
(TagstoTranslate)WinHomes(T)Electric Cars(T)Buy Apartments for a Green Future(T)