President Volodymyr Zelensky said the decision to replace the defense minister would be considered by the Ukrainian parliament next week, RT said in a video. Mr Zelensky also proposed Rustam Umerov, the head of Ukraine's State Property Fund, for the post.
Explaining the above proposal, Mr Zelensky said that Ukraine's Defense Ministry "needs new ways and new forms of interaction with the army and society". Since Mr. Umerov is a well-known figure in Ukraine, no further introduction is needed.
"I hope that the National Assembly will support this proposal" – Mr. Zelensky stressed.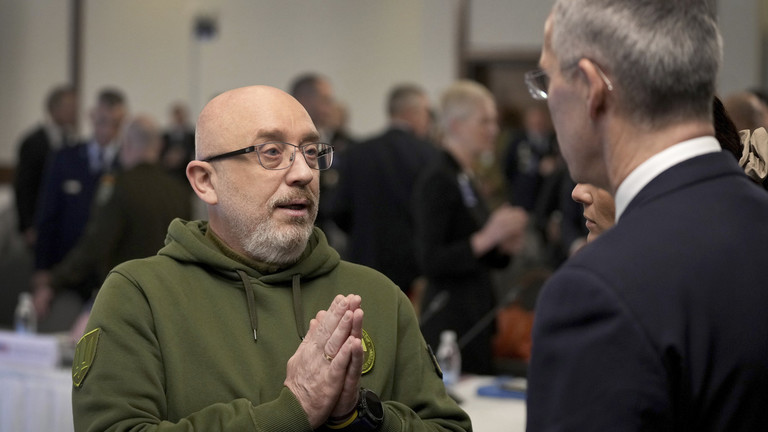 Mr Reznikov (left) speaks with NATO Secretary General Jens Stoltenberg in Germany on January 20, 2023. Photo: AP
Mr Umerov is a Ukrainian businessman who took over leadership of Ukraine's State Property Fund last year.
Previously, Mr. Umerov was an adviser to Mustafa Dzhemilev, the former chairman of the Mejlis – a political organization representing the Tatar community on the Crimean peninsula, which Moscow has banned from operating on Russian territory since 2016.
Over the past few weeks, the media have mentioned several figures who could replace Mr Reznikov, including Infrastructure Minister Alexander Kubrakov and Strategic Industries Minister Alexander Kamyshin.
Mr Reznikov has held the post of defense minister since November 2021 and has seen several corruption scandals, mainly related to the purchase of equipment and food for the military at unusually high prices.
In an interview published by Ukrainform on September 3, Mr. Reznikov estimated that Western aid to Ukraine in arms, ammunition, other military equipment and financial aid had reached at least $100 billion, including $50 billion from the US. More than USD billion was also involved.
Mr Reznikov also confirmed that he had "effectively spent funds received mainly from foreign aid rather than from the budget" and had met all the army's needs.
Pham Nghia