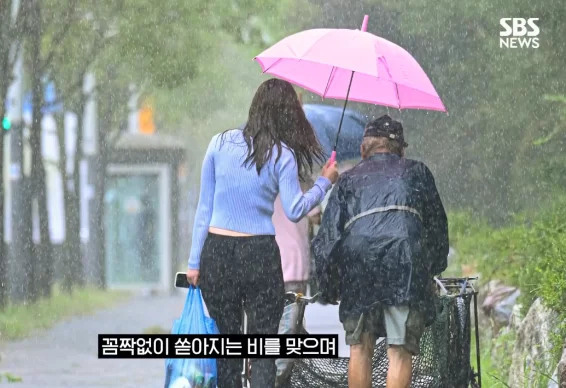 A young girl gave her umbrella to an 80-year-old man pulling a garbage truck during heavy rain in Danwon district of Ansan city in western Korea's Gyeonggi province on Aug. 29, Yonhap News TV channel reported on September 4.
Since the umbrella was quite small, the girl swung the small pink umbrella towards the old man for about 1 km.
The pictures of this young girl spread rapidly on the social networking sites of this country. Many netizens also affectionately call this girl the "pink umbrella fairy" because of her warm-hearted actions in the rain.
One online user commented, "Finally, I encountered an angel appearing in everyday life."
However, this girl's kindness doesn't stop there. When interviewed by Yonhap News TV, the old man in the story above also said that the girl sent him an additional 30,000 won (over 545,000 VND).
He said, "It was raining heavily that day so I decided to go home. I met her on the way while looking for a place for lunch. Even though I didn't know who she was, I really liked her." Grateful." Yonhap News TV.
When Yonhap approached her for an interview, the young girl's family politely declined, saying "she was just doing what needed to be done".
Additionally, according to information received from Yonhap, the girl is currently a teacher and her family provided the above information only when the reporter contacted them for an interview.
(TagstoTranslate)Korea(T)Social Network(T)Mercy