On September 4, Prime Minister Pham Minh Chinh and the Vietnamese delegation arrived in Jakarta, Indonesia and began participating in activities within the framework of the 43rd ASEAN Summit.
The same afternoon, the Prime Minister participated and delivered a speech at Southeast Asia's largest annual business forum – the ASEAN Business Investment Summit (ASEAN BIS) 2023.
With the theme "ASEAN in a Central Role: Creativity More Inclusive", ASEAN BIS 2023 focuses on discussing 5 main themes: Digital transformation and sustainable development; food security; Health ensures healthy business operations and facilitates trade and investment.
Prime Minister Pham Minh Chinh stressed that in order to boost its status as well as seize opportunities from the current world order, ASEAN needs to strengthen solidarity within the bloc; Maintain principles, positions and common approach; Maintain strategic balance in relations between ASEAN and its partners.
ASEAN also needs a long-term commitment to market opening and promoting trade and investment; Always open doors for investors; Strongly promote free trade agreements, regional and global economic ties; Deeper regional integration, taking advantage of opportunities in the new global economy, especially harnessing new growth drivers such as digital transformation, green transformation, circular economy and sharing economy.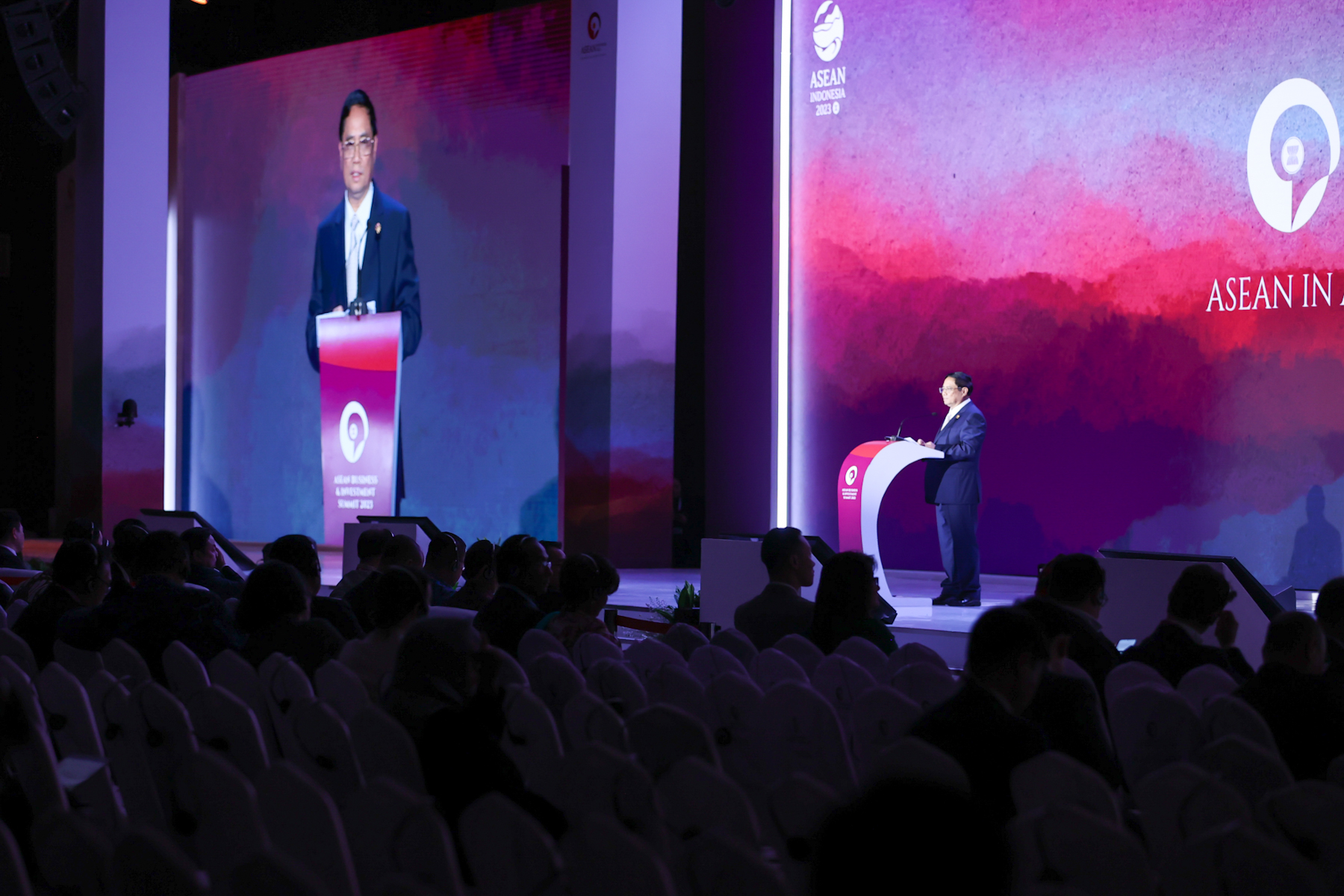 Prime Minister Pham Minh Chinh spoke at ASEAN BIS 2023 on 4 September. Photo: VGP
ASEAN needs to develop in a direction that does not sacrifice fairness, social progress and environmental protection in exchange for mere economic growth; Firm in the all-people approach in building the ASEAN community, taking the people as the center, subject, goal and driving force of development.
To promote the role of businesses in promoting development and creating new breakthroughs for ASEAN, Prime Minister Pham Minh Chinh said the countries' governments and businesses should cooperate more closely, effectively and concretely. need to. In particular, countries need to work together to improve institutions in ASEAN through standardization and harmonization of investment and trade rules, simplifying processes through digital transformation; Appreciate the voice of businesses for prompt resolution of issues that arise.
Furthermore, governments and the business community should join hands to develop strategic infrastructure, including hard infrastructure in transportation, energy and smart infrastructure such as digital platforms and exchange centres. Innovation… In particular, strengthening infrastructure connections, connecting the entire region, focusing on public-private partnership models.
In parallel, it is creating high-quality human resources, especially with common standards of training, assessment and mutual recognition of diplomas in digital transformation, green transformation and high technology. Prime Minister Pham Minh Chinh stressed: "This is the key to improving the labor productivity and competitiveness of our sector."
Emphasizing that Vietnam always creates the most favorable conditions for investors with the spirit of "harmonious benefits, shared risks", the Prime Minister believes that ASEAN in general and the business community in particular are committed to achieving the goals of Will balance. The goal is to restore growth in the short term and achieve sustained growth in the long term, while taking full advantage of new growth opportunities.
Also on the afternoon of 4 September, Prime Minister Pham Minh Chinh met with Indonesian President Joko Widodo; Met Ms Kristalina Georgieva, Director General of the International Monetary Fund (IMF).
busy week
According to the Straits Times (Singapore), the 43rd ASEAN summit is expected to initiate agreements on green infrastructure development, resilient supply chains, food security, digital economy and ecosystem payments status.
Indonesian President Joko Widodo will chair 12 summits, including the plenary and closing sessions of the ASEAN Summit, East Asia Summit, ASEAN+3 Summit and other high-level summits. ASEAN+1 summit with partners China, Korea, Japan, US, India, Russia, Canada and the United Nations.
The summits took place from 5 to 7 September, involving about 20 activities with the participation of leaders and partners from ASEAN countries. Implementing the theme "ASEAN's Stature: The Center for Development", it is expected that ASEAN leaders and partners will exchange a number of strategic materials affecting the region, integrate the development orientation of the ASEAN community and strengthen the partnership between the partners. Will review and approve about 90 together. Documents on diverse content such as food security, digital economy, blue ocean economy, carbon neutral strategy, cooperation within the framework of perspective documents. ASEAN on Indo-Pacific…
On 4 September, ASEAN Foreign Ministers participated in three grassroots conferences to complete preparations for the 43rd ASEAN Summit and related summits. The Ministers also discussed the state of ASEAN cooperation, implementing the 2023 focus and priorities, and a range of issues related to peace, security, stability and development in the region.
According to the Associated Press, US national security spokesman, Mr. John Kirby, said that President Joe Biden did not attend the 43rd ASEAN summit series, but the US considers ASEAN as one of its geopolitical priorities and wants to strengthen ties with the region. Constantly trying to do. Vice President Kamala Harris will attend conferences on behalf of President Biden; China is represented by Prime Minister Li Qiang and Russia is represented by Foreign Minister Sergei Lavrov.
Also on the afternoon of September 4, ASEAN countries signed documents for the three countries Kuwait, Serbia and Panama to join the Treaty of Amity and Cooperation in Southeast Asia (TAC), bringing the total number of treaty members to 54. .
X.My – D.N.G.O.C