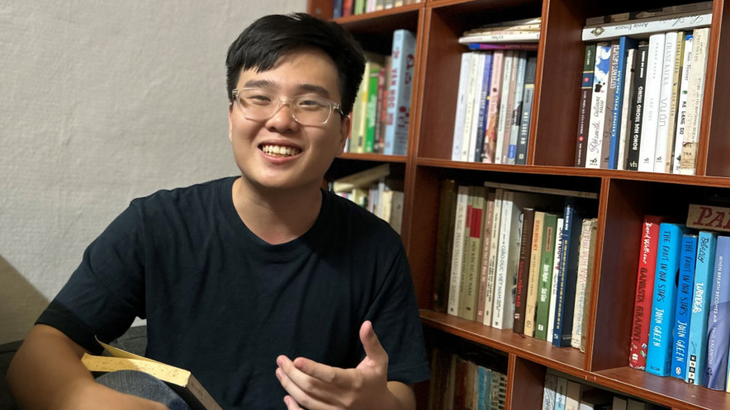 It was Huynh Huu Phuoc – the French-speaking cruiser who "caused an Internet storm" at the time, returning to the lecture hall of Ho Chi Minh City University of Education after a temporary hiatus due to several family events. Speaking with Tuoi Tre, Huu Phuoc said:
– I'm not too afraid of crowds or being recognized by a lot of people. But when many people know it, it also means facing many different opinions, which can sometimes easily lead to pressure and stress on young people. I suffer from depression, so I am living with my sudden fame.
There was a time when I closed Facebook, even deleted the old page, because along with words of encouragement I also received a lot of sarcasm like "I studied at Le Que Don but that "Time was poor", "It's normal but doing too much"…
To be honest, I'm really afraid of the title "French-speaking shipper" because there are so many people out there who are more talented and more energetic than me. Recently I was happy when I was mentioned as a translator.
Had to run on the streets to survive
*Why did you decide to become a shipper?
– It didn't take me long to decide to become a shipper because if I didn't work, I wouldn't have anything to eat. When I was in 12th grade, my family faced a problem and I had to sell the house, ask for tuition fees, and sell my laptop, which resulted in the entire family getting separated!
Life was peaceful and suddenly one day there was no one left to rely on, and I was forced to go out to work and be alone.
I was busy working as a café waiter, security guard, dishwasher, car keeper… because there were so many things to worry about. I chose to become a shipper to be a little more active with my time. One of the dishes that I later hated and became crazy about, even though I once liked it very much, was vermicelli with tofu and shrimp paste, because at that time it was almost every day at the gate of the house Shrimp paste and paint were sprayed. There were days when I would cry in the middle of the road because people would stop me, want to beat me up and threaten to say bad things about my family in front of my friends.
* An unforgettable memory in your shipper trip?
– I am afraid to tell the story, but there was a time when I went to deliver goods amidst heavy rain, the order was one cake, five cups of milk tea whose total cost was in lakhs. I had severe near vision problems, the road was slippery and the wind was strong, the car slipped and fell. Everything fell apart, my legs were bleeding, my eyes were blurry. At that time the only thought that came to my mind was why life is so cruel and unfair to me.
Looking across the street, I saw warm, well-dressed people in a tall building. I felt even more self-conscious, I was so tired that someone came to help me, but I didn't bother to sit.
Empty pockets, hungry stomach, dreams went nowhere because at that time I was expelled from school. I remember this sentence "Painful for those lives that want to fly and fly high but stick to the ground because of their clothes". to stay alive By Nam Cao. I borrowed money from a friend to pay for the order, then went home and collapsed on the bed, I didn't want anything else.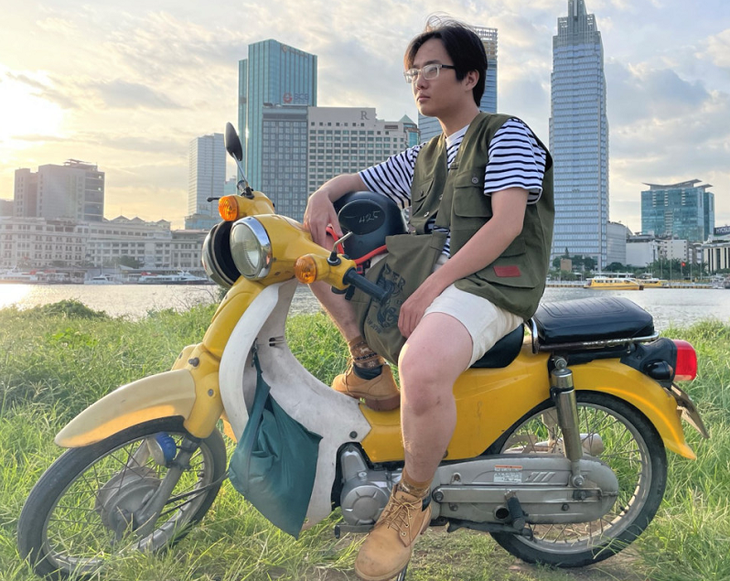 one should never stop studying
* After using depression medication for many years, have you ever wondered how to get off it?
– I realized that I had some unusual psychological symptoms since I was 18 years old. I become happy and sad suddenly, anxious for no reason and my heart often beats fast. When I went to the doctor the doctor said I had anxiety and depression.
There was a time when my weight was only 58 kg, I was tired both physically and mentally. Most of my high school friends are studying abroad, so it's hard to trust them. My college friends are not very close.
I'm afraid to even scroll on the phone, afraid of peer pressure because the images of life between me and most of my friends studying abroad are very different.
Later, I turned to meditation and therapy, which helped me a little. Perhaps because I am loved by so many people, I have overcome the above pressures.
I'm grateful that my job as a shipper has given me the opportunity to meet many nice people. Some people, even if they are poor, are still willing to lend me money to buy food, some people give me money to eat, some people give me books to read for free…
Before this I had a very narrow worldview, which made it difficult to realize the small but meaningful things in life. When mentioned in the media, I received a lot of material and spiritual support and was given the opportunity to return to school. Now every morning when I wake up I feel much better.
* People only know that Phuoc speaks French well, few people know that you are fond of English, Chinese and Japanese…
– I just stopped going to college, but never stopped studying.
The biggest misfortune for me is not being able to study now. Having knowledge helps us see things completely with a more positive outlook.
Adversity is something that no one wants, but today there is a storm, tomorrow the sun will shine again. Difficulties can be avoided but never leave school as it is like giving up your future and dreams.
Schipper speaks French with author Marc Levy
Huynh Huu Phuoc caused an "Internet storm" after author Mark Levy's exchange with readers in Ho Chi Minh City in November 2022. In his shipper uniform, Huy Phuoc asked questions of the novelist in fluent French.
After that exchange, you continued your distribution work without knowing that the clip recording of that exchange would make you a phenomenon on the Internet that night. Phuoc studied French for several years and lived a quiet life, before an incident caused him to stop studying at university and spend that time working as a delivery boy, a security guard, and a restaurant waiter. Fell.
share with life
* Even though it is difficult, when you get help, you accept only a part of it, and share the rest with those orphaned by COVID-19, what's wrong in that?
– An incident happened with my family which forced us to separate. Deep down I know that my family is very important to me. When you have lost loved ones but also lost the opportunity to learn, life will be terrible. So I spent half of the money I received to help my students continue going to school.
Some people say I'm stupid, "I'm poor and make it up", but I know I'm getting so much love from the community so I want to share back, it makes me happy. That's enough for me.
(TagstoTranslate)shipper