On the morning of September 5, the opening ceremony of the 43rd ASEAN Summit was solemnly held at the Jakarta Convention Center (Indonesia) with the participation of the leaders of ASEAN countries, the Secretary-General of ASEAN and a number of representatives, partners and international organizations. Prime Minister Pham Minh Chinh led the Vietnamese delegation to attend the opening ceremony.
Impressive growth in business
Speaking at the ceremony, Indonesian President Joko Widodo stressed that solidarity is a precious value that all ASEAN members cherish and preserve.
The "ASEAN Boat" is sailing the sea, opening up to the world, cooperating with partners for the common goal of peace, security and stability. ASEAN is united and determined not to allow the region to become a place of power friction, but to promote cooperation and dialogue for peace and prosperity.
Speaking at the 43rd ASEAN Summit Plenary session shortly thereafter, ASEAN Secretary-General Kao Kim Horn said the region's economic growth momentum remains positive with forecasts of 4.6% in 2023 and 4.9% in 2023. % in 2024.
ASEAN's trade recorded an impressive growth of nearly 15%, reaching US$3,800 billion. Investments reached a record high of over USD 224 billion. However, the regional economy still has potential risks and is directly affected by geopolitical tensions, climate change, energy security, food security…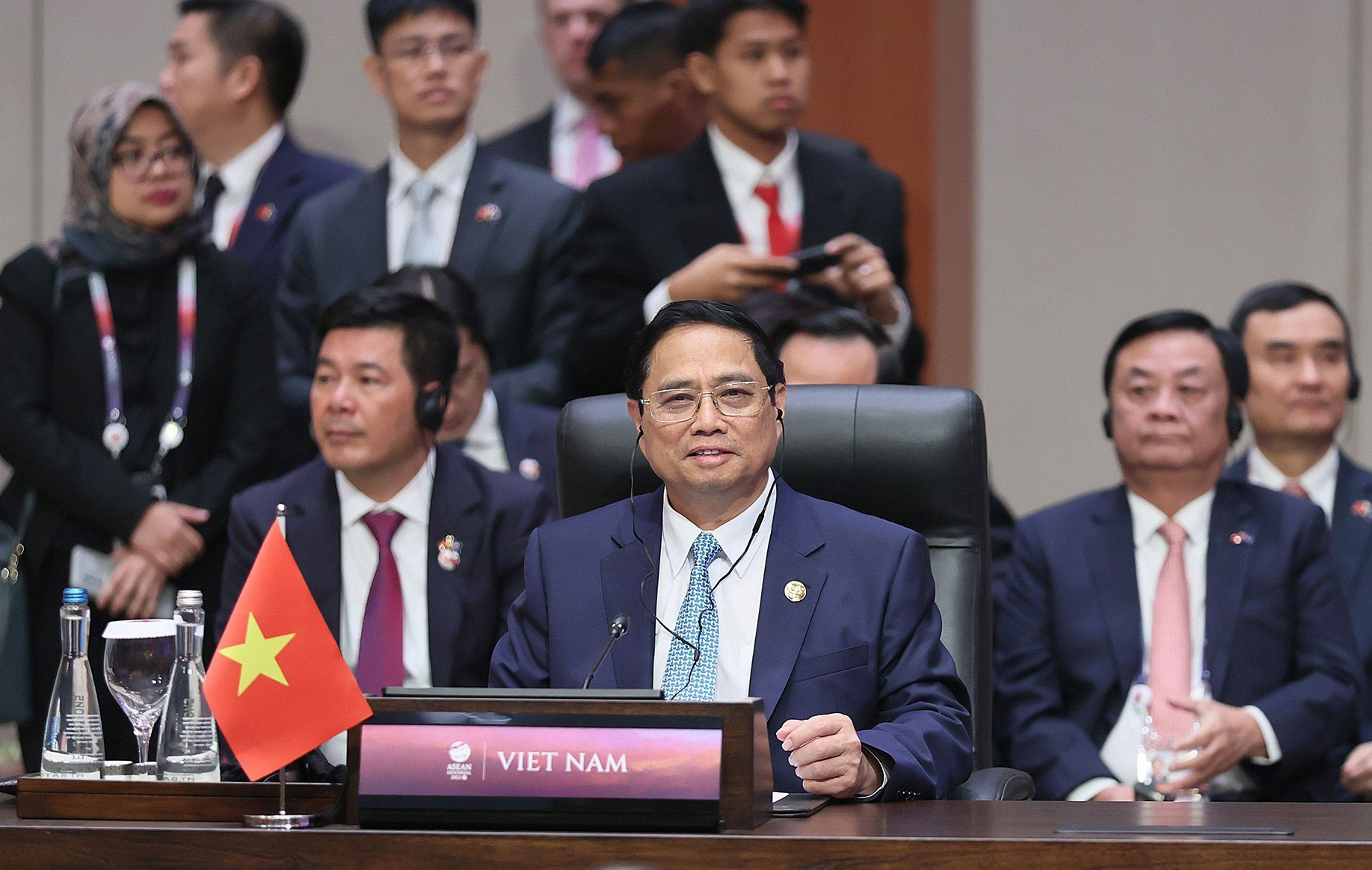 Prime Minister Pham Minh Chinh attends the 43rd ASEAN Summit Plenary Session Photo: VGP
Faced with that situation, ASEAN is making a strong shift towards digitalization and sustainable development, enhancing the region's competitiveness and strengthening its role as a key link in the global value chain.
Create new inspirations for development
The leaders of the countries discussed and endorsed the ASEAN Community Vision 2045 with clear directions to build a resilient, dynamic, creative and people-centred ASEAN, establishing a strategic framework for ASEAN's development. ASEAN's strong growth and success over the next 20 years.
To maintain "ASEAN's stature" and become a "hub of development", Prime Minister Pham Minh Chinh called for ASEAN to be strengthened through promoting economic connectivity, expanding the intra-bloc market, and facilitating trade and investment flows. Emphasized the need to increase self-reliance.
Prime Minister Pham Minh Chinh called on ASEAN countries to urgently remove bottlenecks and bottlenecks in policies and institutions, maintain stable intra-bloc supply chains, improve the region's resilience to impacts, and respond to challenges from the outside.
The Prime Minister also asked ASEAN Economic Ministers to guide the review, upgrade as well as new negotiations of FTAs ​​between ASEAN and its partners to generate new growth momentum for the regional economy.
Faced with the current situation of increasing friction and strategic competition among major countries, the Prime Minister particularly emphasized that ASEAN needs to demonstrate a strong and united spirit so that partners respect ASEAN's central role. Do, negotiate and cooperate in good faith, comply. Principles and principles set by the ASEAN system.
Commending Indonesia, ASEAN Chair 2023's initiative on digital economy, blue ocean economy, food security, building electric vehicle ecosystem and promoting sustainable self-reliance, Prime Minister Pham Minh Chinh announced that Vietnam will host ASEAN Future . Forum on Rapid, Sustainable, People-Centered Development to complement ASEAN's official forums and mechanisms and create opportunities for exchange. Widely exchange ideas and initiatives for regional cooperation.
On this occasion, the leaders adopted several important documents such as the Declaration on Inclusive Development for People with Disabilities, Family Development and Gender Equality, Enhanced Food Security, Early Childhood Care and Education, Framework for ASEAN Public Health Emergency Coordination System. ..
The same afternoon, Prime Minister Pham Minh Chinh and leaders of ASEAN countries and partners participated in the inaugural session of the ASEAN – Indo-Pacific Forum with the goal of opening up prospects and opportunities to strengthen cooperation and connections. Join; Join; Attending the Brief Session of the 43rd ASEAN Summit…
On the morning of 5 September, Prime Minister Pham Minh Chinh had a working breakfast with Lao Prime Minister Sonexay Siphandon and Cambodian Prime Minister Hun Manet. The three Prime Ministers agreed to enhance the effectiveness of the existing trilateral cooperation mechanism, including convening the 12th CLV Development Triangle Summit soon and coordinating meetings with the Presidents of National Assemblies of the three countries. For the first time in Laos in 2023; Promote exchange and training of youth and youth leaders; enhancing trade and investment cooperation; Further promote relations between the three economies…