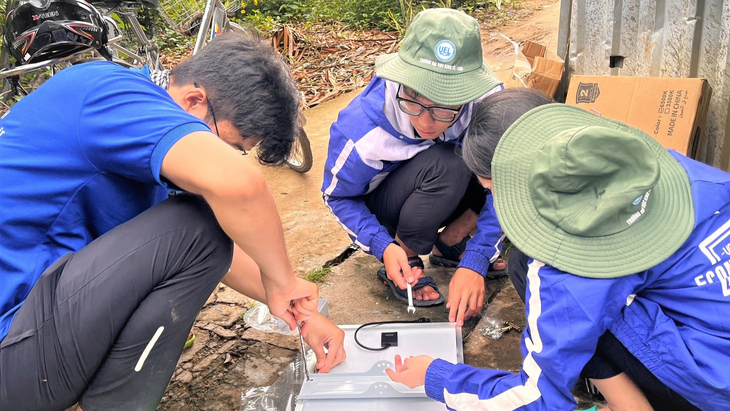 – Mr. Le Juan Singh (Ho Chi Minh City Open University):
follow the fire with your heart
I remember when I was a first-year student selling newspapers at the Ho Chi Minh City Youth Cultural House and seeing a bustling atmosphere with the sky covered with flags and slogans. I was standing quietly in a corner and watching, suddenly I felt something sacred and very happy.
The next day, I asked my roommate to help me deliver newspapers, tutor, and work restaurant shifts so I could ride my bike "while keeping my heart burning."
In the summer of 1996, I officially became a soldier as the leader of a student team implementing the Summer Cultural Light on the Can Geo Front. Later, there was the famous Green Summer on Truong Son Road, then the school – Drug Rehabilitation Center, Central Highlands Province…
In 2017, the journey back to the front was unexpectedly supported by veterans of many years. We did not come back to travel, but to continue work and projects to serve the community, but it can be said that they have added more value because the veteran soldiers have gone through many experiences. That journey has just been completed for the sixth time. We hope that this will happen many more times because everyone clearly feels that "when we live, it is just land, when we leave the land suddenly becomes a soul".
– Mr. Nguyen Tan Hung (Ho Chi Minh City Electricity Corporation):
Contribute thousands of volunteer days
Having participated in the Pink Holiday for more than 10 years, whether as a soldier or as an expedition commander, I have clearly understood the spirit of "volunteering with your expertise, serving the community with your expertise." Determined to follow.
Electric Youth's project "Safe, Decent and Affordable Light Sources" has repaired and renovated the power system for free for thousands of disadvantaged households in Ho Chi Minh City and provinces, even on the island. Tho Chu (Kien Giang), Phu Qui Island (Binh Thuan).
Or the "Use Electricity Safely and Economically with Friends" project, with hundreds of promotional sessions, guiding students to use electricity safely, economically and prevent potential accidents.
Then the project "Street Streets with Safe and Affordable Aesthetic Electrical System" helps to renew the electrical system and illuminate the alleys with thousands of solar powered light bulbs to help people travel safely. Maintains local security and order.
I hope that the Youth Union will join hands with City Electricity to support students studying electrical engineering and businesses producing electrical materials.
This way, more families will receive free electrical repairs and new solar powered lighting. The youth of the city's power industry will be the main force, leading in the implementation of the above mentioned meaningful projects.
(tagstotranslate)summer soldiers