The purpose of the visit was to meet and discuss with the Jakarta Special Economic Zone Government about the direction of cooperation between Ho Chi Minh City and Jakarta in the future, especially in the field of urban management and public transportation system development.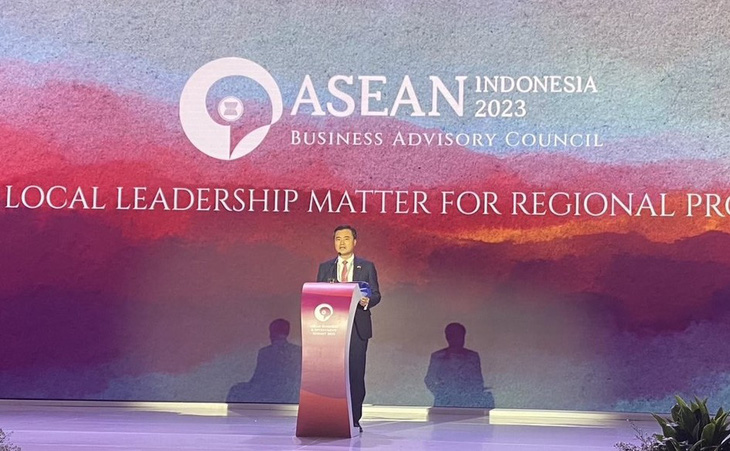 Bui Xuan Cuong, vice chairman of the Ho Chi Minh City People's Committee, spoke at ABIS 2023 on September 4. Photo: HCMC Department of External Affairs
The delegation led by Mr. Bui Xuan Cuong also participated in the ASEAN Trade and Investment Summit (ABIS 2023) on the theme "The Role of Local Leaders in Regional Prosperity".
Speaking at the ABIS 2023 conference on September 4, Mr. Bui Xuan Cuong affirmed the experience of addressing global challenges and close coordination among countries in the region during ASEAN's 56 years of formation and development. Bringing positive results in stabilizing the economy and society, thereby creating conditions for the revival and development of trade activities between countries.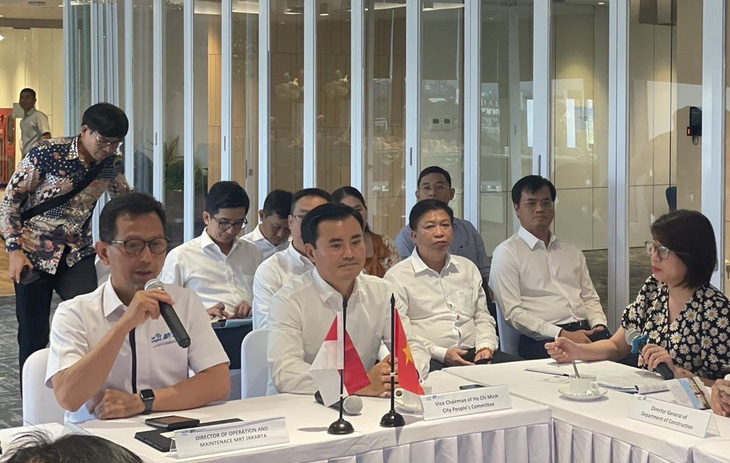 Mr Bui Juan Cuong (centre) during a working session with representatives of the Jakarta Special Region Government on the field of transportation on 5 September. Photo: Ministry of External Affairs
In that context, the trend of international association and cooperation at the local level, bilaterally and multilaterally, gradually becomes an important channel for local people to enhance their international image and diversify their sources. Force for development.
According to Mr. Cuong, Ho Chi Minh City is committed to always striving to maintain its central role, connecting major economic centers, participating in production and supply chains, and actively participating in international cooperation activities in the future . ASEAN Framework and Mekong Sub-region Mechanism.
On September 5, the Ho Chi Minh City delegation held a working session with Mr. Joko Agus Setyono, Secretary General of the Jakarta Special Region Government, and representatives of the city's public transportation and urban management agencies. Jakarta.
At the meeting, both sides exchanged experiences and methods of managing public transportation, focusing on the development of electric bus routes, rapid buses and MRT.
Ho Chi Minh City and Jakarta have many similarities such as large populations, high population density and facing challenges in urban management and environmental pollution, so the potential for cooperation is huge.
In the afternoon of the same day, the Ho Chi Minh City delegation worked with the Jakarta MRT Company – the entity responsible for the management and operation of the MRT system in Jakarta. Both sides agreed to jointly hold a forum to call for investment in future TOD projects, including appointing Urban Railway Management Company No. 1 to work directly with the MRTJ to exchange relevant materials. to be done.