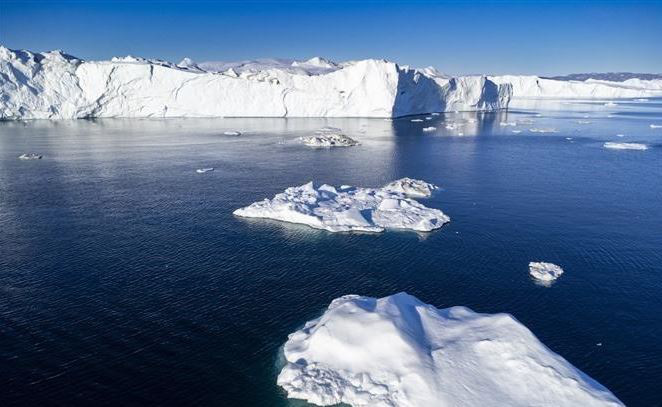 Greenhouse gas concentrations, global sea levels and ocean heat content reach record highs in 2022. The data comes in a report by the National Oceanic and Atmospheric Administration of America (NOAA) on "Global Climate Status 2022" announced on September 6.
According to the report, global greenhouse gas concentrations last year were 417.1 ppm, an increase of 2.4 ppm compared to 2021 and 50% more than pre-industrial levels. This is the highest level in the 800,000 years since data was collected.
Global ocean surface temperatures and sea levels have also risen to their highest levels in history. According to NOAA, over the past 50 years, the ocean has absorbed more than 90% of the heat caused by greenhouse gases trapped in the atmosphere.
Global ocean heat content measured from the ocean surface to a depth of 2,000 meters continues to increase and is set to reach a new record in 2022. Global mean sea level has risen for the 11th consecutive year, reaching 101.2 mm above a new record level. Average from 1993 when satellites began recording data.
Meanwhile, the average annual temperature at the Earth's surface is 0.25 – 0.30 °C above the average for the period 1991–2020. This has made 2022 one of the six hottest years on record. Recorded since the mid-19th century.
Last year was also the warmest in La Niña years, which cooled the atmosphere, countering the effects of the El Niño warming cycle.
According to NOAA, the heat wave has broken temperature records globally. Last July, Western Europe suffered a severe heat wave that lasted for 14 days. A weather station in England (UK) recorded a temperature of 40 degrees Celsius for the first time, while more than 100 weather stations in France recorded record highs.
Extreme heat in Europe is causing glaciers in the Alps to melt faster than ever. In Central and East Asia, record high summer temperatures have caused severe drought affecting more than 38 million people and causing economic losses of up to $4.75 billion.
More than 500 scientists compile global climate report
NOAA's "State of the Global Climate" report is published annually, providing updated information on climate indicators on Earth, notable weather events, as well as data collected from weather stations and environmental monitoring instruments on land, oceans, and in space. Does it.
The report has been compiled with contributions from more than 570 scientists from more than 60 countries.