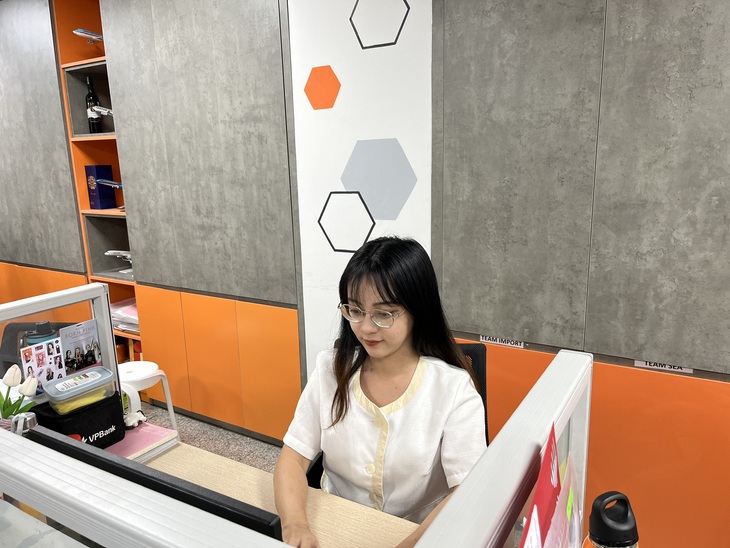 University Exam Session 2018, Teacher Pham Dinh Duoc – Close Friend of Scholarship relay for school – Took us to a small house on Do Thuc Tinh Street (Da Nang City) to meet a single hunchbacked mother, a tailor, who was burdened with worry because her daughter was about to go to college.
In the house on Level 4, standing next to a sewing machine, the mother who had worn out her feet over the years raising her two children looked at Mr. Duoc as if pleading: "A hundred things Thanks to you, I'm sick, weak, worn out." The whole leg is still enough to feed the children a full meal…".
But one day in mid-August 2023, we returned to that house and saw bright smiles.
New life of a poor mother
After a few seconds of hesitation, Mrs. Pham Thi Thu Hien – mother of Pham Hoa Nhi – the student who was lucky enough to receive the scholarship. relay for school 2018 – Just recognized us. Ms Hien is a single mother and has a severe physical disability with a bent back, leaving her unable to stand straight.
A far cry from the worry and austerity that marked her curly hair and dark eyes five years ago, Ms Hien is now fresh and healthy.
"Remembering the old days when Ni first entered college, I felt cold and shivering. At that time, whenever I went to eat vermicelli, I only dared to ask for the broth. Drink and then give back the vermicelli meat. Give it to my child. Whoever gives me anything, he will accept it." Then I just thanked, but now they give me anything, which I refuse to give. Changed my life…" – said Mrs. Hien.
Almost a year after graduating and being accepted as an employee of a company specializing in providing logistics services in Da Nang, the job has transformed the thin Pham Hoa Nhi girl into a different person: dynamic, confident and always in the face. But with a smile.
Ni smiled and told us that although the salary is not very high, the mother and daughter can live comfortably. She also bought a motorcycle by paying installments, giving her mother money to spend every month.
A journey of thousands of miles between mother and daughter
Pham Hoa Nhi came for scholarship relay for school In the 2018 relay season. At that time, teacher Pham Dinh Duc – a teacher at Le Quy Don High School for the Gifted – knew that one of his colleagues had a famous student with excellent academic performance in a special school, but his family situation was very unhappy.
Nihi's mother was a hunchbacked, ill, single mother who raised Nihi and her first daughter, who had just graduated from school and was not working at the time. The family also had to live in the grandmother's house on Do Thuc Tinh Street.
Mr. Duoc took us to a damp house under the shade of green trees. At that time, Mrs. Hien was very ill, her skin was thin and dry. She sat down at the sewing machine and said that for the past few decades, all she had to do was work to feed her two children.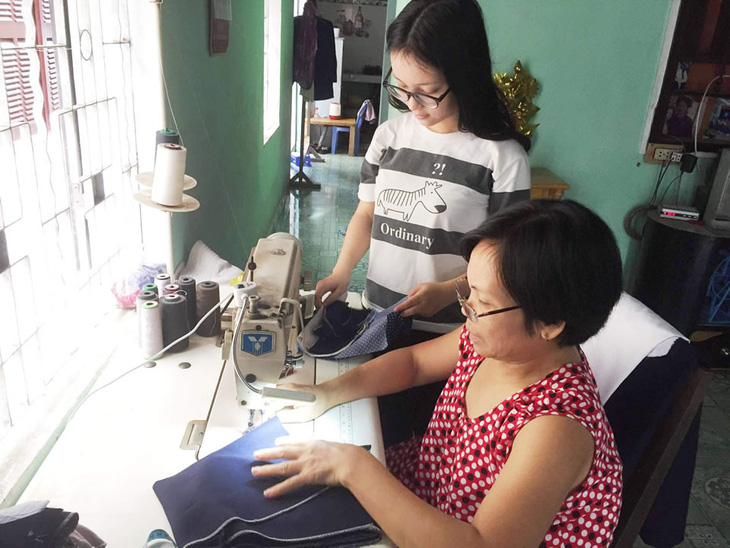 At a time when a finished dress was cheaper than repairing it, Ms. Hien's machine worked day and night, but customers for repairs became fewer, and the price of labor fluctuated, so that food was sometimes scarce. There was never enough to fill his stomach.
Nihi has good academic performance, excellent achievements and won the first prize in Geography in the National Excellent Student Examination in grade 12, so she was directly admitted to university. The story of the girl's special education and family background reached the ears of the principal of Le Quy Don Specialized School (Da Nang) at that time.
This teacher connected directly with Saigon International University to apply for NIHI's scholarship for free tuition and monthly study support for the entire course.
Mrs. Hien recalled that time and said that the news that her daughter had been directly admitted and had also received a scholarship made her and her mother hug each other and cry. But it is still not enough.
"In an expensive city, my child never went very far. There was nothing left in the house at that time, the most precious thing was a sewing machine but no one actually bought it. When I thought of what I thought I Crying, looking around but there is nothing for you.
I emptied all my pockets and chests, but only gave 1 million VND to my child. I feel a lot of pain but I don't know what to do or where to start" – Mrs. Hien cried as she recalled the moment her child entered college.
Nee sat down with her mother and told her that she was really confused and stuck at that time. Even though I don't have to pay tuition, I only have 1 million VND in my pocket, which is not even enough for a car, I have to worry about many expenses for the number of days I stay when going to university…
"When the mother and child did not know where to go, teacher Pham Dinh Duoc called and said he would bring a journalist. When he learned that his name was on the scholarship list, relay for schoolMy heart almost choked, and my mother felt sorry for herself and cried" – said Nihi.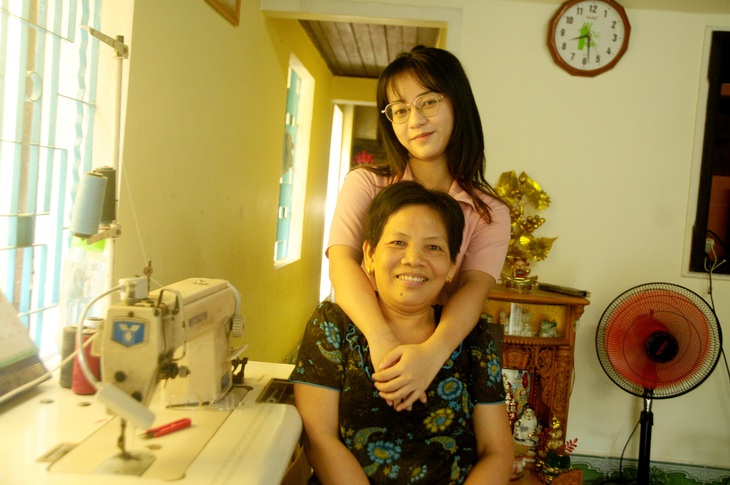 The girl told a happy memory of that time: "After the scholarship award ceremony, I went to the bank to withdraw the entire 10 million VND scholarship, only then I knew for sure that I would go to Ho Chi Minh City to study at the University"Learn ".
Pham Hoa Nhi also said that even if she did not receive a scholarship from the newspaper Youth Even at that time, she would borrow money to go to school, but it was this help during the most difficult and standoffish times that gave Nihi more strength to realize her dream.
Nee said she will always remember those kindnesses.
Bring your mom to school to honor the class leader
Pham Hoa Nhi studied International Business at Saigon International University. After 4 years of studies, Nihi graduated with honors from the entire 11th grade of the school with a GPA of 3.73/4.0. Pham Hoa Nihi was honored by the school at the graduation ceremony. The girl said that she would also bring her mother to this important function.
Readers who support scholarships for new students, please transfer them to the newspaper account Youth: 1130000006100 Industrial and Commercial Bank (Vietinbank), Branch 3, Ho Chi Minh City.
Content: Support "Help Going to School" for new students or specify the province/city the reader wishes to support.
Readers and businesses abroad can transfer money to the newspaper Youth: USD Account 007.137.0195.845 Ho Chi Minh City Foreign Trade Bank; EUR account 007.114.0373.054 Ho Chi Minh City Foreign Trade Bank with SWIFT code BFTVVNVX007.
Content: Support "help going to school" for new students or specify the province/city the reader wishes to support.
In addition to funding scholarships, readers can support teaching equipment, housing, jobs… for new students.

(TagstoTranslate) School Aid