The "geopolitical situation" section has been left blank in the draft of the 38-page joint statement circulated among members of the Group of 20 leading developed and emerging economies (G20). Meanwhile, 75 other paragraphs including climate change, cryptocurrencies and reform of multilateral development banks reached consensus.
The joint statement may or may not result in a unanimous agreement, a source told Reuters. The document may contain paragraphs stating each country's position or express agreement and disagreement in the same paragraph.
A second source familiar with the matter said, "We can put aside our differences and make a joint statement that there should be peace and harmony around the world so that all members agree."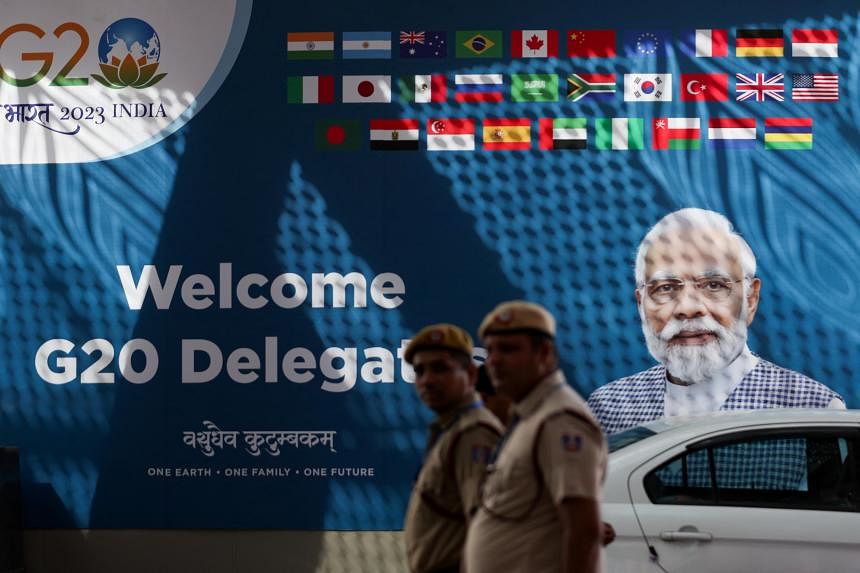 Security has been tightened ahead of the G20 summit. Photo: Reuters
According to another high-ranking source from one of the G20 countries, the text mentioning the conflict in Ukraine was agreed upon by Western countries and sent to Russia for comments.
The official said Russia has the right to choose to accept Western countries' views or present a dissenting viewpoint as part of the statement. If no agreement is reached, India will have to issue a presidency statement, meaning there will be no joint statement at the G20 for the first time in 20 years of the event.
A European Union (EU) diplomat said that India, as the host country, is doing a very good job in finding compromises.
The draft shows the group has agreed to tackle the debt problem in low- and middle-income countries "in an effective, comprehensive, systematic manner", but does not present any new action plans.
The draft also shows that countries are committed to strengthening and reforming multilateral development banks while accepting proposals for tighter regulation of cryptocurrencies.
The parties also agreed that the world needs a total of USD 4,000 billion annually for the energy transition process.
The two-day summit will begin on September 9 in New Delhi. Both Chinese President Xi Jinping and Russian President Vladimir Putin were absent from the conference.
China said on September 8 that it is willing to cooperate with all parties and promote achieving positive results at this summit.
xuan mai