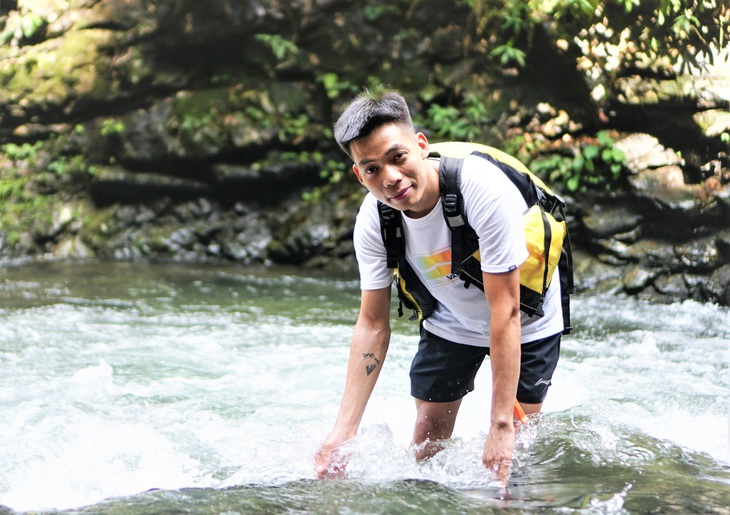 Suddenly one day he realized that his hometown was so beautiful, so why not develop tourism in his own village? He convinced his parents to open a farm on land in their hometown, away from the roads, surrounded by cool green tea hills.
Hometown stream becomes a destination
Leaving his hometown, Hoang Nong Commune, Dai Tu District (Thai Nguyen), to start a career in Ho Chi Minh City, Tung works in the information technology sector and has a stable income, but is an extroverted person who enjoys hard office work. He works hard, he also sees this. Parachute enthusiasts often go online to join travel groups and are avid mountaineering enthusiasts.
As his passion grew stronger, he decided to leave Ho Chi Minh City and return to his village and turn his career towards tourism.
At that time, a wave of backpacking and mountaineering emerged in the north, Tung also took a backpack and wandered throughout the northwest and northeast. Tung leads trekking tours (hiking/mountain climbing) through winding and dangerous mountain passes, suitable for tourists who love adventure travel.
After traveling for about four years, exploring many mountains, he gained a lot of experience. He learned the skills of navigating the forest, crossing rivers and streams, and determining directions to ensure he did not get lost. After every trip, Tung comes home with a feeling of peace.
Tung recalled, "Then I realized that my hometown has many conditions, possibilities, and strengths to develop tourism that many people do not have. I was determined to develop tourism in my hometown. "
When it comes to Thai Nguyen, people almost only hear about the famous tea specialties or the mining industry, and the Nui Coc Lake tourist area is compared to a "miniature Ha Long Bay". But in his hometown of Hoang Nong Commune, almost no one does anything tourism-related.
Being located in the foothills of the Tam Dao Mountains, the region's climate is cool throughout the year, the landscape of the central region is rich with rice fields dotted with villages and cool green tea farms.
In particular, in the Hoang Nong commune, the Cua Tu stream is hidden in the Tam Dao range where Tung spent his childhood. That stream has seven waterfalls that flow among rocks and cliffs, sheltered under a canopy of ancient trees.
Tung created the trekking tour of Cua Tu Stream with the idea that tourists would have to travel hundreds of kilometers to reach remote places in the northwest, whereas Thai Nguyen is closer to Hanoi and easier to get to. The experience gained after many years of leading tours in many places helped him to become more confident.
Needless to say, the parents became worried when they saw their son determined to change to a new job even though everything was peaceful. Especially when he convinced his parents to build a house on the family land surrounded by thousands of tea hills.
The wild and unique beauty of the stream makes visitors excited to visit it. And every time he takes guests on a trek to Cua Tu, Tung feels as if he is returning to his childhood days and many memories along this stream.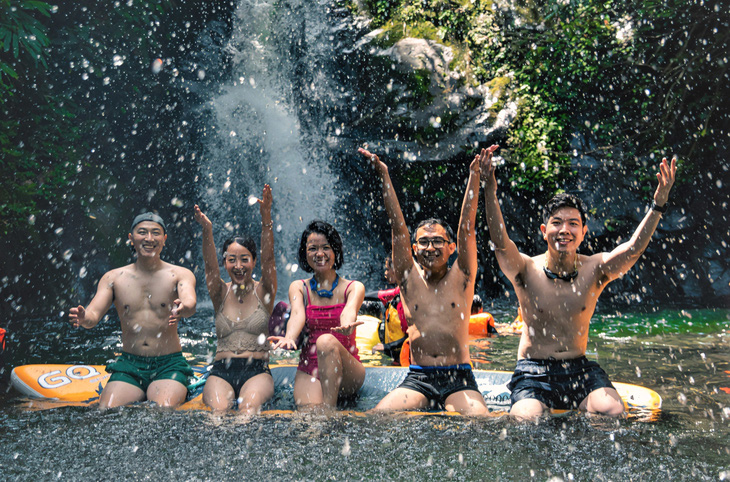 Create jobs for ethnic people
With the capital accumulated after several years of work, Tung built Hoang Nong Farm and opened its doors to welcome tourists to trek up Cua Tu Stream.
The climbing season is usually from the beginning of winter to the beginning of spring, but Cua Tu Dhara has the advantage of being in the summer. In summer, many young people come to Hoang Nong Farm for trekking and to relax after study and work.
Initially, Tung single-handedly led tours taking visitors trekking up the Cua Tu Stream. The work is tough but the revenue doesn't come in much, partly because he doesn't know how to generate revenue, partly because he only focuses on promotion.
But as he continued to do this and self-study, he gradually created a work process that optimized costs, created the best income for his employees, slowly built his reputation, and did more for the local people. Created regular jobs.
On weekends, there are times when 10-15 guides are needed to meet the needs of groups of tourists at the same time, most of whom are ethnic Dao people. Tung pays 600,000 VND/day. If he also takes pictures for clients, he will receive 800,000 VND/day.
There are so many more frequent guests that the reception, housekeeping and bartending departments are forced to hire full-time staff.
Currently, the maximum capacity of Hoang Nong Farm can welcome 40 guests per season, but in order to ensure quality and provide the best service to tourists, Tung only asks for permission to welcome a maximum of 30 guests.
He is planning more experiential activities about Dao ethnic culture, talking about tea trees, cycling to explore the area… to attract tourists to visit More activities can be experienced. Upcoming local tours.
Green tourism protects the environment
Small road lined with green trees on both sides leading to Hoang Nong Farm. As soon as they arrive, visitors are immediately met with signboards with reminders to protect the environment and limit plastic waste. Tung said that in order to develop sustainable tourism, it is necessary to protect the stream and keep the environment pollution-free.
With that thought, he joined hands with the local people, owners of nearby homestays to preserve the green, clean and beautiful stream.
All meals on trekking trips are prepared in advance, stored in reusable boxes. And every time he takes visitors, he and his fellow tour guides always gently remind tourists not to leave trash or light fires in the forest.
"I am always aware of the need to improve the quality and local tourism products, but also the need for strict management from all levels and sectors in order to develop sustainable tourism, preserve and protect nature, without harming the environment. ", Tung shared.