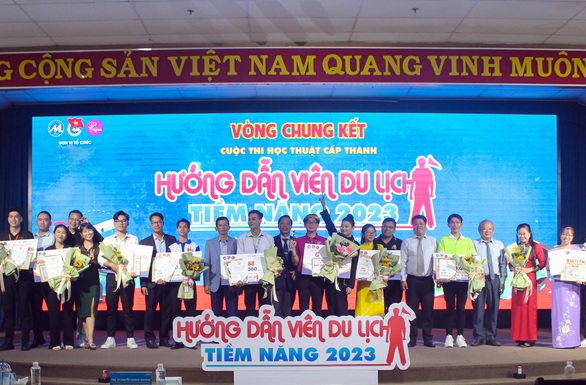 Prize giving for the 'Possible Tour Guides' competition on the evening of 9 September – Photo: Trong Nhan
On the evening of September 9, the finals of the city-level contest "Potential Tour Guides" took place for the first time in Ho Chi Minh City.
With universities and colleges offering tourism training in Ho Chi Minh City and the Ho Chi Minh City Student Association organization, it is the largest educational competition for young people interested in the tour guide industry.
Representative of this year's contest host, Dr. Le Trung Dao, Vice Principal, University of Finance and Marketing, said the contest aims to position students to be equipped with practical knowledge and skills in the travel and tourism industry. Students with a passion for the Tour Guide profession get an opportunity to engage and learn throughout the entire process of participating in the competition.
200 students from Ho Chi Minh City participated in this year's competition and 10 outstanding students competed in the final round.
In the final round, the contestants had to undergo an explanation contest about famous tourist places in Vietnam such as Trang An Scenic Landscape Complex, Hue Memorial Complex, Ho Chi Minh Mausoleum and Tunnels. Before the jury Qi Chi, My Sun Sanctuary,…
Each contestant must overcome a thinking cycle with "swirling" questions about current tourism industry topics such as sustainable tourism development, the role of tour guides in backpacking tourism trends, and the constitution. Harnessing the potential of the Saigon River for tourism, how to add tourism products to the Mekong Delta…
As a result, the first prize of the competition went to student contestant Nguyen Nam Viet of the University of Finance and Marketing. The second prize went to Nguyen Van Duc, a student at the University of Social Sciences and Humanities (Ho Chi Minh City National University).
Apart from cash prizes for the contestants, courses are also included to improve skills in the profession of tour guide. The total prize value is 400 million VND.
(tagstotranslate)tour guide