When he was born, his father left. When he grew up, his mother left, and Van lived with his grandmother and great-grandmother. Then a terrible illness took her far away, and her grandmother was still struggling with her illness, sometimes remembering and sometimes forgetting. In the midst of a lonely life, Van is still an advanced student at Nguyen Duy Hieu High School (Dien Ban city, Quang Nam) and has achieved high marks.
On August 23, Van received an admission notice to major in traditional medicine at Hue University of Medicine and Pharmacy, the beginning of her dream of becoming a doctor.
when i'm happy i cry alone
Asking for directions to schoolgirl Nguyen Thi Bich Van's house on Bang An Dong Street (Dien An Ward, Dien Ban City, Quang Nam Province), everyone knows. Perhaps many people know Van not only because of his difficult circumstances but also because of his extraordinary determination.
Charity House (Level 4), a unit built over decades, is old and dilapidated, with holes in the corrugated iron roof, which let in the summer sun even hotter.
Right in the living room (call it Song) is the altar of Van's great-grandmother, who is still smoking. Next to it is a folding bed – the sleeping place of Mrs. Luan (61 years old, Van's grandmother). The entire house consists of only a damp, unfinished bedroom with a bamboo bed as Van's place to rest and study.
When they saw us coming to inquire about his condition, the neighbors also came. "His family is very poor, but he studies well and works hard and is famous here. I wish his circumstances were like other people's families, it would be much better" – Mrs. Onh (54 years old, neighbor) Said the voice sadly.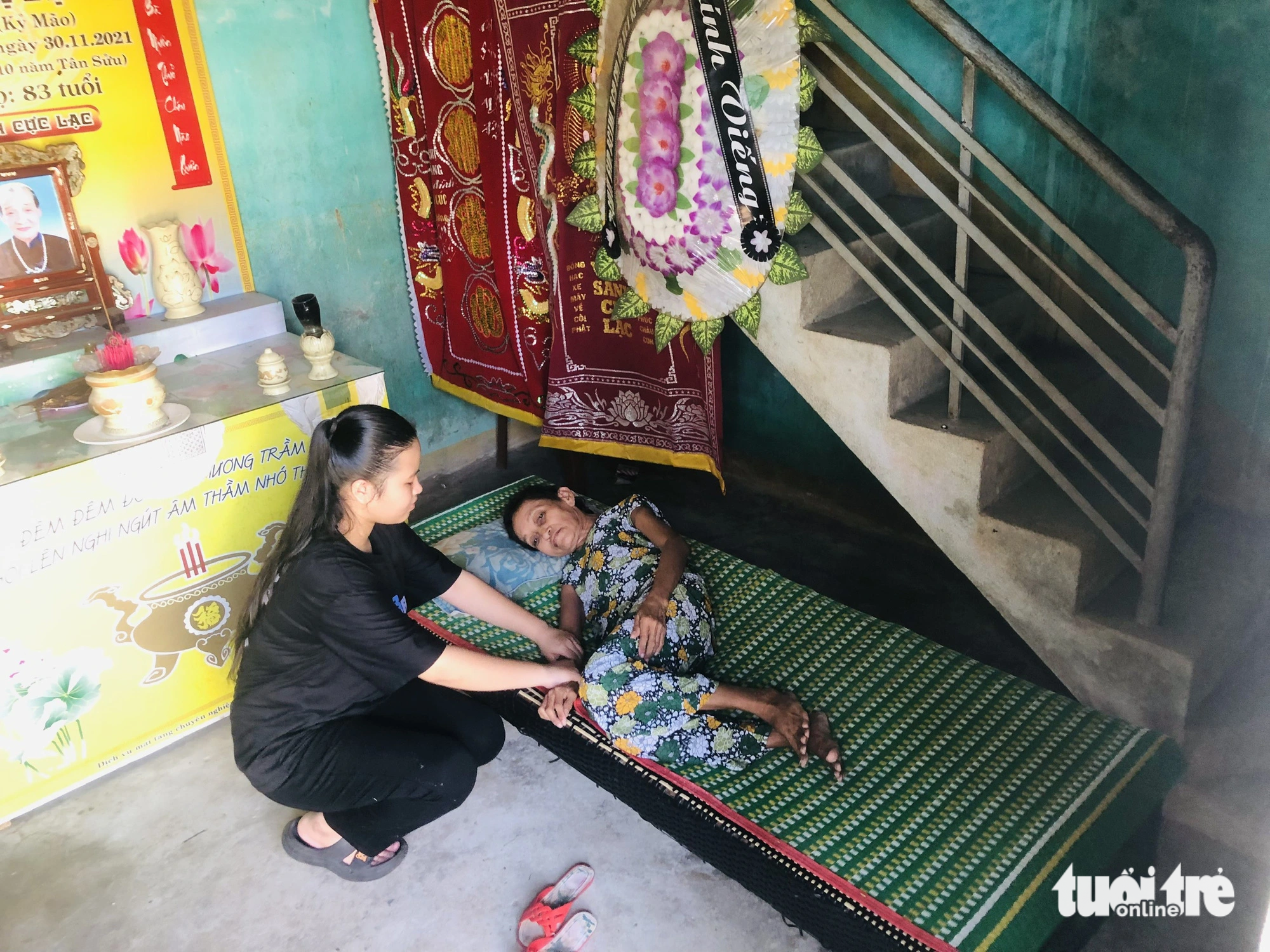 Seeing the guests and neighbors talking, Van's grandmother just watched and smiled innocently like a child.
Neighbors said that a few years ago, Mrs. Luan still went to buy scraps and bottles to sell, so that she could go to the fields to take care of the lives of her two grandchildren. But then the disease of circulatory disorders in the brain, stomach, bones and joints… made him lose his memory, forget and forget, and he had to quit his job.
Seeing grandmother's orphan condition, people in the neighborhood who had aluminum and plastic bags also brought them to her to sell them at retail money. "It's a pity, every afternoon there are some aunts and uncles from companies who regularly come home with two lunch boxes to send their grandmothers and grandchildren to eat" – Mrs. Onh said.
Van looked out onto the sunny patio and shared about life with his niece and nephew.
My parents got to know each other and then they got a van. His father left after his birth and his mother got married when he was in third grade. Van lives in the love and care of his grandmother and great-grandmother.
At that time, my grandmother was still healthy and bought bottles of bao to sell for 50,000 – 70,000 VND. As for Van, since the summer of 9th grade, she has gone to the city market to serve in the snail shop, help her grandmother's income, and take care of her great-grandmother.
But then the evil disease took him far away. The day she tried to go to the hospital, Van still remembers her wrinkled hand holding him tightly, a sign of separation… "I remember a lot, I remember when I was sick Tried to moan in pain but all I could do was cry, helpless as I looked. I see the pain but can't do anything" – Van said sadly.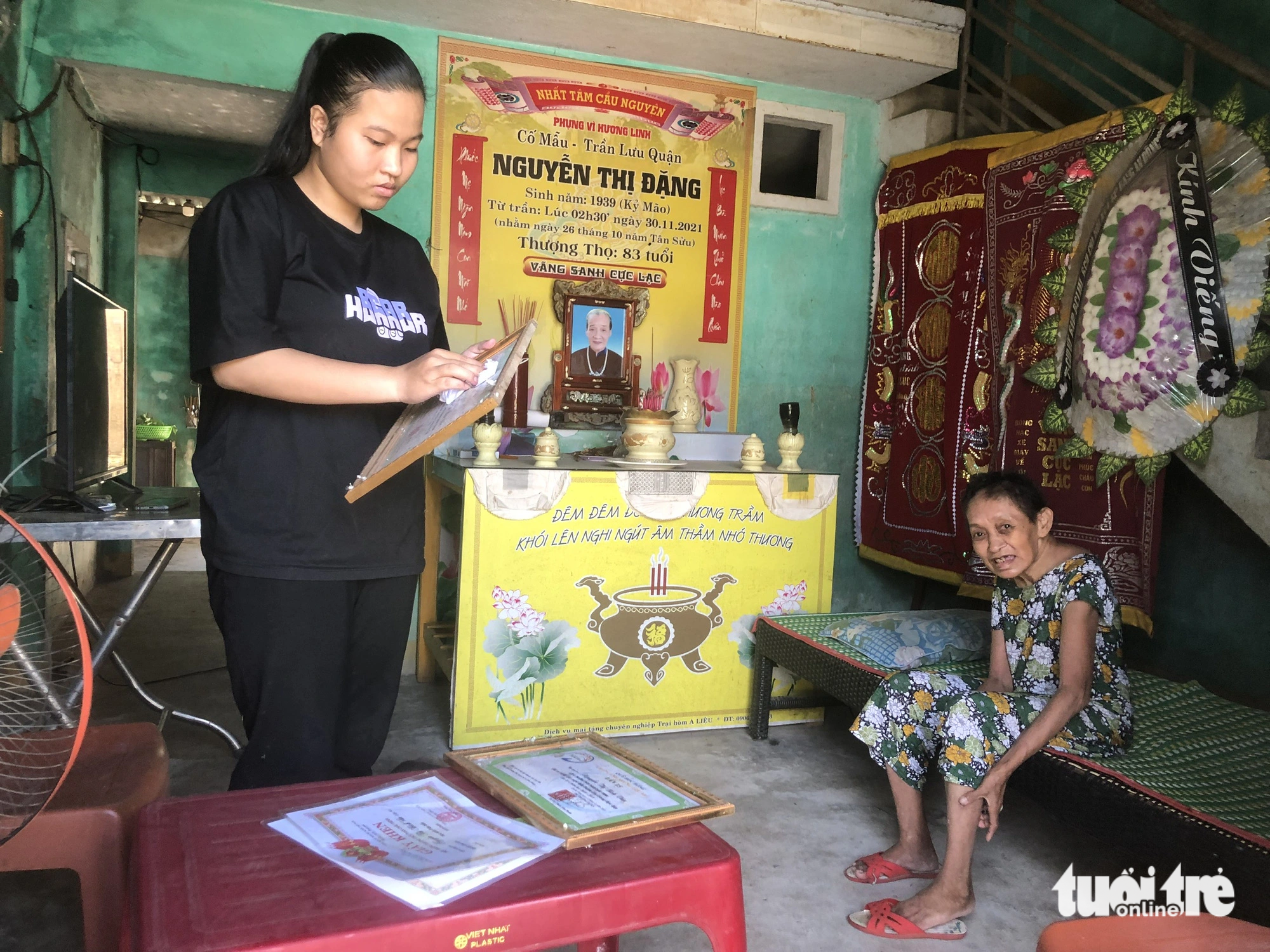 Life is miserable, grandmother and grandson support each other every day, but Van has always had impressive academic achievements, has many certificates of merit, and has received scholarships several times to overcome difficulties in his studies …
,You must have been very happy at that time, right?" Van's eyes were filled with sadness after hearing the question. Van told that when she got the merit certificate, she was very happy and took it home. But she did not know that it How to show or share it with someone It was a happy day but van I just sit alone and cry…
The day she finished her high school graduation, Van went to Vinh Dien Ward to sell a coffee shop. The owner paid him 20,000 VND per hour, a total of 80,000 VND. Van plans to collect more in preparation for an upcoming lecture hall.
But after just a few days of work, her grandmother's pain returned. Hearing the screams of the neighbors, Van left her job and went to her grandmother.
Fortunately, my grandmother receives an allowance of 720,000 VND every month, which is the main amount to support both of us…
"I don't give up"
During the conversation sometimes we remembered, sometimes we forgot, but when we asked Mrs. Luan: "Are you happy when Van goes to the university?". Mrs. Luan smiled brightly: "Happy, happy. How can you not be happy when you go to college?" Pausing for a moment, as if remembering something, she added: "I didn't think of it, I didn't dream of it, but it made it happen."
In between incoherent sentences, I asked her: "Van went to school far away, so who will take care of her and who will stay with her?" She said: "You don't have to worry about making it yourself." After finishing speaking, Mrs. Luan laughed again…
Seeing her grandmother say this, Van was still worried in her heart. Van's plan is that when she goes to school, she will ask her younger brother (from another mother), who is going to school to repair motorcycles, to sleep with her grandmother every night.
"I know that there are other people whose circumstances are even more difficult than mine and that they have the strength to overcome them, so I will not give up" – Van firmly believes.
,What motivated you to be so determined?" Watching from a distance, Van said that no matter how hard it was, she was determined to learn to become a doctor to cure her grandmother's illness, So that he no longer has pain. And to help other sick people. "I will live in a hostel, I will work part-time to take care of my life" – assured Van.
Listening to Van Share, the neighbors encouraged him: "You just try to study, there's nothing left at home but you have aunt and uncle here to help you."
Very alert and energetic student
Shared by teacher Nguyen Thi Phuong (Van's 12th grade homeroom). Talking about her student, Ms. Phuong said: "Van is a very special student, very energetic. In addition to her achievements and good learning ability, Van is also self-aware and independent. As a class leader In his role, Van always has a high responsibility towards everyone."
Ms. Phuong also shared that even though Van's academic results are so good, he never took extra classes.
Readers who support scholarships for new students, please transfer them to the newspaper account Youth: 1130000006100 Industrial and Commercial Bank (Vietinbank), Branch 3, Ho Chi Minh City.
Content: Support "help going to school" for new students or specify the province/city the reader wishes to support.
Readers and businesses abroad can transfer money to the newspaper Youth: USD Account 007.137.0195.845 Ho Chi Minh City Foreign Trade Bank; EUR account 007.114.0373.054 Ho Chi Minh City Foreign Trade Bank with SWIFT code BFTVVNVX007.
Content: Support "help going to school" for new students or specify the province/city the reader wishes to support.
In addition to funding scholarships, readers can support teaching equipment, housing, jobs… for new students.

(TagstoTranslate)Help to go to school(T)Quang Nam(T)Nguyen Thi Bich Van(T)Doctor(T)Difficulty new student(T)Scholarship