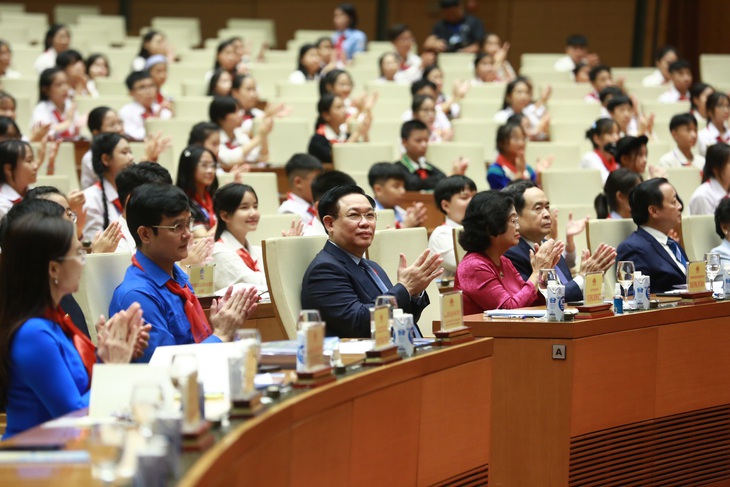 The event was attended by the Speaker of the National Assembly, Vuong Dinh Hue, the Permanent Deputy Speaker of the National Assembly, Mr. Tran Thanh Man, the Deputy Prime Minister, Mr. Tran Hong Ha, and the First Secretary of the Central Youth Union, Mr. Bui Quang Huy.
The meeting was moderated by the "President and Vice-President of the Children's National Assembly".
Representatives of 263 children raised red flags with yellow stars and waved them to create a lively and joyful atmosphere in Dien Hong Hall along with children performing children's music.
It is the first time in Vietnam that an imaginary session called "Children's National Assembly" has been held, with young people taking on the role of President of the National Assembly, Vice President of the National Assembly, Secretary General of the National Assembly and Ministers.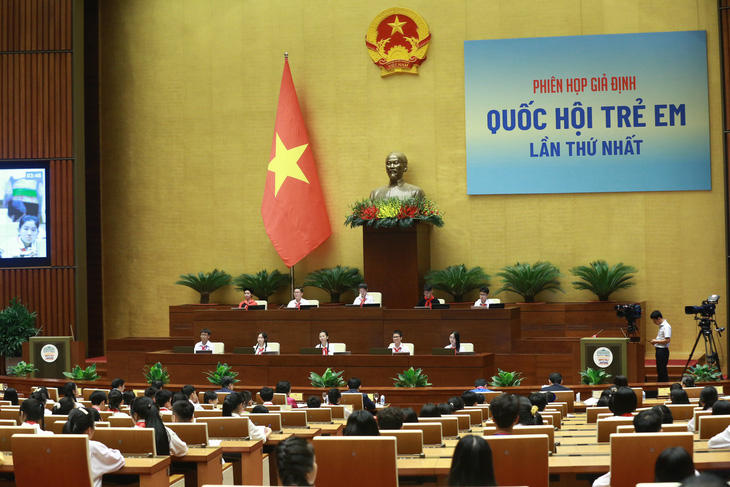 The session was moderated by distinguished children with outstanding achievements in various fields who held key positions: Dang Cat Tien (Khan Hoa) – "Chairman of the National Assembly for Children", Le Quang Vinh. (Hoa Binh) – "Permanent Vice President" Children's National Assembly". "Vice Presidents" include Dam Ha Mai (Bac Giang), Kieu Quang Hui (Binh Thuan), Nguyen Di Manh (Tuyen Quang).
On behalf of the "Children's National Assembly", Dang Kat Tien, chairman of the "Children's National Assembly", said that the first "Children's National Assembly" session in 2023 took place at a time when children across the country were enthusiastically returning to school, welcoming the new During school year 2023 – 2024. The session has an important meaning to show the spirit and responsibility of all levels and branches in the care, protection and education of children.
Based on the actual situation and the opinions of local children voters, the "Children's National Assembly" suggested that the "representatives" continue to promote democracy, maintain a sense of responsibility, and propose solutions to hot and pressing issues. Focus on intelligence to contribute ideas to. Society related to children.
Children's obsessions: violence, abuse, drowning
The mock meeting discussed two issues related to children being harassed for quite some time, which include: "Protecting children's healthy and constructive interactions in online environments" And "Prevention and control of accidents, injuries, violence and child abuse".
Hoang Tra Mai (Nghe An) released a survey of 41,000 child voters, showing that about 12% think that the issue of child sexual abuse occurs from time to time.
Aggressive acts such as slapping, punching, kicking, insulting dignity are rated particularly high at more than 30%; 23.6% of children are injured in accidents, many traffic accidents and drowning are very tragic.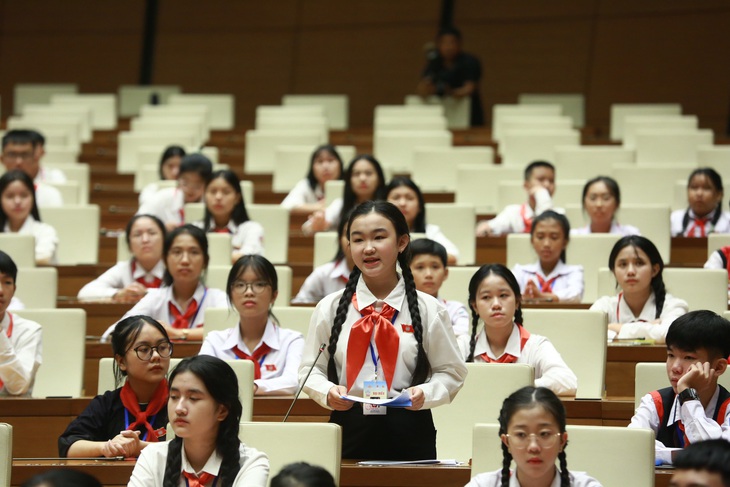 "Many students do not dare to report the incident for fear of retaliation. Many students do not know the National Child Protection Switchboard 111, the rate of cases reported by children is only 40%, many children lack confidence in support switchboard or cannot even think of condemning violent violence when it is being violated" – my point.
On that basis, my "representative" suggested that localities should focus on putting up signs about the risk of being unsafe for children at swimming pools, junctions and intersections in villages and hamlets.
Authorities and schools need to promote communication, raise awareness and skills to prevent injuries, violence and abuse in a form that is appropriate and attractive to children. Sex education in schools.
In particular, it is necessary to guide children to know how to report incidents to agencies and actions and how to condemn them.
Drama attracts children online, how to solve it?
"Representative" Khuc Tra Giang (Hai Phong) pointed out the fact that children today are exposed to a lot of social networks, the content that attracts you is mainly drama stories, game titles, trends and trends. Are. Save like taking a photo and transferring it to anime, comics…
"When you experience cyber violence, you don't dare to report it to adults because there are many cases where the bully has been punished but still continues to take revenge" – Tra Giang said.
To solve the above situation, the "representative" proposed several solutions such as suggesting the school to put safe materials on cyberspace in subjects such as citizenship education, informatics, etc.
focus more on equipping children with age-appropriate digital knowledge and skills so that they can protect themselves and know how to interact safely in online environments; There are training programs for parents on internet safety and skills to manage their children using the internet.
Also, there is a need to renew the promotion of legal policies by using short posts or dialogues, vibrant images and short and easy to understand dialogues so that children can understand more about the laws.
"Deputy" Tra Giang also provides solutions for children who need to set a suitable schedule, control their phone time, participate in school activities, limit phone viewing and much more…
To continue the implementation the imaginary session "Children's National Assembly" is chaired by the Central Youth Union, the Central Team Council, the Culture and Education Committee of the National Assembly and in coordination with the Office of the National Assembly. Promote the right of children to participate in children's issues.
Ms. Nguyen Pham Duy Trang – Secretary of the Central Youth Union, President of the Central Team Council – said that the imaginary session "Children's National Assembly" is an opportunity for children to interact, learn and learn in a meaningful way. About the system Political system, state apparatus, especially important activities such as the constitution, laws, decisions on important issues of the country and the supreme supervision of the National Assembly – the country's representative body. The highest representation of the will and aspirations of the people and the highest state authority.
At the same time, the children were able to apply their knowledge and skills to analyze current problems of children, create their own solutions with a broader perspective than learn the skills of the national representatives. Demonstrations were held at the Congress and Dien Hong Halls of the National Assembly.
(tagstranslate) Children's National Assembly